**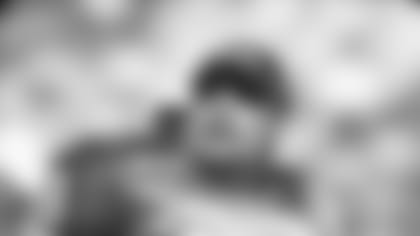 Mawae will play in his first Pro Bowl since a member of the New York Jets following the 2004 season.
NASHVILLE, Tenn. –** Kevin Mawae doesn't care how he got there. He's just happy he's going. Mawae was named to his eighth career Pro Bowl on Monday, replacing Super Bowl-bound center Jeff Saturday of the
Indianapolis Colts
.
"Everybody's goal is to go to the Pro Bowl," said Mawae, who was named a starter in last year's Pro Bowl but did not play due to injury. "I think it's a very worthy honor, despite the number of guys that bail out. I think everybody should try to go to represent their team and the NFL. I don't ever get tired of it. This is my seventh time going, my eighth time being on the team. I'm looking forward to it now every bit as much as I have the other times."
Mawae spoke at length regarding his eighth career Pro Bowl selection.
(on if making the Pro Bowl as an alternate is still as gratifying as being originally selected)
"It still is. The game is obviously not the same intensity as a regular season game is, but I don't think I've seen any all-star game in any sport with the same intensity as a regular season game. As far as the number of guys that could or could not go, I don't think it's going to be any different than what it has been in the past. There are guys that bail out for injuries and other reasons, whether it's in Hawaii or Miami. I think between the Saints and Colts there are only eight or nine guys that can't go now, but I don't think the number is going to be much more drastic than in years past."
(on how nice it is to be recognized for the Pro Bowl this late in his career)
"I think it is sweeter. At my age, and I've played in Pro Bowls where Bruce Matthews was at his like 17th Pro Bowl and Randal McDaniel was at his 16th or whatever, but it never does get old. It just goes to show that guys who have the ability regardless of age get honored and recognized for it. You always know that there are guys that make it off reputation as opposed to how they played, but it means that someone is still recognizing you. Whether that's how I'm getting there or not – of course I got there by default because of Jeff Saturday being in the Super Bowl – but I'm still not going to belittle the fact that I'm going to my eighth one and I am 39 years old going into a contract year."
(on his thoughts of Kyle Vanden Bosch being named to the Pro Bowl)
"I think it's great, it's well-deserving. I think he would have gotten in regardless of what team made it to the Super Bowl because of Shaun Ellis or Dwight Freeney. I think guys recognize the kind of player he is because he plays 100 percent every snap, every game."
(on when players vote, if they look beyond the stats in determining who should be in the Pro Bowl)
"I think guys look at how a person plays. Does he play hard? Does he play the whole game? That's the way our offensive linemen look at it. If there's a guy that's a really good player, but he only plays 10 percent of the snaps, then obviously we don't think he should be recognized like the guy who plays 90 percent of the snaps and plays really well. Everybody votes differently. That's just the way we vote in our room."
(on how much stats really play a part of it)
"Obviously stats play a big part of it and that's the first number that everybody looks at, but then there are intangibles that you can't measure – how hard a guy plays, how much difficulty does he create for the opposing team. A guy like Kyle, you know you have to double-team him and chip him all the time. He might not get 15 sacks a season, but he sure takes up a whole lot of effort and game planning time to prepare for him and it's worth being noticed. I've seen how hard he plays in practice and the games. He's definitely the epitome of you play like you practice."
(on the Pro Bowl being in Miami vs. Honolulu)
"It's interesting. I really truly enjoy being in Hawaii. I've heard the commissioner's reasons for why we're going. I know they've sold a lot of tickets for this year's Pro Bowl as opposed to past years and now we've got corporate sponsorship, which tells me that it's all about money like everything else in this business is. It will be interesting. I think the fan base will be different than it is in Hawaii, where there's a lot of military and all locals. Being the fact that it's a week before the Super Bowl, I think there will be a mixed bag of the types of people there and fans from all over the country who otherwise wouldn't be able to be there."
(on Miami still being a tropical climate)
"If I'm going to the Pro Bowl, I certainly want to be somewhere where I can wear a bathing suit after practice. If the Pro Bowl is in a Super Bowl city like Detroit again, I don't think too many players will want to be in the Pro Bowl in a cold climate or some extreme northern city."