**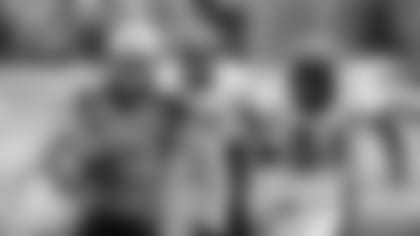 Rookie wide receiver Marc Mariani returns a kickoff 98 yards for a touchdown vs. Denver. It was the first kickoff returned for a TD by a Titans player since the 2001 season.
NASHVILLE, Tenn. --** Marc Mariani's legs began churning just before he secured the football. He saw the opening, made bigger with a key block by Ahmard Hall, and blazed in front of the Denver sideline.
No Broncos player could catch the Titans rookie, who waited several seconds before his Titans teammates reached him to celebrate his first career touchdown. The 98-yard return gave the Titans their first lead against the Broncos in the third quarter Sunday, but Tennessee couldn't hang on for the win.
The kickoff return was Tennessee's first for a touchdown since Derrick Mason went end zone to end zone in Cincinnati in November of 2001. Mariani was 14 years old in Montana at that time, closer to America's border with Canada than an NFL end zone.
Titans special teams coach Alan Lowry said Wednesday that a returner's ability to move forward as he catches the ball is a critical aspect of breaking a big return, and Mariani has the potential to break several more.
"That's one thing we work on really hard is catching the ball on the move forward," Lowry said. "We show them on tape that any time they catch the ball leaning back or even stopped, before they get started, the coverage team takes two to five yards without them moving. If they can catch it moving forward, they can minimize how much (opponents) cover before we're going."
Mariani, who walked-on the University of Montana's team and earned a scholarship in his junior year, was drafted by the Titans in the seventh and final round last April. He's returned 16 kickoffs for 428 yards (26.8-yard average) and seven punts for 73 yards (10.4-yard average). Mariani ranks eighth in the league in kickoff returns, 10th in average and fifth in number of returns that have been more than 20 yards (11).
Mariani has frequently talked about having the time and opportunity of a lifetime this season. It's fitting since he said timing is crucial for big-play opportunities in the run game.
"Kick returning is such a timing deal," Mariani said. "Holes open and close so fast that the timing has to be perfect. That's why we rep it so many times in practice."
When asked what he thought about seeing the 98-yard return on film, Mariani said: "It timed perfectly. That hole was not open for very long. The guys up front did an unbelievable job of blocking. They were perfect. When we execute like that, big plays are out there for us."
Lowry said the flight patterns of punts and kickoffs make returning each one "totally different aspects of the game." He said punts can have a lot of different movements, whereas kickoffs usually rotate end over end.
"Both of them, you've got to have tremendous courage because you're going to take some licks," Lowry said. "(Returners) have to have good running instincts, good vision and the ability to hit (the hole) hard every time no matter how hard they got hit the one before."
Mariani said punt returns and kick returns are "completely opposite plays" with one likeness.
"I'd say the similarities are you really count on the 10 guys in front of you to do the best at their jobs," Mariani said. "Eleven guys must be doing something right on both of them for anything to happen."
Mariani has enjoyed highs and lows in just four games. He fumbled when returning Pittsburgh's first kickoff to Tennessee in a Week 2 loss to the Steelers and failed to field a kickoff late in the Denver game after the Broncos took the lead. Mariani said he was responsible for corralling the short Broncos kick and is disappointed, trying to use the miscue as a learning experience.
"The only objective every time is to make sure that the Titans have the ball after the play, and that's all there is to it," Mariani said.
Tennessee (2-2) visits Dallas (1-2) at 3:15 p.m. Sunday. Opponents have averaged 28.3 yards per kickoff return but only 2.3 yards per punt return against the Cowboys. New Cowboys Stadium seats 80,000 and has a monstrous video board above its playing surface. Mariani said he didn't know how the video board would affect tracking punts and kickoffs.
Lowry said he's pleased with the progress Mariani has made in training camp and to start the season and his potential.
"The thing about it is he has really good instincts," Lowry said. "That lets him be a quick learner, and a quick study, so he's able to pick things up. He really works hard at it. It means a lot to him, and he's got a chance because of that."