INDIANAPOLIS – Brycen Hopkins spent a chunk of his childhood in the Titans locker room.
When he was a kid, quarterback Steve McNair and running back Eddie George used to push him around in a laundry basket. He'd play catch with his dad on the practice field and run around the team's facility.
Ah, the perks of being the son of an NFL player.
"I have great memories from those days," said Hopkins, son of former Titans tackle Brad Hopkins. "I grew up around football, going to Titans games. And from the time I was little, I knew I wanted to be like my dad. I wanted to follow in his footsteps."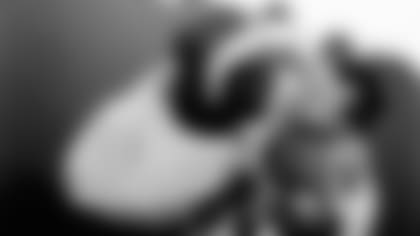 Well, Brycen Hopkins is on his way.
The former Purdue tight end, who prepped at Ensworth High School in Nashville, is here at the NFL Combine, 27 years after his father auditioned for the NFL in this same city.
Brad Hopkins ended up being drafted in the first round of the 1993 NFL Draft by the Houston Oilers, and he played in 194 games over 13 seasons with the franchise. Hopkins was a two-time Pro Bowler and a key piece of the Titans' success while blocking for McNair and George before retiring in 2005.
Now, he's excited to see his son take the next step.
"I'm so proud of him, and so excited for him," Brad Hopkins said of his son, a 6-foot-5, 245-pounder who is considered one of the top tight ends in this year's draft class. "And this is what he always wanted to do.
"When he was a third grader at Grassland Elementary, Brycen wrote that he wanted to be a football player when he grew up. It's what he knew. So, it was no different than somebody saying: I want to be a police officer, because my dad is a police officer. I want to be an accountant, because my dad is an accountant. Brycen said, 'I want to be a football player because my dad is a football player.' And now it's up to him to see how this goes."
Brycen Hopkins played in 48 games in four seasons with the Boilermakers, and he caught 130 passes for 1,945 yards and 16 touchdowns. In 2019, Hopkins caught 61 passes for 830 yards and seven touchdowns.
He wore No.89 at Purdue, which happens to be the same number his father wore as a high school tight end himself. Brad Hopkins switched to No.79 when he switched to the offensive line at the University of Illinois, and he blossomed into a pro prospect at the school, altering his initial plans of being a classroom teacher after college.
The elder Hopkins has been teaching his son. Leading up to the NFL Combine, Brad Hopkins and another former Titan – receiver Derrick Mason – worked with Brycen to get him ready for this week's big audition. Brycen Hopkins has also been working with other trainers at Boost FitClub in Nashville, where his dad has worked with other draft hopefuls as well.
"My dad is coaching my entire blocking scheme, and anything in the receiving game I am being coached by Derrick, who is a great detail-oriented receiver and he did a great job preparing me for this," Brycen Hopkins said.
"They both did a great job showing me what this process was all about and what was important in it and the mindset to have going into it, how prepared I had to be for it. I think they did a great job of just harping on the NFL, that this is a business and you have to have that business attitude. And they did a great job of getting me to be where I am at."
As Brad Hopkins watches his son go through the NFL Draft process, a part of him can hardly believe how much time has flown by.
The little boy he used to carry around after NFL games is now on the verge of playing in the league himself.
"I know my son and how hard he works, and when given the opportunity, he'll make good on it," Brad Hopkins said while imagining the possibilities. "For me, now it's, "Who is going to draft him and where is he going to be for the next couple of years? Where am I going to be flying to see him play? If I had my druthers, I would just leave my house and drive down to Nissan Stadium and see him (with the Titans). But it's not up to me."
As Brycen Hopkins goes through the NFL Draft process, he's filled with excitement himself.
And he said he's thankful for the example set by his father from the time he was being pushed around in those laundry carts.
"My dad had a great career, and a lot of people know him for the things he did on the field," Brycen Hopkins said. "I would like to be the same way, hold that Hopkins name, but at the same time build by own brand and my own name as Brycen Hopkins. So whenever people think of me, they think of my dad, and whenever they think of my dad they think of me. I would just love to carry on that tradition and that name. I've always wanted to follow in my father's footsteps."