LOS ANGELES – Twenty-two years ago, Brycen Hopkins was a toddler eating hot dogs while playing in the stands at the Georgia Dome in Atlanta during Super Bowl XXXIV.
His father – Titans left tackle Brad Hopkins – was on the field blocking for running back Eddie George while protecting quarterback Steve McNair.
Not that Brycen noticed much.
"He was (2), so I know he wasn't entrenched in the game," Brad Hopkins said with a laugh. "Maybe he remembers the hot dog that he had that day, but that's probably about it."
Kellie Hopkins, Brycen's mom, said the parmesan Goldfish were the "magic snack" for Brycen, but that's a different story.
This story is about that two-year-old who is now all grown up and set to play in Super Bowl LVI here on Sunday as a tight end for the Los Angeles Rams.
"We're just so blessed," Kellie Hopkins, Brycen's mom, said. "Just something you'd never think would happen in a million years."
Brycen Hopkins, who prepped at Ensworth High School in Nashville before playing at Purdue, is in his second season with the Rams.
He's played in five games this season, and has caught one pass for nine yards. Hopkins has been inactive for a number of games this season for the Rams, but with tight end Tyler Higbee now ruled out for Sunday's game with an injury, Hopkins is in line to suit up and play on Sunday against the Bengals at SoFi Stadium for Super Bowl LVI.
"He's blessed to be in this situation," Brad Hopkins said. "Back when I played, I didn't really think about things like how big a game it was. But I'm a 51-year-old father now, and I understand the magnitude of this game."
A first round draft pick of the 1993 NFL Draft by the Houston Oilers, Brad Hopkins played in 194 games over 13 seasons with the Oilers/Titans franchise. Hopkins was a two-time Pro Bowler and a key piece of the Titans' success while blocking for McNair and George before retiring in 2005.
Brycen Hopkins, who played in 48 games in four seasons with the Boilermakers before being drafted by the Rams in the fourth round of the 2020 NFL Draft, grew up around the Titans.
In a previous interview with TennesseeTitans.com, Brycen Hopkins said he has great memories being around some of the team's most famous players, who were simply dads to him.
When Brycen was a kid, McNair and George used to push him around the locker room in a laundry basket. He'd play catch with his dad on the practice field and run around the team's facility with the kids of other Titans.
"I have great memories from those days," Brycen Hopkins said. I grew up around football, going to Titans games. And from the time I was little, I knew I wanted to be like my dad. I wanted to follow in his footsteps."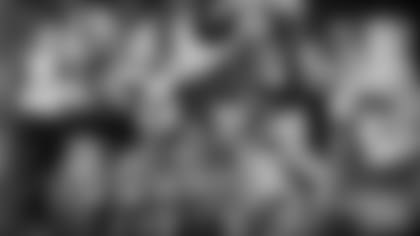 Well, Brycen has followed his dad's footsteps alright.
And now, he's at the Super Bowl, where his dad's team lost 23-16 to the St. Louis Rams to close out the 1999 season.
At Super Bowl XXXIV, Kellie Hopkins sat in the stands with her three children, who were all very young at the time. Brycen, in fact, was the oldest at 2 years, 10 months, while her second oldest son, Collin, was just 21 months. Daughter Gentry was just three weeks old at the time. But they were all at the Georgia Dome, surrounded by family members, decked out in Titans gear, cheering for the Titans.
Kellie Hopkins, who, like Brad, has since remarried, said the entire family will be back in the stands Sunday watching another Hopkins in the Super Bowl. Collin is now a member of the Minnesota Twins organization, Gentry now at the University of Tennessee.
"I don't remember a whole lot about (Super Bowl XXXIV) – it was kind of a blur," Kellie Hopkins said. "I just remember it was an amazing experience. You're sitting there thinking, 'I can't believe I'm here. This is incredible.'
"Now, to be going again, and to see my son on the field, it's going to be surreal in the most positive way."