**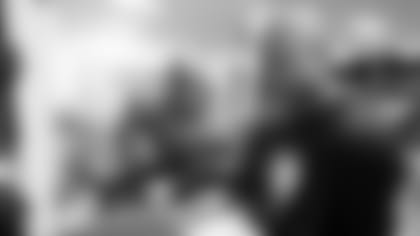 LB Keith Bulluck, right, uses his laptop camera to put QB Vince Young on his "KB53 All the way live TV" internet show from the Titans' locker room after Friday's practice. The Internet has helped some NFL players turn themselves into stars of their own reality TV shows.
NASHVILLE, Tenn. --** So much for Twitter or Facebook. And who really needs camera crews?
The Internet has helped some NFL players turn themselves into stars of their own reality TV shows. Nothing, really, is out of bounds for players looking to connect directly to fans, with some broadcasts coming right from the locker room.
All they need to broadcast live is a WiFi or Internet connection, a laptop with camera capability and electricity.
"It lets people see who I am really, and not what the media portrays me to be," Cincinnati Bengals receiver Chad Ochocinco said. "You can actually see the real Chad and see the things that I do, some of the things I like and actually interact with me and talk back and forth."
Titans linebacker Keith Bulluck heard about this new medium from Ochocinco and Arizona defensive tackle Darnell Dockett through Twitter. He was curious enough to investigate even though he wasn't sure he'd be much of a draw.
"I didn't think that I would be interesting enough. I'm not one of those people to just assume if I do it you know what I'm saying?" Bulluck said. "But I've been getting good reviews from the fans. I don't go on too long, maybe 15-25 minutes. I'm not trying to saturate people, overkill or anything like that."
Bulluck, entering his 10th NFL season, is witty and popular with reporters. About 300 people already have clicked on since "KB53 All the way live TV" debuted July 31. The first broadcast was very short and is still available online.
The process is simple. A quick message on Twitter alerts a player's followers that he's about to go live. Bulluck said it usually takes a few minutes for questions to start coming.
He has given viewers a tour of Tennessee's locker room, commented on his contract and discussed the team's No. 9 helmet decal in honor of the late Steve McNair. Bulluck is also a big movie fan, and he's weighed in with reviews.
Broadcasts from the locker room have been limited.
"Some people don't know it's live, and they get a little reckless, and I'm not trying to make anyone look like a fool or stupid on the Internet," Bulluck told viewers Thursday night on his latest episode.
Titans running back Chris Johnson found himself a guest on "The Ocho Cinco Show" recently when he called Ochocinco. He quickly bought a new Macbook and started airing his show Aug. 1. He credits the show with boosting his Twitter followers from 9,000 to 13,000.
One of his first efforts was a bit scattered. Johnson flipped channels on TV, took a couple phone calls and answered questions. Johnson usually hits the air around midnight, and the late-night hours may be why he receives some racy questions. He answers, too.
"I talk about situations, but I won't say the words about the questions they're asking," Johnson said.
Others on board include Dallas tight end Martellus Bennett broadcasting every night. Washington tight end Chris Cooley and defensive back DeAngelo Hall also have used the technology. Though Cooley hasn't hit the Net during camp, he plans a weekly appearance, likely each Monday during the season.
Titans coach Jeff Fisher has been developing a policy on social networking that will cover this latest innovation. He declined to say what that will be until he discusses it with his players.
Washington coach Jim Zorn has talked about social networking with his players but doesn't have a hard policy.
"There are so many things players can do. You can Facebook, you can blog, you can tweet, you can e-mail, you can do all these things. How many things are there? We're going to video conference very soon, whatever that's going to be. We try to talk about it, and educate and talk about the perils," Zorn said.
Redskins receiver Trent Shelton has had three broadcasts during camp, and the first-year player is trying to be careful.
"I'm not going to do anything to jeopardize my job," Shelton said. "I'm on a short string anyway, so I'm not going to do anything to make their decision easier. I've just been on the USTREAM and Twitter game and Faceback way before I got into the NFL, so it's not just because I got here that I'm doing it."
Bulluck says he understands the ground rules. He's a professional who talks regularly with the media and would like to continue his show into the season when he can set a regular time for fans to click in. If told to stop, KB-TV will be off the air.
"At the end of the day, the most important thing to me is this team and putting this team in position to win a championship," he said.