**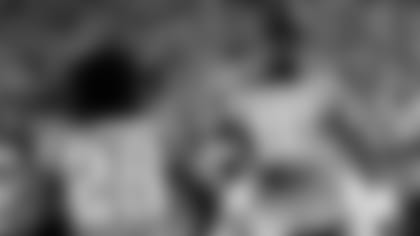 Chris Johnson and Vince Young have formed a dynamic duo that has played a large role in leading Tennessee to four consecutive victories.
NASHVILLE, Tenn. -** The Titans certainly know how to make things exciting, whether it's Chris Johnson running wild, Vince Young reviving his career or finding ways to win in the fourth quarter.
After winning four straight after an 0-6 start, the team isn't ready to write this season off.
"We're playing real good and we have a lot of confidence going with this team right now, and we are just going to keep playing and keep taking it one by one," linebacker Keith Bulluck said. "We got four, and right now we are going for five."
Want drama football-style?
Well, the Titans are providing must-see action. No other NFL team has opened a season with six straight losses, then bounced back with three consecutive victories, let alone four, according to STATS.
Even owner Bud Adams has gotten into the act, with his obscene hand gestures earning him a US$250,000 slap on the wrist and his full-page ad to the Buffalo Bills as an apology.
"I believe we are walking around with a chip on our shoulders, and we know that we can beat every team that we lost to in the beginning of the season," rookie receiver Kenny Britt said. "So we just wanted to turn it around and just work hard. And the coaches believed in us. With the coaches believing in us, we believe in ourselves."
Coach Jeff Fisher insisted Tuesday that's just what has led to the Titans' turnaround.
"We're a team that's gotten better, that's won a few games and probably a team that people aren't looking forward to playing based on the way we're playing right now," Fisher said.
This is the same team that hit rock bottom Oct. 18 with a 59-0 snowy loss in New England and the NFL's worst loss since 1976. That loss prompted Adams to push Young off the bench and into a starting role, and the 2006 Offensive Rookie of the Year simply picked up where he left off - by winning.
Young has won all four starts this season, giving him eight straight victories and a career record of 22-11 as a starter. Only Tom Brady, Ben Roethlisberger and Philip Rivers have better winning percentages among quarterbacks drafted since 2000.
Young hasn't thrown enough passes to be ranked among the AFC's leading passers yet. He hasn't even thrown 90 passes this season, but he's averaging 4.2 yards per carry with the Titans taking full advantage of his legs.
He has been sacked just once, with one interception and one fumble lost in this stretch. Fisher said Young's tough to defend with his threat to throw or run, and the quarterback is working through his options at receiver first.
"Just be patient. If it's there, take advantage of it. If it's not there, get the ball to our guys underneath and use my legs as well. It's just all about being patient. And if it's not there, we'll punt the ball away and let our defence go out there and give the ball back to us," Young said.
It also helps having the NFL's leading rusher in Johnson, who has a 211-yard lead over Steven Jackson of St. Louis (1,031). Johnson already has passed his rushing total from his rookie season, and his 1,242 yards came on 52 fewer carries than he needed racking up 1,228 in 2008.
He has averaged 125 yards rushing and five yards per carry over the past five games. Jim Brown back in 1958 is the only other NFL player to manage that.
Now, Johnson's boast that the Titans would win out after the 0-6 start doesn't seem so outlandish.
"I'm glad that people are actually starting to talk about it again," tight end Alge Crumpler said.
Whether the Titans can match their 2008 start by finishing this season with 10 straight wins remains to be seen. Four of their next five are at home, but three of their final six opponents have winning records, including Sunday's visitor Arizona (7-3).