**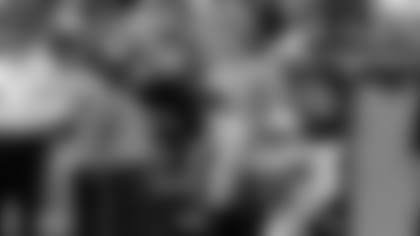 Texans WR Andre Johnson (80) and Titans CB Cortland Finnegan (31) were eached fined $25,000 by the NFL for their fight in Sunday's game. Neither player will be suspended, the NFL confirmed.
NEW YORK -** The NFL fined Houston's Andre Johnson and Tennessee's Cortland Finnegan $25,000 each Monday for their fight in Sunday's game, but is not suspending them.
The Texans' star wide receiver and Titans cornerback slugged it out in the fourth quarter of the Texans' 20-0 victory.
Finnegan set off the brawl by jabbing at Johnson's neck and face mask at the line of scrimmage. Johnson ripped off Finnegan's helmet and landed at least two punches to Finnegan's head and neck. The two spun each other, and Finnegan tore off Johnson's helmet before players and referees intervened.
Johnson apologized after the game, and Finnegan has not spoken about the incident.
"I would like to apologize to the organization, our owner, and my teammates,'' Johnson said. "What happened out there today was not me. I just lost my cool and I wish that I could take back what happened, but I can't. It's over and done with now.''
Finnegan did not speak to reporters after Sunday's game, but talked about it Monday on his weekly radio show. Finnegan said Johnson "snapped,'' and added that if he had punched Johnson, the NFL likely would have suspended him.
"This is the NFL, not the NHL, and it's a higher standard,'' Finnegan said. "That's the NHL. They fight. They get penalized for that. The NFL, it's not even heard of ... you do that, you're suspended. Hands down. That's what I've been taught.
"I guess he got his money's worth.''
This was the second time they scuffled during a game. Last season, Johnson was fined $7,500 for taking Finnegan to the ground by the face mask.
Finnegan plans to appeal the fine for Sunday's brawl. He said Johnson went into "sheer rage'' and that he still doesn't quite understand why the receiver reacted by throwing three punches at him.
"That's the crazy part, because I felt like the game was going pretty good, other than the fact that he probably had that built up over last year's time,'' Finnegan said.
Finnegan also said he didn't think he deserved a suspension or a fine.
"I didn't throw a punch. It's not a fineable offense,'' he said. "There's nothing I did that I felt like was a fineable offense. Maybe a flag for quick-jamming him and hitting him in the face mask. But there's no way that I thought that that would ever be a suspension.''

This is the second time they scuffled. Last season, Johnson was fined $7,500 for taking Finnegan to the ground by the face mask.
The Texans (5-6) play at Philadelphia on Thursday, and were concerned that their Pro Bowl receiver may be suspended. Johnson was expected to be available to comment after an evening practice.
The Titans (5-6) host Jacksonville on Sunday.
Finnegan was fined for personal fouls in three consecutive games earlier this season and was warned by the league after the third incident to watch his behavior after the whistle.
Titans coach Jeff Fisher, co-chairman of the NFL's competition committee, spoke with league officials earlier Monday. Fisher said in his opinion Finnegan didn't throw a punch, but did get Johnson's face mask.
"I have very strong opinions about the fact I think he should not be suspended,'' Fisher said of Finnegan. "As far as what the league decides to do, that's a league decision.
"It's an unfortunate thing that happens. You've got two very talented, good football players competing, and it's just very unfortunate. It's not good for our game and I'm just disappointed that type of thing happens on the playing field.''