ORLANDO – Four Titans took part in Sunday's Pro Bowl at Camping World Stadium.
Quarterback Ryan Tannehill, running back Derrick Henry, defensive lineman Jurrell Casey and punter Brett Kern represented the Titans for the AFC team, a week after their team's season ended with an AFC Championship Game loss in Kansas City.
The all-star game was a first for Tannehill and Henry, while it was Casey's fifth Pro Bowl, and Kern's third.
Here's a look at how each player's day went at the Pro Bowl, which was won by the AFC by a 38-33 score over the NFC.
Ravens quarterback Lamar Jackson started the game for the AFC, and he was followed by Texans quarterback Deshaun Watson in the contest.
Tannehill entered the game with 2:57 remaining in the third quarter, with the AFC trailing by a 27-24 score.
Tannehill threw a 60-yard touchdown pass to Jaguars receiver DJ Chark on his first pass of the contest, capping a three-play drive, to give the AFC a 31-27 lead it never relinquished.
Tannehill finished the contest completing 1-of-2 passes for 60 yards. His other pass was intercepted by Packers linebacker Za'Darius Smith after Tannehill was hit on the throw.
"I threw a little pass out there, and DJ took it to the house," Tannehill said. "I unfortunately got my arm hit (on the other throw) – I was trying to throw it over the top ... and the ball went right to (Za'Darius)."
Tannehill admitted he felt like a party pooper at the end when he took a string of kneel downs to run out the clock. But he took some consolation in knowing players on the AFC squad received $70,000 apiece for the win, compared to $35,000 for players from the NFC.
"It kind of sucks being the guy taking the knees at the end, because everyone wants to see some action – no one wants to see you taking knees in the Pro Bowl," Tannehill said. "But I know these guys wanted to go out and get the win and the bonus that came with it. It might not have been a fan favorite move, but it was in consideration of a little bonus."
Overall, Tannehill said he enjoyed the week.
"It was fun, just to be able to spend time around guys that I respect," Tannehill said. "I had my family out here, and to be able to do a lot of fun stuff with the kids, and my wife, it was just a great experience overall."
Henry spent pregame chatting with former Bengals receiver Chad Johnson, and he went through pregame warmups with fellow AFC running backs Mark Ingram (Ravens) and Nick Chubb (Browns).
Henry wore a "Yulee High School" helmet sticker on his Titans helmet, paying tribute to his high school, located just outside Jacksonville, Fla.
Henry, who led the NFL in rushing yards in 2019, was the third running back to enter the contest, behind Chubb and Ingram.
Henry finished the contest with 17 rushing yards on four carries, and he also had two catches for 22 yards, including a long of 15 yards.
"It was cool," Henry said. "I have my family down here, and it's my first one. It's something I'll never forget. I enjoyed the whole week. It was unbelievable being around all these Pro Bowlers, superstars. I was glad I was able to come."
Henry said players on the winning team get to donate $10,000 to their high schools.
"I'm so glad we won so it can go to my hometown high school," Henry said. "It's a great feeling to get this W, with all my teammates."
When Kern walked onto the field on Sunday for warm-ups, he made a beeline to the ESPN set, where he shook hands and hugged Randy Moss, a Hall of Famer, and former Titans teammate.
"Any time he does the Monday Night Football and he's on set, I always say hello to him," Kern said of Moss, a Titan for a short stint in 2010. "That was a while ago, but he's probably one of the funniest teammates that's ever walked through that locker room. He had so many stories, I always felt like it was story time at Randy's locker in between meetings or before practice. He always had great stories."
Kern now has a story to tell himself – he punted in his first Pro Bowl, and it counted.
During his first trip to the Pro Bowl in 2017, Steelers head coach Mike Tomlin told the team during the week that punting wasn't an option. The team went for it on fourth down on three or four occasions, Kern said.
In last year's Pro Bowl, Kern punted once, but it got called back because of a penalty, so it didn't go down as an official punt. Because of the rainy conditions, the team elected not to punt again.
In Sunday's game, Kern punted once for 42 yards. He also held for extra points and a field goal for Ravens kicker Justin Tucker.
"I was able to get that one punt out there, and it was pretty cool," Kern said. "It was nothing special. I just hit one of those end-over-end balls and got a fair catch. It was good to get a game rep, and have it count."
Kern enjoyed the week with his family. His son, Bryce, spent the week with him on the practice field, and worked again as a kid reporter for Titans Online.
"It's a blessing," Kern said. "Just to be able to spend family time and share some stories and have good conversations with the guys, and at the end of the week you get to play a football game for fun. It is a good time."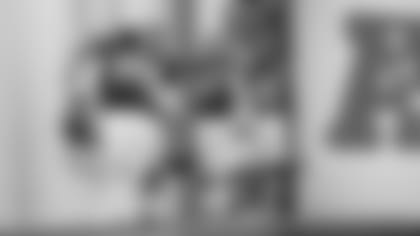 The Pro Bowl is now old hat for Casey, who was named a Pro Bowler for the fifth time in the week leading up to this year's game.
Casey was credited with a tackle and a quarterback hit in the contest.
Instead of rushing the passer on pass plays, Casey and the other defensive linemen regular dropped into coverage.
"It felt amazing to be back here again," Casey said while running off the field after the game. "I played minimal snaps, had a good day. The guy is bringing back $70K! I am about to go back to Nashville and enjoy some of this cold weather and enjoy some of this money, baby."
Casey once again brought his family to the Pro Bowl, including his wife, Ryann, and the couple's two boys.
"This never gets old," Casey said. "And I appreciate it every year. I'm a guy who always wants to go to the Super Bowl. But it's great to be here with the best players in the game."