**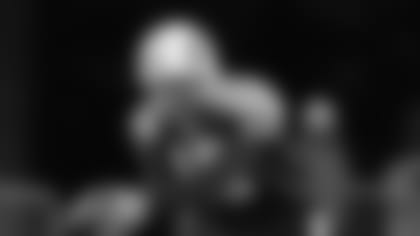 A model of consistency, longtime punter Craig Hentrich announced his retirement after 17 stellar NFL seasons, including his last 12 with the Tennessee Titans.
NASHVILLE, Tenn. –** Longtime Titans punter Craig Hentrich announced his retirement Wednesday, ending a 12-year run with the team and successful 17-year career in the National Football League.
Hentrich sat down with Titans Online to reflect on a stellar career that included two Pro Bowls and put him atop most all of the franchise punting marks.
An original Titan known for his knuckle ball punt that stymied many punt returners, Hentrich said he has no regrets and will cherish every moment of his time spent in Tennessee.
(on what led to his decision to retire)
Old age. It's just been a ton of injuries the last three or four years. I think it's just my body telling me it's time to quit. I've been doing this for 17 years in the league and really 32 years of my life kicking footballs. I think my body is just tired.
(on what the injuries have been for him)
I've had a couple of neck surgeries in the last three or four years. Of course my knee – I played 19 without an ACL and that had been bothering me for the last few years. Those injuries add up after a while. They're little nagging injuries, but they are on your mind all the time and are always giving you problems. I had an ACL done and I'm still probably a couple months away from my (right) knee being totally healed.
(on how many times he has considered retirement)
Probably about the last three years I've thought about it, but I've always felt like I could get one more in and still do a good job for them. When I signed a six-year contract, my whole goal was just to finish that contract out. I've got one more year, but it all ended up for the best.
(on how he'll think new Titans punter Brett Kern will do for the team)
When I talked to Mr. Reinfeldt about retiring, I told him the only reason I would do this is that I feel comfortable in the job Brett has done. If I didn't feel comfortable that this job wasn't going to be in good hands, then I'd probably try another year. Brett did such a good job and he's such a good guy. I'm happy he's done as well as he has.
(on how he will reflect on his career)
I think overall I've done what the coaches asked me to do and the organizations have asked me to do. I think overall it was a successful career and I wouldn't trade a second of it.
(on the consistency in which he performed)
That's what I've tried to pride myself on my whole career. A lot of guys can go out and kick 60-yard punts all day, but 60-yard punts are going to be taken back for touchdowns, so I really tried to pride myself on not trying to outkick my coverage, being consistent, doing the things they ask me to do, and I think for the most part I have done that.
(on how he looks back on his 1998 free agent signing from the Green Bay Packers to Tennessee)
It was a great move for me, not just for the fact that I came to this organization – one that I've come to love over the last 12 years – I met my wife here, have raised my kids here and I think it was a great move for me. My five years in Green Bay were great years. I was able to play in two Super Bowls and win one, but the last 12 years have been the best 12 years of my life.
(on former Packers GM Ron Wolf later regretting letting Hentrich get away)
It's great to hear. At the time I was pretty upset about not being able to go back there because when you're in a place that you're established, you're happy and I loved Green Bay when I was there. It's disappointing that you feel like you're not wanted back. But this organization has given me great opportunities. It's hard for anybody in this league to say that they've played for the same organization for 12 years, so I feel fortunate that that's happened to me.
(on some of his fondest memories as a Titan)
The Oakland game sticks out just for the fact that everything happened so quick. Joe Nedney got hurt and I had to go in before halftime and kick a field goal and kick a couple more in the second half. Obviously the Music City Miracle game, the Super Bowl we were fortunate enough to play in…there are so many great memories. I can't think of any bad ones.
It's something I've done my whole life, so it was really nothing new for me. I've always tried to stay in shape for kicking in case they needed me for that. It's something I loved to do. I wish I had been able to do more of it, but in a pinch I was able to do it and I think that's what kind of kept me around here for so long because I was able to do things like that. They had confidence in me in running fake punts and doing fun things like that. I think that was a big factor in my longevity.
(on if he ever thought he would play in the NFL this long)
It's weird because the first four or five years you're in the league it seemed to go by so slow because you're trying to get to free agency and you're trying to get vested and things like that. Then all of a sudden you're in year 14 and 15 and you don't remember the last 10. It's gone by so fast. It just seems like a couple days ago I was in New York getting my first physical, just nervous, feeling out a place and all of a sudden 17 years later, here I am.
(on what is next for him)
I haven't decided yet. I'm going to sit back and relax for a while. It's been a long time since I've been able to sit back and do nothing. I'm going to hang out with my kids and watch them go through school, go to their sporting events and play a lot of golf. It's going to be fun just to sit back. And once that's over I'd like to get back into doing some kicking camps of some kind. I think with the knowledge I've gained over the years of kicking and watching other people kick, I can help a lot of people out that have the same passion that I've had about it.
(on if he'll stay in Nashville)
Yes, we're going to be here. My wife is a singer-songwriter here and plays in a lot of venues and writes three or four days a week. She's doing a great job and it's fun to watch all that stuff, so this is where we're going to be. My kids (10, 4 and 1) love their schools, so you can find us right here.
(on the relationship he's had with so many kickers over the years)
I still stay in touch with every one of the guys that I've played with. I talked to Ryan Longwell and Chris Jackie last year. Joe Nedney, Gary Anderson and Al Del Greco, we all still keep in touch. In fact, we're going out to California to see Joe this year with our family. We spend so much time together as kickers and punters that you form a really unique friendship with these people. Basically, your job depends on each other. It's such a cool thing to see our families have all bonded and really become great friends. That's part of what this whole business is about -- making relationships and lifetime friendships like that.
(on what the Titans fan base has meant to him)
It's been fun because I've basically been here since Day 1 watching this town grow in their love for the Titans and the way that this team has reached out to the community has been unbelievable and it seems to grow every year. It's fun to watch because people come up to me all the time and thank me for going to a hospital to visit their family or whatever. We see it as it's no big deal to us, but to other people it's such a big deal. To see guys that I go out with to the hospitals or to help at wherever we are, just to see these people smile and laugh, to know that can make their day from what we do for a living is gratifying. It's so fun to do because you can change people's lives just by doing little things.
(on what he'll cherish most about his time in the NFL)
Probably the people that I've met and played with and the coaches that I've played for. You're together for six, seven or eight months out of the year, sometimes even nine months. These people are like family. You play with a new family every year and you meet so many great people, so many famous people that you realize are just like us. It's so cool to see people coming together and forming a team, and to go out and work together to try to win a game is just a cool thing to be a part of. I'll cherish every second that I've had here.