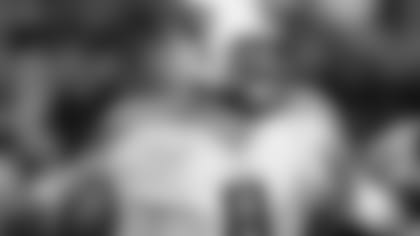 Titans QB Matt Hasselbeck says he will be ready to go when Tennessee hosts the Tampa Bay Buccaneers Sunday at LP Field.
NASHVILLE, Tenn. - Titans quarterback Matt Hasselbeck says he will start Sunday against Tampa Bay and coach Mike Munchak agrees after watching the veteran go through a limited practice Wednesday.
Hasselbeck banged his right elbow off a defender in last week's 23-17 loss to Atlanta midway through the third quarter. He told Tampa Bay reporters Wednesday in a conference call that he will start against the Buccaneers (4-6), then went out and practiced.
Munchak said Hasselbeck looked good.
"We didn't ask him to throw a lot of deep balls today. He'll start doing that tomorrow, just want to be cautious there,'' Munchak said. "If it was up to us, we probably wouldn't have practiced him at all like we hadn't the last few weeks just to rest him in general and not necessarily because of the arm. He wanted obviously to be out here and get some throws and do some things.
"I think he feels good. It's all about confidence. I don't think he has an awful lot of soreness.''
The 13-year veteran hit his throwing arm on a defender's helmet during a pass attempt in Atlanta. Tests Monday showed no structural damage, though the Titans (5-5) planned to limit him in practice Wednesday.
Hasselbeck doesn't speak to local reporters until Thursday, but receiver Nate Washington said the quarterback looked just like himself during practice.
"He did everything he was supposed to,'' Washington said. "Made the reads when he was supposed to make them, made the checks when he was supposed to make them. So he looked like Matt Hasselbeck to me.''
Hasselbeck goes into Sunday's game having thrown at least one touchdown pass in nine of 10 games this season, and he is 64 yards passing away from 32,000 for his career.
He worked behind a shuffled offensive line Wednesday with left tackle Michael Roos (groin), center Eugene Amano (hip flexor) and right tackle David Stewart (right calf) not practicing. Munchak said Roos and Amano should practice Thursday and Stewart may be limited, and the coach expects all three to be available Sunday.
NOTES: DE Derrick Morgan (ankle), DT Karl Klug (bruised knee) and LB Barrett Ruud (groin) did not practice.