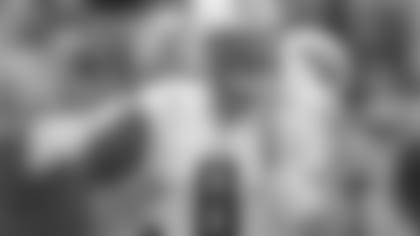 Matt Hasselbeck is building a stronger chemistry with Titans receivers as the season progresses.
NASHVILLE, Tenn. — Matt Hasselbeck walked into his weekly huddle with reporters and threw out the word, "Y'all," when he asked how the media was doing.
It didn't roll off the Massachusetts native's tongue with the smoothness that the football has spiraled off his fingertips this season.
"It was a little forced," Hasselbeck quickly critiqued of his attempt at the contraction so common to Southern dialect.
Hasselbeck is in the first season of a three-year deal. He played collegiately at Boston College, spent three seasons in Green Bay (one on the practice squad) and played 10 seasons in Seattle. He has joked about relocating to the South while also giving thanks to people who have welcomed him to Tennessee.
Maybe he will practice the phrase a little more. He's a firm believer in the link between practice and execution. He quickly built chemistry with Kenny Britt and Nate Washington through reps during spring training, but Britt's season-ending injury in Week 3 changed the dynamic.
Second-year receiver Damian Williams moved up the depth chart and has been developing chemistry with Hasselbeck. Williams has a touchdown catch in four of his past six games and posted the first 100-yard receiving game of his career against Carolina Sunday.
Hasselbeck said Williams showed readiness for the five-catch, 107-yard performance during extra work in practice. Williams received the extra reps because Washington (hip), Lavelle Hawkins (finger) and tight end Jared Cook (knee) were all banged up.
"Last week, we knew that Damian Williams was going to be healthy," Hasselbeck said. "We knew that he was the only guy that was going to be healthy for (last) Thursday's practice, so he had a lot of stuff and it showed up in the game.
"Subconsciously as a quarterback, if it works in practice, you're feeling good about it for the game," Hasselbeck continued. "I just think that's the importance of practice. When I've looked at the games that Nate has had a great game or Damian or Cook, usually they caught a bunch of balls in practice and I think that has something to do with why it happens in the game."
Hasselbeck has thrown at least one touchdown in each game this season. He's completed 193 of 312 passes (61.9 percent) for 2,233 yards and 14 touchdowns against seven interceptions and is continuing to build rhythm with his new teammates.
Williams turned a short completion into a 43-yard touchdown and later hauled in a deep ball for a 40-yard gain against the Panthers.
"I think it gives you a benchmark," Williams said. "Obviously I want to build on that and continue to grow in this offense."
Williams agreed that taking more reps last week further developed his connection with Hasselbeck.
"I was healthy and they weren't," Williams said. "The best thing is you're getting all the reps with the quarterback, so if he feels comfortable throwing a certain route to you, when you get to the game, it's automatic."
Washington, Tennessee's leading receiver with 39 catches for 501 yards on the season, managed three catches for 40 yards against the Panthers. Washington said his hip is getting better but he is still rehabbing it. He said the production in practice and the game by Williams built on the faith the Titans have in each person in the locker room.
"Damian did an awesome job of picking up slack for a lot of guys that were banged up Sunday," Washington said. "We rely on each other all the time. Just as much as Damian might have been relying on me to come out there and give everything I can, I was relying on him to do what he did Sunday. That's the way we look at each other, everybody in this locker room."