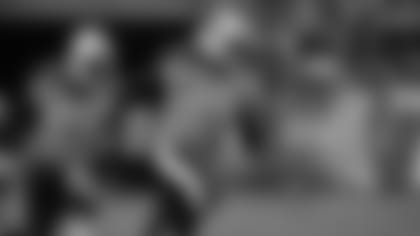 Defensive lineman Eric Bakhtiari's long hair goes towards helping young, sick patients suffering from hair loss.
NASHVILLE, Tenn. --** When watching Eric Bakhtiari on the football field, his long hair noticeably sticks out the back of his helmet.  What fans may not know is that his long hair isn't so much a physical sign of a free spirit, but rather a man who is growing his hair for a far greater purpose.

When Bakhtiari entered the league, he realized he was in a very fortunate situation and wanted to find ways to give back to the community.  He had short hair at the time and had always wanted to have long hair at one point in his life.  That combined with a passionate conversation with then San Diego Chargers teammate Jamal Williams led Bakhtiari to the organization Locks of Love, a non-profit organization that provides hairpieces to disadvantaged children in the United States and Canada who are under the age of 21 and are suffering from long-term medical hair loss due to any diagnosis.

Locks of Love (www.locksoflove.org) uses donated hair to make the highest quality hair prosthetics, with the prosthesis helping to restore their self-esteem, confidence and normalcy to the children.

"Jamal told me 'You have no idea how much it means to the kids," Bakhtiari said.  "To be 14 years old and to not have hair can be kind of embarrassing for them, so I decided I was going to grow my hair out. I was going to have long hair once in my life and this way I am going to be able to do some good for someone else."

Bakhtiari has been growing his hair ever since.  It's been a little over two years now, and he plans on cutting it at the end of the season, hopefully "after the Titans win the Super Bowl."

While this endeavor is a first for Bakhtiari, he regularly gives back to the community in any way he can.

"I did adult ministry this year in Tennessee," Bakhtiari said.  "Anytime anyone has asked me to do anything like that I've done it.  I went and talked to some inner-city school kids about the influence of education in the month of July — just little things like that."

Bakhtiari is the oldest of three brothers who have all gone on to play football after high school, as his brother Andrew is a defensive end at San Diego and David, the youngest of the three, is an offensive tackle at Colorado.  He thinks that his family's success in football is a result of two primary factors.

"God's favor would be one, and the second would be our work ethic," Bakhtiari said.  "That is something we got from our parents.  Growing up, they told us you can do anything you want to, but the one rule is that if you start something you have to finish it.  So essentially we're all three boys, we're all competitive and they got tired of me kicking their butt in everything we did so it made them raise their game.  I'm five years older than the next oldest and seven years older than the youngest so when they got to their respective classes and started playing sports, they were just so far ahead of the competition."

When asked if his brothers go to him for advice with their football careers or the struggles of balancing the time commitments of being a full-time student and a collegiate football player, he said he is always there to help.

"I offer them advice all the time," Bakhtiari said.  "I was out in San Diego for a month training for camp so Andrew and I talked a lot.  I offered him a lot of advice on how to improve his pass rush; this is only his third year playing defensive end because he didn't play defensive end in high school.  Then with David, he's a tackle so he has to block me and I just tell him things that give me trouble so that he can apply it."

Eric and David's football careers took very similar paths.  Neither of them excelled on the football field early in their respective high school careers, and neither earned a starting spot until their senior years.  Once they got their opportunity to start, they both ran with the opportunity and earned college scholarships.

Having someone to look up to who had gone through a similar situation helped David to keep working towards his goals on the football field and eventually his perseverance paid off with a scholarship to the University of Colorado.

"He's my idol," David said.  "I followed him when he was playing and he's basically what got me to start playing football.  He is my older brother, and I look up to him — a lot like I look up to my dad.  I try and emulate what he does not only on the field, but off of it as well."