**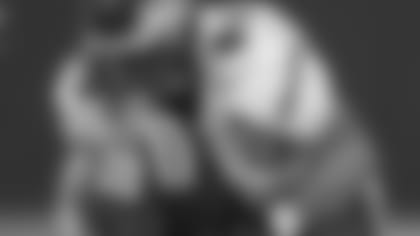 The Titans are hoping defensive end Jason Babin can help improve their sack total from a year ago.
NASHVILLE, Tenn. --** Veteran defensive end Jason Babin is relentless – both on and off the field.
A seven-year NFL veteran, Babin has prepared his entire life to play professional football. He joined the Titans as an unrestricted free agent during the offseason, hoping his pass-rushing skills are a match with the attacking scheme of the Titans, his fifth NFL team. When Babin isn't pursuing quarterbacks, however, he has his sights set on a different type of prey.
Since his childhood, Babin has been an avid hunter and outdoorsman. He grew up on seven acres along a river in Paw Paw, Mich., a village with a total area of only 2.9 square miles.
"There weren't a lot of options," he said. "We grew up fishing, hunting – outdoor stuff."
After being drafted by the Houston Texans in 2004, Babin capitalized on his love of the outdoors. While exploring the Houston area with fellow teammates, Babin stumbled upon a hunting ranch.
"I had never seen anything like it," Babin said. "I was blown away. So I pretty much said, 'I've got to have one of these.'"
After touring more than 25 possible sites, he purchased a 435-acre plot of land in Center, Texas. Unlike much of Texas, this site was rich in green grass, hardwoods and rivers – scenery that reminded him of his Michigan home.
Now, Babin Ranch is home to numerous species of animals, including whitetail deer (Babin's favorite animal to hunt), elk and buffalo. The ranch also serves as a habitat for exotic species, such as axis, fallow, black buck, kudu and even zebra.
But Babin doesn't spend all of his time on the ranch hunting and collecting creatures. Babin Ranch also dabbles in genetics by performing laporoscopic artificial insemination on whitetail deer. This procedure allows Babin and his staff to breed doe with the most desirable bucks, ensuring that the offspring will be attractive to hunters as well.
 "It's kind of a fun hobby," Babin said.
A passion for the outdoors has served as a bonding tool for Babin and his two sons, Maddux, 5, and Talan, 3. Babin said the boys love to help him with the outdoor chores, such as filling the feeders for the animals.
Babin knows the importance of being a role model for his sons. He credits his father, Jim, for helping him find success in both his personal and professional life.
"He was never going to do anything for me," Babin said. "He'd say, 'If you want something, you have to get it. No one's going to help you.' He's always instilled hard work and outworking everybody else."
Jim owns and operates an electrical business in Michigan. He taught Babin the importance of a strong work ethic and even swayed him to perform electric and construction work to develop toughness. Before he became a teenager, Babin already knew how to wire a house.
The father and son business partnership continues. Currently, Babin and his father own a security installation company in Houston. Their company performs commercial installation along the Gulf Coast.
But even with the hard work he did for his father, Babin still found time for football during his adolescent years. His neighbors often filed complaints about a teenager running down the street with a stolen tire. Turns out, it was just Babin doing his nightly run.
"You've got to be fast if you want to play football," Babin said. "So I had a little harness and a chain hooked to a tire. And I'd run sprints with it."
His hard work paid off. Babin was a two-time Defensive MVP while playing for Paw Paw High School and even earned a state championship in wrestling. In his senior year at Western Michigan, he recorded 15 sacks and became the first player in the school's history to be taken in the first round of the NFL Draft.
Although celebrated for his pass rushing, Babin was converted to outside linebacker by the Texans. After three seasons in Houston, he was traded to Seattle in 2007, where he returned to his current position as a defensive end.
"I was a little salty about having to play linebacker because I'd never played it before," Babin said. "It's been a bumpy road to get back to that spot, but we're finally back there."
"To feel that atmosphere – the fans, the team, the emotion – is something I'm dying to get back to," he said.
But Babin feels he hasn't yet reached his "maximum potential." This season, he'll use his natural speed and quarterback pressuring skills to provide depth at the defensive end position for the Titans. He believes the Titans are an excellent fit for his skills.
"I'm just happy to be in Tennessee and be a part of this organization," Babin said.
Following his father's advice, Babin works tirelessly to reach his goals. Whether he's playing football, building a ranch or engaging in entrepreneurship, he has a relentless attitude. This season, the Titans look to benefit from both Babin's talent and his work ethic.
Now, it's time to hunt some quarterbacks.