TAMPA, Fla. – Warren Moon knows a good offense when he sees one.
The Hall of Fame quarterback went to the Pro Bowl nine times while throwing for nearly 50,000 yards in his career, and he directed the Run-and-Shoot offense with the Houston Oilers like a magician.
Moon said he follows the Titans closely, and believes the team is just getting started after finishing second in the NFL on offense in 2020.
"Offensively, with the pieces they have, they are set up for the long haul," Moon said of the Titans. "I think they have a really good nucleus of players, a really good core. I think they have a philosophy in place that is very, very successful as far as being able to run the football with Derrick Henry and the play-action game, and the way Ryan Tannehill is playing, and he also uses his legs very well. And they have a dynamic receiver on the outside in A.J. Brown.
"They're going to be good for years to come."
The Titans, of course, lost offensive coordinator Arthur Smith to the Atlanta Falcons – he was hired last month to be the team's new head coach. Titans coach Mike Vrabel promoted tight ends coach Todd Downing to take over an offense that scored 30-plus points in 10 games in 2020, and 40-plus point on five occasions.
In an interview with TennesseeTitans.com leading up to Super Bowl LV, Moon discussed what he's seen from Tannehill, Henry, and Brown, while also giving praise to Titans controlling owner Amy Adams Strunk.
"I hope they keep things similar to what they have been doing and not try and change a lot because they really have it going pretty good offensively," Moon said of the transition at offensive coordinator. "I know they got shut down a little bit in the playoff game against the Ravens, but that had a lot to do with what the Ravens were doing and how they kept the ball away from the Titans and limited what they could do. But I expect the Titans to be able to sustain success heading into next season. Defensively is where they are going to have to get better."
Moon, who threw for 49,325 yards in 17 NFL seasons (1984-2000) with the Oilers, Vikings, Seahawks and Chiefs after first playing for the Edmonton Eskimos in the CFL, said he thinks the Titans need to strike now with the talent they have on offense.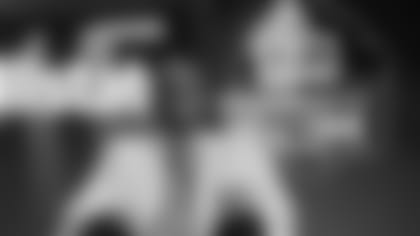 But they'll need to make strides on defense, he said.
"They have a chance to be really good for years to come, but you just don't know how long Derrick Henry is going to be able to keep up the pace with the pounding his body has taken so far and will take over the next couple of years," Moon said. "There's probably another two-year window with him until you see a decline in his play unless they take some of that wear and tear off of him.
"Defensively is where they are going to have to make improvements through free agency. And I know they tried to do some things this year by trying to bring some guys in, (Jadeveon) Clowney, and that didn't work out because he was hurt, and then they brought in (Vic) Beasley, and that didn't work out. That's where they were deficient on the defensive side was pressuring the quarterback. They did a decent job against the run, but they just could not get pressure on the quarterback and get teams off the field on third down. They have to go out and address that problem, whether it is through the draft or trying again in free agency. They have to find some type of edge rusher who will give them consistent pressure on the quarterback, which will help their secondary."
Moon said Henry's stretch the past two years, including his 2,027-yard season in 2020, has been remarkable.
"Earl Campbell, when he first came into the league, he had a six-year stretch where he was pretty dynamic for the type of runner he is, and Earl and Derrick are the same type of runners, power runners," Moon said. "Derrick didn't do as much in his first year or so, but once they found out how to use him, he's been on a tear lately. I know he is a bigger guy, so he can probably take more pounding than the average back can, but at some point, it is going to take its toll, and I just don't know when that is. I am saying he can do two, maybe three more years of this. If they can get some sort of complementary back to him so when he comes off the field they don't lose as much, that would help Derrick Henry's longevity."
Moon said he think Brown, named a Pro Bowler in 2020 after his second straight 1,000-yard season, is "just getting started."
"A.J. of reminds me of a guy I played with in Minnesota named Jake Reed," Moon said. "He's a really big strong, big-bodied receiver. We didn't use Jake as much on the types of routes they used A.J. on as far as a lot of crossing routes and things like that, but we did throw the fades up the field with Jake and he was about 6-3, 220 pounds and has similar speed as A.J. And he caught 85 passes one year for about 1,200 yards with us. He reminds me a lot of him."
Reed played 12 NFL seasons with the Vikings (1991-2001) and Saints (2002) and he finished his career with 450 catches for 6,999 yards and 36 touchdowns.
"But A.J. has only scratched the surface -- he has only been in the league two years now," Moon said of Brown. "That is probably the second hardest position to learn to play when you come in, because you almost have to be a quarterback when it comes to coverages, knowing what the coverage are, and they are so much more advanced than what you see in college and you are playing against much better coverage guys than you ever faced in college on a consistent bases. So, the adjustments for receivers is much tougher for receivers coming in. But he has already beaten that battled and I think his best years are ahead of him – he is only going to get better."
As for Tannehill, who threw for 3,819 yards with 33 touchdowns and seven interceptions in 2020, Moon thinks he's a quarterback the team can continue to win with.
"I like his versatility," Moon said of Tannehill. "I like that not only can he throw the football down the field, he is very accurate on the short ball, and he can also take off with his leg because he is a very good athlete. … I think some of his better years are ahead of him as he gets more accustomed to this offense that he has only been in two years now. I like his versatility, and I like his mobility and I like his accuracy."
Moon, who said he was in Nashville recently, said he supports the franchise and wants the team to do well.
He's also a fan of Titans controlling owner Amy Adams Strunk, who he sees on occasion at different events. Moon was aware the team is now in the process of more renovations at Saint Thomas Sport Park, the team's training facility.
"She's done a great job with the organization," Moon said of Strunk. "I like that she has really invested in the infrastructure of the team, the training facility, because not only should the players have first class facilities, but it will also attract free agents when they come in there because they see these nice glowing facilities, it will be one more feather in the cap of the organization. And I like it that Amy does it all staying in the background. She doesn't have to be out front, and she doesn't have to have her name in the paper all the time. She is making all the right moves for the organization in a positive way and I think that is why they are having success.
"They say success starts at the top and works its way down, and in her short bit of time taking over as owner, she has made these things move to the top in that organization, and her hires have been important as well."