**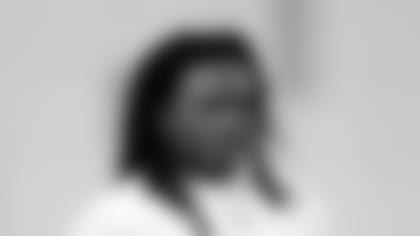 Once again, Chris Johnson is not being shy about his lofty season goals. After rushing for over 2,000 yards last season, people are listening.
NASHVILLE, Tenn. -** Chris Johnson has his sights set on making NFL history.
So what if Eric Dickerson couldn't do it. Neither could O.J. Simpson, Barry Sanders, Terrell Davis nor Jamal Lewis.
That doesn't bother the Tennessee Titans running back.
Johnson missed out on Dickerson's all-time NFL rushing mark in 2009 and fell short of being named the league's MVP.
However, Johnson did become the sixth man to run for at least 2,000 yards, and he's back wanting even more history still looking for Dickerson's record of 2,105 yards rushing, MVP and to become the first man ever to run for 2,000 yards more than once.
Missing out last year has simply made the man who says he's the NFL's best running back want more.
"I'm shooting for 2,500, but I'll be happy with anything over the record,'' Johnson said.
Johnson wasn't very happy back in January when he didn't even receive a vote for MVP. Every All vote was split among four quarterbacks. He was voted The Associated Press' 2009 NFL Offensive Player of the Year, but Johnson believes he can force the vote by running his way past Dickerson.
"A player never did it twice, back-to-back,'' Johnson said of topping 2,000 yards rushing. "I don't think they would have a choice.''
Not only has a running back never run for 2,000 twice in a career, the other five to top that mark never even came close the next season. Sanders came closest in 1998, running for 1,491 yards on eight more carries than in 1997. Dickerson played two fewer games in 1985 than he did in 1984 in setting the rushing record. Davis' season ended in 1999 after four games.
The Titans have designed a few plays to take advantage of having Johnson in the same backfield with Vince Young, something that only happened in the final 10 games last season. But aren't defenses going to be more prepared for Johnson?
"It's hard to get faster,'' coach Jeff Fisher said.
Johnson is working with a new position coach after Kennedy Pola left July 24 for Southern California, leaving Fisher to promote Craig Johnson from quarterbacks coach to assistant head coach and running backs assistant.
The assistant coach compares Johnson's situation to the late Steve McNair trying to improve after leading the Titans to the AFC championship game after the 2002 season. McNair wound up sharing the MVP award with Peyton Manning in 2003. The coach sees room for improvement from the 5-foot-11, 191-pound Johnson because film study showed he missed more big runs in 2009.
"Maybe if he made a quicker cut here or a slower cut there. Again, we're being critical. When you get to the level he is at, you're talking about the small things, but the small things make a big difference. That is my charge for him ... to find those small things, and even if it's 2 percent better, that will make a difference,'' Craig Johnson said.
Johnson stayed away from the Titans this offseason wanting a long-term deal bringing him at least $30 million in guaranteed money. With the NFL in the final year of the current labor deal, the Titans wouldn't do that. They did shuffle some money due in 2012 that Johnson already had earned with his play into his paycheck for 2010.
That made him happy enough to report on time for camp.
Receiver Nate Washington, who stayed in contact with Johnson during the offseason, said the running back expects perfection from himself.
"He's not complacent with his season last year or any success he's had in the past. He wants to continue building off it. His personal success is what it is, but he's looking forward to a Super Bowl just like everybody else in this locker room is,'' Washington said.
Some credit for Johnson dreaming big goes to an unusual person: Minnesota running back Adrian Peterson. He insists he's the better running back, but he shared his thoughts with Johnson.
"I view myself as the best running back and the best player that's going to play this game. I told him to be able to accomplish those things you have to envision (and believe) in yourself, or it's not going to happen,'' Peterson said.
Johnson watched Peterson in the playoffs and calls himself a fan who's glued to the TV whenever the Vikings running back plays. But the man who fumbled only three times on a combined 408 carries or catches calls himself the NFL's top rusher and is determined to cut back even on those mistakes to avoid hurting his team more than he helps.
Fisher noted people scoffed a bit a year ago when Johnson first announced he wanted to run for 2,000 yards and win the MVP award. Not that Fisher is worried about getting Johnson to 2,000 again this year.
"Help us win more games would be very realistic,'' Fisher said.
A playoff berth would be a good substitute for that CJ2k again goal.
"I come up short and we make the playoffs, it's no problem.''