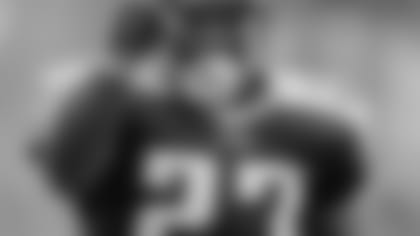 Former Titans running back Eddie George will be inducted into the 2011 class of the College Football Hall of Fame.
NASHVILLE, Tenn. – Eddie George was going about his business, working out and taking in a little golf on a typical Monday.
Then his phone rang. The news he received left him speechless.
TITANS ONLINE: What was your reaction upon hearing the news?
GEORGE:  When I first heard the news, I was speechless. I didn't expect it this year or any time soon. I was going about my day, working out and playing a little golf, and once I found out I didn't know how to respond. I was elated…just to have my name as a Hall of Famer is phenomenal.
TITANS ONLINE: Looking back, where did your football dream begin?
When I start to think back to when this journey began, I used to play football in my grandmother's backyard in Philadelphia by myself, dreaming of playing college football, then my journey to Fork Union Military Academy and the trials and tribulations there. And then going to Ohio State and Tennessee, and now that I'm done playing, it's like my entire football life just flashed before me and the people involved in that – my teammates at Ohio State. Meeting our quarterback, Kirk Herbstreit, for the first time in 1992. Just how I wanted to work out with him and Brian Stablein and catch passes as a freshman. That's where that journey began. Meeting guys like Robert Smith who showed me how to work on the field and practice with great intensity…competing against Raymont Harris, going against our great defense and players, it was such a high level of competition. It was an environment that was highly stressful because there were so many talented players there. Just to get on the field was tough in practice. That's what I had to fight for. Fighting for that and persevering through some hard times led me to a Hall of Fame career.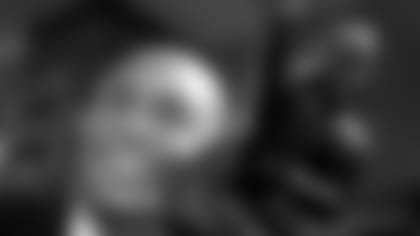 George wins the Heisman Trophy at the Downtown Athletic Club in New York, Saturday, Dec. 9, 1995. George led the nation with 24 touchdowns and rushed for an Ohio State-record 1,826 yards. The senior tailback beat out Nebraska QB Tommie Frazier and Florida QB Danny Wuerffel by a surprisingly wide margin.
TITANS ONLINE:* *How has that desire and determination paid off in life after football?

GEORGE: It serves me well now because now I understand the blueprint and the process that I had to go through to get to that level. Now that I'm in the next phase of my life, I can apply those same principles and hopefully I can have those same results.

TITANS ONLINE: Is earning hall of fame status something you could have ever imagined when you first signed on at OSU?

GEORGE: At Ohio State I was simply trying to get on the field. I was simply trying to understand the plays. I remember sitting in the meeting rooms and the coaches putting up plays on the board and I'm like, 'I will never get this. This is incredible,' but now talking about being in the Hall of Fame and where it led me, I would have never thought about it. I dreamt of it, but now almost 20 years later celebrating the fact that I'll be in the Hall of Fame based on my career at Ohio State is just tremendous.

TITANS ONLINE: What are you most proud of from your career at OSU?

GEORGE: Wow…I guess the legacy of the work ethic that was there. I think it permeated throughout our entire program after I left. The players – Mike Vrabel, Greg Bellisari, Stan Jackson, Sean Springs – guys that I was there with and guys that came underneath us. They understood the standard that was left behind -- how you prepare, the process involved, putting aside accolades in light of the team and understanding that by doing your part at a place like Ohio state that everything will come to you – more than you can imagine. That's the thing I'm most proud of, that during that time period I was part of that, and I left a small thumbprint of my legacy of Eddie George on the program.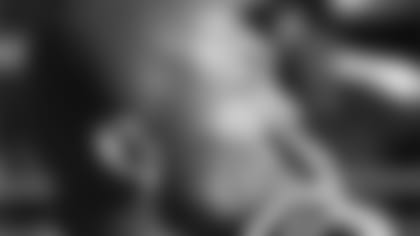 Watching a video of his college highlights, George sheds tears during halftime ceremonies at Ohio Stadium on Saturday, Nov. 10, 2001, where his jersey was retired.
TITANS ONLINE:* *So the example of your work ethic was more important to you than your individual accomplishments?

GEORGE: When I think about it, it just almost brings tears to my eyes because it's something that's so small in people's eyes -- that you can leave a long-lasting impression because they're going to look at the Heisman and the Hall of Fame -- but it's how people remember you, what they say about you and your reputation that means a lot to me. That's huge.

TITANS ONLINE: How did your time at OSU help prepare you for a successful NFL career?

GEORGE: It was everything. I've experienced some highs and definite lows at Ohio State, and knowing that and playing on that level prepared me for the professional ranks because I've experienced that every single Sunday and I knew how to deal with the process of dealing with defeat and setbacks, and how to look at a setback and see the opportunity in it. That's the same thing I did at Ohio State. The year that I fumbled twice at the goal line against Illinois, and to not see the field for two years, I could have easily transferred or given up. I could have easily given into the fact that I would never be a great running back, but I kept working hard and persevered through it. I kept looking at the flipside of it and what there was to learn from it, and it made me a better player. I took from those experiences – the same process, the same perspectives, when there was a setback or even a success – where is there an opportunity to learn and grow from that and you evolve to become a better man and a better player from that.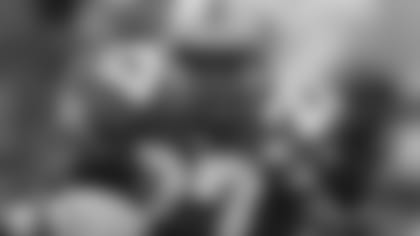 George ranks among the top three in Ohio State history in rushing yards (3,768), rushing touchdowns (44) and 100-yard games (20). He also holds school records with five 200-yard outings and 12 consecutive 100-yard games.
TITANS ONLINE:* *What are some of your most memorable moments from your time at Ohio State?

GEORGE: Competing with Mike Vrabel, running wind sprints in the summertime…when we get together we talk about competing in drills, going one-on-one with some of the best players in the country. That's where greatness happens. If I knew I could beat Sean Springs in a wind sprint, then I knew I could beat half the country because we were all so competitive. I knew I was prepared. That's why during my NFL career I went back in the offseason to train at Ohio State because I knew the level. When you're running against Robert Smith and some of the All-Pros like Orlando Pace, it was just a great mindset that we developed, we created. Those are my greatest memories. It's not so much the games. The games are the byproduct of the hard work. It's the process, and that's what I'm most proud of.

TITANS ONLINE: What would it mean to eventually make it into the Pro Football Hall of Fame?

GEORGE: That would be incredible, the cou'de gra. That's the last one. I guess that's the capstone. To don the yellow jacket and have the opportunity to have someone special give a speech for you and you give your speech in your final moment of your professional career would be amazing. I hope and pray that one day I'll have the opportunity to do that, and that the writers and powers that be that make those decisions will recognize what I've done for the game and how the game has impacted my life. Hopefully they'll recognize that it was Hall of Fame-worthy.

TITANS ONLINE: How would you like your college and pro career to be remembered over time?

GEORGE: I don't know. That's for people to look at and decide how they feel about that. I'm not one to control that or direct that in a certain way. When they look at my career, they have to understand that nothing was given to me. Nothing was expected of me. I came out of nowhere to really just live a dream. If people can look at that and be inspired by that to say, 'Hey, you know what, regardless of the outcome, regardless of my physical attributes – I'm not big enough, fast enough, strong enough, don't have the talent to do it – but through enough hard work and repetition and persistence, I will achieve.' You just have to keep it in the forefront of your mind and base every single decision that you make off of your dream during the course of a day. If you're deciding on whether you're going to hang out with your friends vs. going to work out, what's more important to you? Where is it in your priorities in terms of what your dream is? I guess if people look at my career, they can draw on that and say, 'Hey, if he's been through all this adversity during his career, roadblock after roadblock and overcame that, then I can do the same thing in my life.'