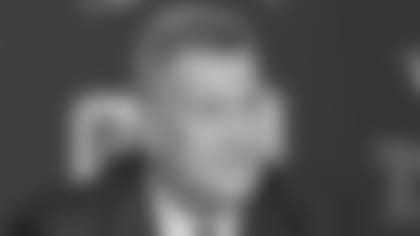 GENERAL MANAGER MIKE REINFELDT**
(on whether the decision to draft Jake Locker was a consensus among the people in the draft room)
I think it was a full consensus.  I think everybody among the scouts, the coaches, the head coach, the general manager—I think it's a guy that we liked early, we targeted early and we were ecstatic when he fell to us.
(on where they had Jake Locker on the draft board)
He was at a point that made sense to pick him.  He graded out that at that point in time there were two or three guys we considered based on the value of the board and he was the one we chose.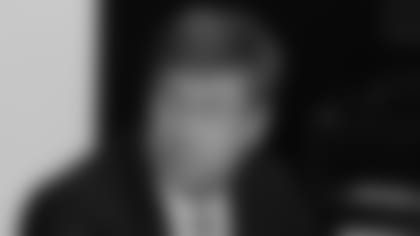 VICE PRESIDENT OF PLAYER PERSONNEL RUSTON WEBSTER**
(on what stood out about Jake Locker as a player that led to the Titans' decision to draft him)
I think it's his leadership, his toughness, his smarts and his talent.  He's a very talented young man with a lot of makeup.  When everyone talks about him they talk about his intangibles, but he's also very talented.  That combination, I think, is going to bode well for him—he has a great work ethic and all of that.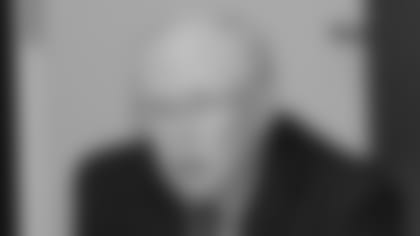 OFFENSIVE COORDINATOR CHRIS PALMER**
(on what his relationship with Jake Locker is at this point and where he envisions the relationship going)
I'll tell you a little story.  We went out to work him out as you guys are well aware, and through the workout I thought he could work on his feet which I think will help him.  We gave him the task to see how many successful rotations jumping rope he could have in 30 seconds.  The first week he writes back—texts me back and says, 'Hey, I got 80 and I got 85.'  I said well your goal is when you get in here to be up over 100 and he was up over 100 and that just spoke volumes about what kind of guy he was and the type of responsibility that he takes.  I was very, very impressed with him from the first workout, in visiting with him and doing the things that you want a quarterback to do.  During the course of the workout I tried to coach him on a couple of things and he responded very, very well to it.  I think we have a new culture here at the quarterback spot and a guy that is going to be the first one in here and the last one out.  A guy that is getting married in July and will spend his time on Cape Cod this summer with me, so I am looking forward to that.  I like to throw during the summer and in the afternoon go to the beach, so I'm very, very excited about that.
(on the amount of time between the first time Jake Locker did the jump rope challenge until he exceeded the goal of 100 times in 30 seconds)
I would say it was about three weeks.  Now let me just tell you, I want you to go home tonight and try because it's not as easy as it sounds.
GENERAL MANAGER MIKE REINFELDT
(on Jake Locker's ability to exceed the jump rope challenge of 100 repetitions in 30 seconds)
And we'll be reading your blog to see how you track along the way.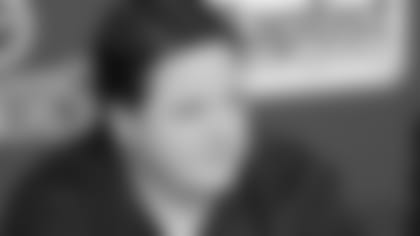 QUARTERBACKS COACH/PASSING GAME COORDINATOR DOWELL LOGGAINS**
(on Jake Locker's mechanics and intangibles)
I am going to kind of echo what Chris (Palmer) and Ruston (Webster) said, when we looked at him this guy is the total package as far as the attributes, the talent, the upside.  Even when you watch the tape and the work he did with Ken O'Brien, you saw a huge improvement with what Ken did with his feet and developing the base with the accuracy at the workout and then the private workout.
(on his first draft pick as the head coach of the Tennessee Titans)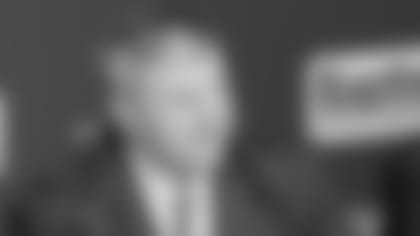 I'm excited.  I'm thrilled.  This is the guy that if we got a quarterback, this is the guy I was looking at strongly—I thought it would be a great fit here.  As Chris (Palmer) mentioned, that workout when we went out to Washington to spend some time with him, I liked him on tape a lot and then when I saw him out there and we put him through the workout and I watched him work with Chris and how he responded to it and how competitive he was.  Just eyeballing it, seeing how intense he was and I just pictured myself in the huddle with this guy and I thought, 'Man, these guys will love playing for this guy.'  I think he's got something special like that where he'll bring out the best in other players.  I think they'll want to play hard for him.  I think if it's third-and-six, he's getting seven.  I think he's one of those kind of guys that is going to find a way to win for us.  I think that the guys in this building will believe in him.  I just remember coming home from that trip thinking, 'Man, that guy was something special.'  If I hadn't gone on that trip maybe I wouldn't have felt that way because on film you don't get that feeling, obviously, and in person I just felt really strongly about him and I went back and watched more tape and it just felt right.  For the draft we had certain needs, obviously (quarterback) is one of them, and I am thrilled to be sitting here saying that we got the guy.
(on how he compares Jake Locker to Blaine Gabbert)
I don't really want to compare them, I'm happy with this guy (Jake Locker).  We've all said the attributes that we like and the fit he is, I just think overall he was the best fit for us at that position that was available for us.
GENERAL MANAGER MIKE REINFELDT
(on the decision to draft Jake Locker over Blaine Gabbert and on Gabbert being drafted by Jacksonville)
I think there is a natural rivalry there.  They are both very talented guys, Blaine was in the mix of guys that we considered.  At the end of the day I think the consensus for us was that Jake made more sense for us, but Blaine is a very talented young man.
(on how soon it could be before Jake Locker is on the field for the Titans)
I think as we said before when you draft a guy this high obviously we think a lot of him.  We think he'll have the opportunity to come in and compete right away, and if we feel that he's the best fit—if Chris (Palmer) thinks he is the best fit, if Dowell (Loggains) thinks he is the best fit, I think we'll feel that when the time comes in August or September when we have to make that decision then we wouldn't hold it against him that he is a rookie.
GENERAL MANAGER MIKE REINFELDT
(on if drafting a quarterback eighth overall will influence their intentions to sign a veteran quarterback in free agency)
I would still see us signing a veteran, I think that is something that we still need to do.
(on whether or not Titans owner Bud Adams influenced the decision to draft Jake Locker)
Mr. Adams is in town, we spent probably an hour, hour and a half today talking to him; talking through the guys that we thought would be there that were the top three or four people and fortunately this was one of them and as it turned out it was good input from Mr. Adams and a very good meeting with him.
OFFENSIVE COORDINATOR CHRIS PALMER
(on whether or not he believes some of Jake Locker's footwork issues are due to his history as a baseball player)
No, I know when I went to New York in '07 that (Eli) Manning was a 56-57 percent passer, and we think we have some drills that will be able to help him.  With Dowell (Loggains) being here and the combination of the both of us working with him you will see strides in his accuracy.  I think some of that was from injury; the guy is a very courageous football player, and he had some injuries during the course of the year that I think affected that.  I will say this to you, when we went and we worked him out the second day, his accuracy was really good.
GENERAL MANAGER MIKE REINFELDT
(on if Jake Locker will be delayed getting to Tennessee because of remaining coursework at the University of Washington) **
He's graduated.  After May 16 they can come in.
(on always being linked to Jake Locker as he was the first pick during his head coaching tenure)
I'm happy about that.  I'm real happy about that.  I think that is what you want.  You want this opportunity to get a player we feel can be a great player for this organization for a long time.
(on whether Jerry Gray is jumping around wanting defensive players)
We ran out of the room fast.  I didn't see what Jerry was doing.  He is on the next … they are all excited.  This is a team thing.  We all know what our needs are.  We have met as an offense and defense quite a bit the last couple of days.  We knew just like Mike (Reinfeldt) mentioned, you are going to have four guys in that group and obviously there were some defensive guys we were considering too.  We will take care of some of those other issues later.
(on whether he spoke with former teammate and University of Washington alum Warren Moon about Locker)
No, I haven't had a chance to do that.
OFFENSIVE COORDINATOR CHRIS PALMER
(on who is the best jump rope player he has worked with)
I think any time you get in the hundreds, you are doing a pretty good job.  It is also a conditioning test.  It really helps you with your balance in the pocket.  I found that during the course of my career that it really helps you slide and be on your toes and do those things.  Anytime you get up to 106, 107 to 120, you are doing a pretty good job.
(on if it is fair to say Locker's issues are from the waist down)
If you look at him he is a tremendous, tremendous passer outside of the pocket.  He was a Wing-T quarterback.  Having coached Wing-T when I was at Colgate in 1976, we led the country in total offense.  The Wing-T is a special deal as far as being outside the pocket and making things happen.  In my 21 years in the league, I don't know that I ever remember someone throwing as well as he does outside the pocket.  I think there are some things, if we can get him to do the same things outside the pocket that he does within the pocket, I think we will be fine.
GENERAL MANAGER MIKE REINFELDT
(on looking ahead in the draft and whether they will address some defensive needs)
It is fair to say.  We will do the second and third round tomorrow night and there is a very good chance there is still a lot of good defensive players up there, defensive line and linebackers.  There will be some guys that we are interested in.
(on whether the depth of the defensive line helped them make this decision)
I think that is part of the equation knowing that you can still get some very capable people in the second round or even the third round that can help on defense.  It is a deep class, especially at the defensive line.
OFFENSIVE COORDINATOR CHRIS PALMER
(on how hard it is to limit a player like Jake Locker from taking too many big hits)
I think it is something in college you are encouraged to do that, you know what I mean.  I think in the pro game you learn very quickly that they are bigger and stronger than you and you get out of bounds or get down a lot quicker.  I think having dealt with a lot of young quarterbacks they learn that very, very quickly at this level.
(on whether the organization will be able to meet with players tomorrow as a part of the labor rules)
Yes. I mean the guys that are in town have the opportunity to come in tomorrow and work out and obviously we will be here and coaches will be here, so it will be business as usual as that goes.
(on whether the team will hold meetings )
We will meet with the guys that do come in.  Obviously, not talking to them in so long, I'm not sure how many guys are actually in town.  That is something we will find out over the next few days as they start coming in the building knowing they work out or rehab if they are injured.  We will kind of take it day-by-day and we are adjusting to everything just like the players are.  The guys that come in we will start spending some time with and start formulating a plan as we get into next week.
(on how quickly they will start OTAs)
Same thing, we will find out once we get the guys in and get guys back in town, we will sit down with the staff, with Chris (Palmer) and Jerry (Gray) and figure out exactly what we want to do.  We already have a calendar.  We already have something in place.  Really it won't be too far off what we were already planning to do, if we are able to get back to work.
OFFENSIVE COORDINATOR CHRIS PALMER
(on how Locker benefitted from the coaching of Steve Sarkisian at Washington)
The two coaches out there, "Sark" is a good coach and Pederson [Doug Nussmeier] played in the league a number of years.  Those guys had to take and adjust their offense to some deficiencies they had at other positions.  I think that really attracted us to Jake because he played in a different type of situation and he adjusted to a number of situations.  Those guys when you go out there and met with them, they said 'we would like to have him for two more years.'  Obviously, they would like to have him for two more years, he is a good player.  Nobody wants to lose a quarterback.  He did well.  He is a very, very good football player and we are looking forward to working with him.
GENERAL MANAGER MIKE REINFELDT
(on whether they are done for Day 1 or looking to trade back into the first round)
We will have the discussions on moving up, but I think most likely we will focus on what we think will be there in the second round tomorrow and the third round.
(on if there is some relief that they found their quarterback and can focus on other positions)
I think anytime that we have a need, an opening and anytime you meet that need or that opening, you kind of move on to the other needs and openings.  There is a certain relief, a certain sense of accomplishment that lets you move on to other needs.
(on with the league year possibly starting Monday and whether that forces a roster move with Vince Young)
We have said publicly that we are going to release Vince at some point.  Again I'm not sure.  We are still waiting on direction from the league as to what happens day to day.