LOS ANGELES – The year was 1993.
The Houston Oilers finished the season 12-4, ending the year with 11 consecutive wins while tying for the best record in the NFL. The 11-game winning streak was the longest in the NFL in 21 years.
The hot finish earned the Oilers a first-round bye, and a home playoff game against the Kansas City Chiefs in the Divisional Round.
Then the unthinkable happened – the Oilers, in the Astrodome, were upset by the Chiefs, and just like that, their dreams were dashed, and their season was over. The 2006 edition of Pro Football Prospectus listed the 1993 Oilers as one of their "Heartbreak Seasons", in which teams dominated the entire regular season only to falter in the playoffs.
Hall of Fame quarterback Warren Moon, who led that Oilers team, said it was probably the most gut-wrenching ending to a season in his career, because he felt that was a special team destined for greatness.
So, Moon understands what the Titans, quarterback Ryan Tannehill, and the team's fans must be going through about now.
"That team," Moon said leading up to Super Bowl LVI, "we went into the playoffs playing well, and we were rested. I thought that team was good enough to go to the Super Bowl and win it. I think we all did.
"And it was one of those games, when it was over, I felt like I could have done more, and felt like I didn't do enough to win the game. And those are the ones that hurt the most."
Moon, who threw for nearly 50,000 yards in his career, said he feels for Tannehill, and the Titans.
And he understands what Tannehill might be feeling after his three-interception game in Tennessee's playoff loss to the Bengals. Tannehill has been the subject of some harsh criticism since. The Titans entered the playoffs as the AFC's No.1 seed, and home-field advantage in the postseason.
"It is aways disappointing when you are the No.1 seed and you are home and then you end up losing that game to a team you were really favored to beat, and you have a big part in the reason that didn't happen," Moon said of the Titans, and Tannehill.
"(The criticism) when you are the quarterback, that's always a part of the job. You get a lot more praise than you probably deserve when the team is doing well, and you probably get more blame when the team isn't doing well, and that comes along with it. I think you understand that when you start playing quarterback at whatever age you start playing it. So, Ryan understands that. But you just have to keep working through it and do everything you can to get better, and I know Ryan will do that."
Moon, who threw for 49,325 yards in 17 NFL seasons (1984-2000) with the Oilers, Vikings, Seahawks and Chiefs after first playing for the Edmonton Eskimos in the CFL, said he still believes in Tannehill, and he thinks the Titans can go to the Super Bowl with Tannehill leading the way.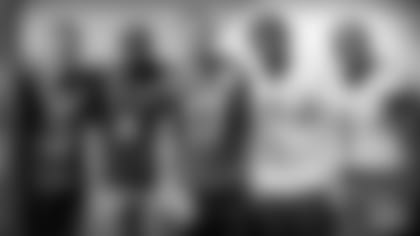 In an interview with TennesseeTitans.com leading up to Super Bowl LVI, Moon discussed what he's seen from Tannehill and what he thinks about the team's window of opportunity, in addition to sharing his thoughts on Titans head coach Mike Vrabel.
Moon also praised Titans controlling owner Amy Adams Strunk while thanking the organization for continuing to make former Oilers feel like they have a home after the team's Oilers Homecoming Weekend in 2021.
"It was a tough year for Ryan all the way around, with all the guys in and out of the lineup, whether it was Derrick Henry or Julio Jones or A.J. Brown," Moon said. "At one point (Ryan) didn't have either one of those (receivers) for several weeks. And the offensive line, having guys in and out, that didn't help either. Plus, losing his offensive coordinator (Arthur Smith) from the previous year was a change for him, too. There was a lot of transition he was going through this year.
"Ryan was one of the best quarterbacks in the league the last couple of years before this season because of that stability, and then he didn't have that. So I think the inconsistency of a lot of guys in and out of the lineup really hurt him as far as being consistent this year."
Moon said he believes the Titans will be contenders again in 2022, with Tannehill leading the way.
Tannehill threw for 3,734 yards with 21 touchdowns and 14 interceptions in 2021 after throwing 55 touchdowns vs 13 interceptions in 2019 and 2020 combined.
"I think they can get to the Super Bowl with Ryan, because they have all the other pieces," Moon said. "Now if their defense plays like it did in 2020, probably not. But the way their defense stepped up this year and the way they're playing, he doesn't have to be as dynamic as he maybe was previously, scoring a lot of points, because they are not allowing as many points.
"He can be a Super Bowl-winning quarterback with that team, and they are more of a run-dominated team anyway with Derrick (Henry) and (D'Onta) Foreman. They will still have to get big plays out of the passing game, and I still think he can do that, and he can also still move around. I think he is definitely good enough to get them to the Super Bowl they just have to get back on the same page and have all their pieces in place so he can function and be the type of quarterback he was a few years ago."
Moon said the team's window of opportunity remains open after three straight playoff appearance, and four playoff appearances in five years.
"They have a top 10 defense to go along with probably the best running game in football," Moon said. "Now it's just a matter of getting their passing game back up to speed again. I think this team can be right back in the thick of things next year."
On the field, Moon said Titans head coach Mike Vrabel has been a great leader who has produced results.
The Titans on Tuesday announced a contract extension for Vrabel, who was named NFL coach of the year by the Pro Football Writers Association last month. Vrabel is considered among the favorites for the AP award, which will be presented here at NFL Honors on Thursday.
"I love the way Mike goes about his business," Moon said. "He takes no bulls**t, but he's also a guy that players can relate to because he played the game, and it wasn't that long ago when he played it. He gets their attention because he has won championships, and he played a vital part in those championships. I just love the overall culture of what he has developed there, and I love how his coaches teach – they do a lot of teaching on the field all the time, and that is important. Even though these guys are professionals there's still things they can learn all the time and they do a great job of coaching. You see guys before practice, you see guys after practice working on little things, technique things, those are things you don't see on a lot of football teams, so I love the way his coaches teach."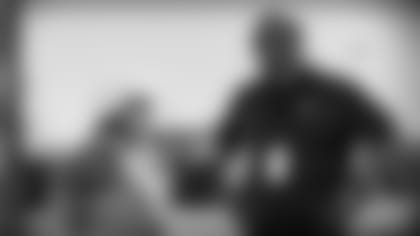 Moon said the direction controlling owner Amy Adams Strunk has taken the franchise should be encouraging for all Titans fans.
And he feels the best is yet to come.
Moon said he spent a lot of time with Strunk during Oilers Tribute Week in Nashville in September.
"I got a chance to get to know her a little bit better and to hear the plans for the future, not just what they are doing with the facility but with the renovations of the stadium and the plan around the river they are going to try and develop into an entertainment-type area," Moon said. "It's exciting stuff.
"I can't say enough great things about Amy, the way she is trying to bring everything back into the fold and make it more like a Houston Oiler-Tennessee Titan family. I know the guys really, really appreciated her bringing all the guys in, and making them feel at home, and having a place they can call home. These alumni now have a place they can call home."
Moon said he'll always remember the impact the Tribute Week had on Oilers legend Curley Culp, the Hall of Fame defensive lineman who attended the festivities before passing away in November due to complications from pancreatic cancer.
"I think Curley knew (he wasn't doing well) -- he was in a lot of pain (that weekend)," Moon said. "Curley wasn't a guy who was going to complain. But I thought that weekend in Nashville was especially important to him, and he really enjoyed being around all the younger guys and older guys and being able to be recognized.
"He didn't know how much time he was going to have, and it turned out he didn't have a lot of time. So, it was a great timing thing for him in his life to be recognized as one of the great Oilers. He really enjoyed being a part of that, and I can't thank Amy enough for making that happen for Curley, and for all of us. It really means a lot."