MIAMI BEACH – Mention the Titans, and the name Eddie George will always resonate. It's etched in the minds of Titans fans.
Mention the name Derrick Henry, and once again it brings back memories of George, because of their similar playing style, and the fact Henry has given the Titans great so much credit for helping change the course of his NFL career.
Here at Super Bowl LIV, George made his way through Radio Row on Thursday leading up to Sunday's game against the Chiefs and 49ers. In a wide-ranging interview with Titans Online, one of the franchise's all-time greats talked about Henry, the future of the Titans, and the 20th anniversary of Super Bowl XXXIV, and coach Mike Vrabel and general manager Jon Robinson, among other things.
"What could have been," George said when asked what goes through his mind when reflecting back in the team's 23-16 loss to the St. Louis Rams in SB XXXIV. "But honestly, it was one of the greatest days of my life, to have played on that stage at least once in my lifetime, to fulfill a childhood dream. And to play with some great teammates – Lorenzo Neal, Bruce Matthews, Steve McNair, Derrick Mason, Jevon Kearse, just to name a few. And we battled. We left everything out there on the field, and that's all you can ask for. And we came up a yard short.
"Looking at the highlights every year, it all comes flooding back. … If I'm on one of these teams (this year), I am in a locker room telling these guys to smell the roses and to enjoy the moment because you never know if you'll ever be in this situation again. It is truly a privilege and an honor just to be in the game itself."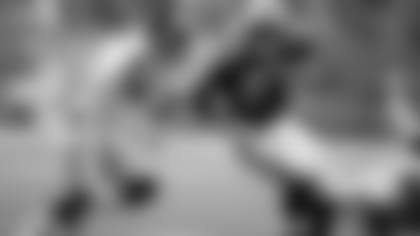 George knows how close this year's Titans came. After winning playoff games at New England and Baltimore, the Titans lost to the Chiefs in the AFC Championship Game.
It was the organization's first AFC title game since the 2002 season.
"When I looked at this season, they provided so much joy, for myself, the city of Nashville," George said of the 2019 Titans. "Just watching them come of age, watching Derrick Henry really mature into not only the back we all expected him to be, but to be a true leader. Watching Ryan Tannehill. … It was remarkable to see the love they had for one another, and it was truly a special team this year.
"And now, what that being said, they got a little taste of what it is like to be a team of relevance. And I a pretty sure however they create next year's nucleus – every team is going to be different – they are going to approach things differently. Now there is a standard, an expectation of how to prepare and what to expect moving forward. I think this is a team that believes they are good and I think we can expect big things for them in 2020."
George said he's proud of Henry, a fellow Heisman Trophy winner who heeded his advice at the midway point of last season. In a conversation Henry first told Titans Online about last season, George challenged him to run tougher, and to play like his career was on the line.
Henry ended the 2018 season on a roll, and he led the NFL in rushing in 2019.
George has been his biggest fan along the way, and he said he plans to continue encouraging him.
The two running backs talked in the green room here on Radio Row on Thursday.
"We had a chance to talk briefly about his first Pro Bowl experience, and really, just to see the smile on his face and how appreciative he was of the experience," George said of Henry. "It's something that he really deserved, the accolades, the acknowledgement of people recognizing him for his talent, and how he was able to turn his entire career around for the better.
"Derrick is the best back in the league, bar none, and it's a contract year and big things are up for him. He is poised to have a 2,000-yard, MVP-type season next season, I really believe that. So to see him relish in that is remarkable."
George, who ran for 10,009 yards while playing from 1996-2003 with the Oilers/Titans and has remained close to the organization, said he's proud of Henry.
And he's prepared to be a big part of his support system his entire career.
"Any time I can offer advice, or mentorship to somebody, that is the role that I am in now in my life," George said. "And oftentimes as you get older you want to hold on to secrets, you don't want to share. But it is not about that for me – I want to see somebody else succeed. I want Derrick to go beyond what I did.
"So if I can have some type of influence in a great way to impart wisdom with him, to speak life into him, that I what I am called to do, and by God's calling, that is what I want to do. And I relish and I celebrate his accomplishments. The sky is the limit for this guy, both on the field and certainly off the football field."
Moving forward, George said he expects great things from the Titans in the years to come.
From 1999-2003, the Titans made it to the playoffs four times in five years, and played in two AFC Championships, and a Super Bowl.
With four straight 9-7 seasons, and three playoff wins in the past three season, George believes the Titans are taking steps toward greatness. He thinks the best may still be yet to come.
"I am not surprised at all with the success Mike's had – he comes from a championship pedigree," George said. "He played under John Cooper in college (at Ohio State), and he's a Hall of Fame coach. He got drafted by Bill Cowher (with the Steelers), a Hall of Fame coach. He played under Bill Belichick, a Hall of Fame coach, and he won three Super Bowls. … He coached under Urban Meyer (at Ohio State), who is a Hall of Fame coach. So you think about his pedigree, and who he has been influenced by, who he is been mentored by. He is not shocked by success, he is used to it, and he expects success. And he is not hoping to win, he is expecting to win.
"So knowing Mike and Jon Robinson, they have been a dynamic duo, I think they are going to put together a team moving forward. They are going to have to make some tough decisions, but I think collectively they're going to do what is best for this team moving forward and I think some special things are in store."