PHILADELPHIA to NASHVILLE – Corey Davis and Adoree' Jackson arrived in the City of Brotherly Love with high hopes in the NFL Draft, along with plenty of uncertainty about the future.
On Friday morning, they boarded a private plane together en route to the Music City, new teammates with the Tennessee Titans, and now football brothers as well.
"You hear the stories about how when you get drafted you get on the team plane and head to a press conference in your new city, and now it has come to life,'' a smiling Jackson said just before landing. "All of this, it is pretty cool, and it is really surreal. This is all happening, but it still hasn't really hit me. It seems like a dream."
Davis, a big and athletic receiver from Western Michigan, was the team's fifth overall pick in Thursday night's draft. Jackson, a dynamic cornerback/return man from USC, was the 18th overall pick of the first round.
During a 105-minute plane ride on Friday, the two had a chance to sit back and digest it all -- where they'd come from, and where they were headed.
"I am still trying to take it all in honestly," Davis said. "My family, we tried to soak it all in yesterday and just enjoy ourselves and reminisce on everything that we have been through to this point. And it's been crazy since, the emotions."
Davis said he received over 300 text messages after being selected by the Titans. One was from Titans quarterback Marcus Mariota.
"He reached out, and said, 'Welcome to the family,' and he's ready to go to work," Davis said of Mariota. "I said, 'thanks,' and told him I'm ready to go as well."
It's been a wild 24 hours for the newest Titans.
First the anxiety, then the news – and a handshake from NFL Commissioner Roger Goodell -- they'd waited a lifetime to get.
Davis said he had trouble sleeping on Thursday night, still excited about the events of the night. Jackson, meanwhile, had a big dinner with steak and scallops, and went right to bed.
"I ate good, and slept good,'' Jackson said with a smile.
A busy first day as NFL players began with a meeting at Atlantic Aviation in Philadelphia. Jackson, accompanied by his parents and agents, and Davis exchanged a handshake and a hug on the ground after arriving separately. A few moments later they were approached by a large group of autistic children, who were thrilled to meet and mingle with the NFL draft picks.
Once on board, they finally were able to take a deep breath after a crazy stretch, and months of work. They were headed to Nashville, their new home.
Jackson talked BBQ, among other things, on the plane. He took his shoes off and relaxed in socks, getting up once to grab a few half-sandwiches and a bag of Doritos. He said he'd already gathered the cell numbers for the team's defensive backs.
"I wanted to introduce myself before I met them in person," Jackson said. "I sent a text message to every DB and told them I was excited to come to the team and learn from them and work.
"I want to be able to help as soon as I can, but I also know I have to learn from the older guys and learn the playbook, and learn my job. I have to learn the little things, and help the team."
When handed a copy of Friday's Tennessean, Davis looked at the front page and smiled. The headline "TITAN UP" decorated the cover, with an image of Davis from Thursday night in the middle. Davis took out his iPhone and snapped a picture. Making his trip to Tennessee even more special is the fact his grandmother and roughly 50 family members reside in Memphis.
"I am real excited,'' Davis said, "especially since I'm on a team headed in the right direction, with a great culture. It is going to be a lot of fun."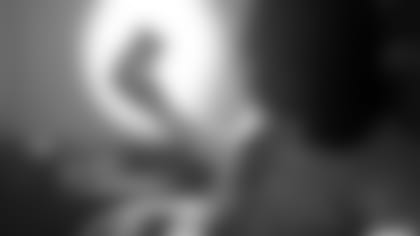 Later it was Jackson who took out his phone, and snapped pictures.
On the plane's descent into Nashville, the aircraft flew over Nissan Stadium, the downtown skyline to the right. Davis, white headphones around his neck, leaned up and looked out. Jackson sat up in his seat and began taking photos. He was disgusted with himself for getting too much of the right wing in the shot.
"I am real proud of him,'' said Christopher Jackson, Adoree's father, as he looked across the aisle at this son. "It is everybody's dream to play in the NFL. To see this for him, it's going to be exciting."
Christopher Jackson said the weekend will bring some sadness. His 98-year-old mother, Adoree's grandmother, died earlier in the week, and the funeral is in St. Louis.
"She was so proud of Adoree' and everything he's been able to accomplish,'' Jackson said.
Minutes later, the plane touched ground.
Davis and Jackson were greeted by Titans controlling owner Amy Adams Strunk after stepping off the plane. Kenneth Adams IV and Barclay Adams from the ownership group were also at the airport in Nashville to shake hands with the players.
Davis noticed the collar on Jackson's sports coat buckled up, and fixed it.
"He's a cool guy, a good guy to be around," Jackson said of Davis. "He seems down to earth and genuine. He's the type of guy you want to surround yourself with. And you know he is a competitor, and a great player. It is going to be exciting to compete again him, and be on the same team."
The feeling is mutual, Davis said.
"Both of us going round one, it's going to be fun," he said. "We're going to have some good times together."
The busy day would continue. After a drive from the airport, they walked into Saint Thomas Sports Park where general manager Jon Robinson and coach Mike Mularkey were waiting.
They made their way through the facility, into the locker room, and smiled when they saw the names "Davis" and "Jackson" on Titans uniforms.
It's the start of a new beginning.
"All of this, it really is surreal,'' Davis said. "But I am excited. It's going to be a lot of fun."
Less than 24 hours after being selected in the first round, top draft picks Corey Davis and Adoree' Jackson arrive at Saint Thomas Sports Park. (Photos: Gary Glenn, Jim Wyatt)