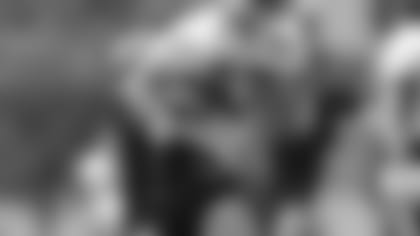 Once again, wide receiver Marc Mariani is battling the odds, doing his best each day to make the final roster.
NASHVILLE, Tenn. --** Entering the 2010 NFL Draft, most NFL fans didn't know about Marc Mariani, the standout wide receiver from the University of Montana.  The perseverance he showed to make it to the NFL is one of the many great storylines from the Titans' rookie class.

Mariani was born and raised in Montana and grew up an avid University of Montana Grizzlies fan, so when it came time to make a college decision he knew where he wanted to go, despite having to join the football team as a walk-on.

"It's an unbelievable place to play and go to school," Mariani said.  "I grew up rooting for the Griz and it was a dream of mine to play for them ever since I can remember.  So, when it came time for me to make that decision, I thought I'd go give it everything I had and I decided to walk-on and see if I could earn a scholarship and prove some people wrong."

Mariani made an impression -- and  the team -- redshirting in 2005 as he got acclimated to the demands of being a college student-athlete.  He kept working hard and after his third year in the program, was rewarded with a full scholarship for his last two seasons of eligibility.

"It was a big deal — a huge deal," Mariani said.  "I actually saved my copy of the scholarship for a while.  Then to be named team captain as a senior was just a dream come true, after a lot of years of hard work, especially because the honor is voted on by the other players, your brothers on the team.  That was just huge for me to get that vote, our senior class was just unbelievable so to be the captain of that team last year was one of the biggest honors I've ever had in football."

While at the Montana, Mariani struck up a friendship with another incoming freshman on the football team, Brandon Fisher, the son of Titans Coach Jeff Fisher.  Over their five years together, Brandon and Marc helped each other on and off the football field.

Last April on the final day of the draft, Marc and Brandon had been on the phone back and forth all day.  Just before the Titans were scheduled to pick in the seventh round, Mariani got another call from Brandon.  He was in the draft room at Baptist Sports Park and was calling to inform Mariani that the Titans were going to draft him.  After initially thinking it was a practical joke from his buddy, it all started to sink in.

"The way it worked out was kind of crazy," Mariani said.  "A few minutes after he called it became a reality.  I heard Coach Fisher's voice and I kind of realized it was all coming together and that they were giving me an opportunity to come play in the NFL."

Since that day, Mariani has been a member of the Titans and he couldn't be happier about how it all worked out.

"It's been awesome.  Obviously, I only have this to go off of, but this is a top-notch organization and I am so happy to be here, happy that Coach Fisher and his staff gave me an opportunity to come down here and compete.  I want to make it last as long as I can, I'm enjoying myself everyday and hopefully I can make it last."

Mariani says that while it's still the game he loves to play, the differences between college and the pros can seem like a lot, but it really just comes down to the little things.

"More than anything, it's just the attention to detail," Mariani said.  "The little things are so important, everything is so much faster and the margin for error is so much smaller that you have to be a perfectionist.  At the end of the day, if you don't do the little things right, it won't come together, you won't make the plays and it just throws everything off.  I've also learned a lot of techniques that are really helping me to get better."

His new teammates are noticing Mariani's effort.

"His ability to adjust to the system," veteran wide receiver Justin Gage said when asked about Mariani.  "He's come in, been a student of the game, and learned the difference between the college game and the NFL game.  Also, picking up our playbook, he doesn't hesitate to ask any questions.  When you get him on the field he doesn't make many mistakes, he's got great hands, great poise and he has that ability to learn so I have high expectations for him."

So far, even Coach Fisher likes what he's seen.

"He's versatile in that he can return kickoffs, return punts, and make a lot of plays at that level in our offense," Fisher said.  "Our scouts graded him and they had, as far as we can tell, an accurate grade on him.  He's a smart kid and gets in the right place and he's competitive and he makes plays."

Mariani's path to the NFL is one less traveled, but it is the definition of perseverance; which he attributes to his competitive nature.

"I just think that walking on at Montana and then coming here as a seventh-round guy, the cards are stacked against you a little bit in both scenarios," Mariani said.  "I just have big dreams and I'm just so competitive…my desire to be the best that I can be pushes me every single day."

Mariani has left his mark on the Montana football program, racking up 164 career receptions for 3,018 yards and 29 touchdowns, becoming a unanimous All-Big Sky wide receiver and a first team All-American.  After becoming an NFL draftee, Mariani's next goal is rapidly approaching, but he's taking it in stride and working to make it happen.

"Right now, I am just taking it day-to-day," Mariani said.  "I could sit here and say some outrageous individual goals, but I'm just taking it day-by-day and trying to get better.  In the next few weeks, my major goal is to make this team, and to do that I just need to take it day-by-day and if that happens we'll go from there.  When I wake up in the morning, my main focus is just to go out there and have fun, compete, try to make plays and try to make the team."