**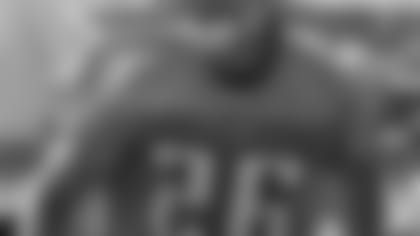 NASHVILLE, Tenn. --** A child's dream of playing in the NFL often seems unrealistic, especially for someone like Titans safety Tuff Harris, who grew up on a Crow Indian Reservation. But Harris' broad vision of the possibilities outside of Long Grass, Mont. is why he is in Titans training camp this August.
In 2007, Harris was living out his dream as he flew to Miami, Fla., after signing a rookie free agent contract with the Dolphins. Not surprisingly, the Crow Nation doesn't regularly have tribe members take jobs in the Sunshine State.
"It is a different world up there," said Harris. "The vision and scope that people have is pretty narrow because not many people have made it off the reservation. People don't have the dreams ranging from astronaut to safari photographer, but it's good that the culture is really preserved. Those who have made it off and overcome the adversities have made a huge impact."
Playing in the NFL has allowed Harris to see a lot of different cultures. After attending the University of Montana, the melting pot feel of Miami was a culture shock. It was hot and humid. Alligators, the Everglades and the ocean were new sights. Harris now enjoys how Tennessee is more like Montana.
"Nashville is more at home," noted Harris. "It's a city, but has a country feel to it. Miami was fast-paced. People had different desires and personalities down there."
Harris shares his experiences of different cultures when he and his wife, Mary, head back to Montana in the offseason. Many of the Crow Nation's members are content with staying there forever. They rarely strive for further education. Talented athletes feel that the greatest achievement is to win a state basketball tournament. The tribe follows professional sports, but playing on that level seems as unattainable to them as it does to the rest of the world.
"I'm able to let people know that they have the talent," said Harris. "It is not lack of talent that people aren't playing in the NBA or the NFL. It's just a lack of vision."
Jerry and Melody Harris, Tuff's parents, were both instrumental in his development. Melody helped Tuff with his spiritual life and Jerry kept his vision further than the reservation. Through lectures to his two sons and two daughters, Jerry inspired them to strive for great things.
"I tried to have that integrity to hear his voice all of the time and try to do the right thing," said Tuff. "He emphasized the positive things like work ethic and getting an education. Those were important things in my development, knowing that athletics is just temporary."
After playing football, Harris still has aspirations to build programs to enable children to achieve their dreams. With Tuff being the first player to make it in the NFL from the Crow Nation, it has allowed him to make a major impact in his people's lives.
"Tuff has used his football career as a great platform to spread the gospel," said Casey Cramer, Harris' close friend and teammate. "He's the fastest Native American around. He's goofy, but he is one of the kindest, most gentle people you'll ever meet. He has an innate ability to know what is going on with me before I've even told him anything."
His family is blown away by his accomplishments, but they've known about his toughness since he was an infant, when he was diagnosed with double-pneumonia during the sub-zero weather of a Montana winter. He was flown by helicopter to hospital after he stopped breathing several times. The doctor told his parents that he was alright and that "the kid is pretty 'tough' to go through all that and just smile." He was then given the nickname "Tuff," which is much easier to pronounce than his given Indian name Chaawagiichish (CHOW-ah-JEE-itch-ish) meaning "Rejoices in Prayer."
The Titans signed Harris to the practice squad on Aug. 31, 2008 before being promoted to the active roster in late November. Taking advantage of the opportunity, he made six special teams tackles in six games.
"He's a guy that really tries to work hard and get his work done," said Alan Lowry, Titans special teams coach. "You're going to get consistency from him. You're going to get a good effort from him."
Titans training camp features Harris competing for playing time on special teams coverage units. The solid mindset and attitude he possesses can be credited for his success. Realizing that he has already done something remarkable, he counts all of his blessings. Harris is living evidence of the ample possibilities available when you dream big.
"Tell the right people your dreams and they will help you find the way to reach them," said Harris. "Surround yourself with positive people. If you tell the wrong people, they might hinder you. Stay away from temptations. Listen to God, your family and your friends."