Free Agency Tracker | Tennessee Titans - TennesseeTitans.com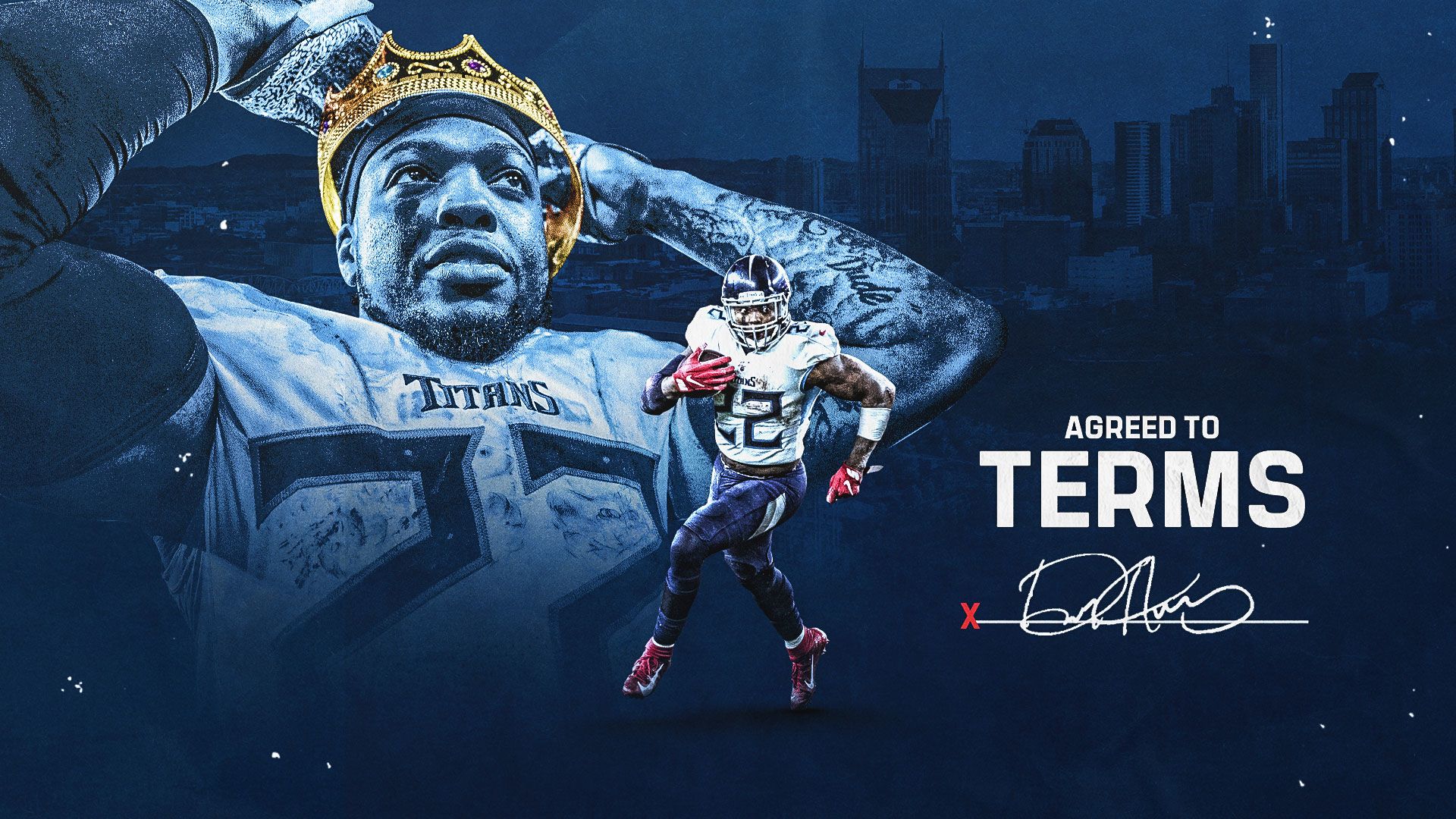 The Titans have agreed to terms on a multi-year contract with running back Derrick Henry.
Earlier this offseason, Henry signed a one-year franchise tag and the two sides began working on a long-term deal.
Derrick Henry
READ: Titans, Henry Agree to Terms on Multi-Year Contract
READ: Titans RB Derrick Henry Signs Franchise Tender, Now Officially Under Contract
READ: Titans Place Franchise Tag on RB Derrick Henry
# # # #
RUNNING BACK
6'3" | 247 LBS
COLLEGE: ALABAMA
ACQUIRED: 2ND ROUND - 2016
NFL EXPERIENCE (NFL/TITANS): 4/4
HOMETOWN: YULEE, FLA.
GAMES PLAYED/GAMES STARTED: 62/31 (PLAYOFFS: 5/5)
The Titans selected Heisman Trophy winner Derrick Henry in the second round of the 2016 NFL Draft out of the University of Alabama. The 6-foot-3-inch, 247-pounder is a powerful, downhill runner who displays tremendous speed and balance. He racked up 2,293 rushing yards and scored 22 rushing touchdowns during his first three NFL seasons, including his first career 1,000-yard season in 2018. At Alabama, the Heisman Trophy winner set numerous school and SEC records while leading his team to a National Championship in 2015.
CAREER HIGHLIGHTS:
In 2018, Henry was named to the PFWA All-AFC team after setting single-season career highs in carries (215), rushing yards (1,059), rushing long (99t), and touchdowns (12).
2018 marked Henry's first career 1,000-yard season. He finished sixth in the NFL in rushing yards.
In 2018, named AFC Offensive Player of the Week for Week 13 after collecting a franchise-best 238 rushing yards with a franchise-tying four rushing touchdowns against Jacksonville on Thursday Night Football (12/6). In the same game, he scored four rushing touchdowns to tie the franchise's single-game record (Earl Campbell, Lorenzo White).
In Week 13 of the 2018 season, recorded the second 99-yard touchdown run in NFL history (Tony Dorsett). The run also set the mark for the longest touchdown run in franchise history and tied for the longest scrimmage play in NFL history. He also became the second player in NFL history with a rushing touchdown of at least 90 yards and a rushing touchdown of at least 50 yards in the same game (Chris Johnson).
In 2018, named AFC Offensive Player of the Month for December after registering 97 carries for 625 yards and eight touchdowns.
In 2018, became the seventh NFL player since the 1970 AFL-NFL merger with at least four rushing touchdowns and at least 200 rushing yards in a game (Clinton Portis, Barry Sanders, Doug Martin, Jonas Gray, Mike Anderson and Corey Dillon). Henry became the first to accomplish the feat in fewer than 20 carries (17).
In 2017, Henry led the Titans with 744 rushing yards on 176 carries, and he rushed for five touchdowns for the second consecutive season.
In the team's Wild Card playoff victory at Kansas City on Jan. 6, 2018, Henry recorded a franchise postseason record of 191 scrimmage yards (156 rushing, 35 receiving), breaking a 57-year-old postseason record set on Jan. 1, 1961, when Billy Cannon had 178 scrimmage yards against the Los Angeles Chargers. Henry's 156 rushing yards ranked second in franchise postseason history (162 by Eddie George on Jan. 16, 2000).
In 2016, Henry rushed for 490 yards and five touchdowns to become the third rookie for the franchise in the "Titans era" to score at least five touchdowns in a season, joining Vince Young (seven rushing touchdowns in 2006) and Chris Johnson (nine rushing and one receiving in 2008).
Despite playing just three seasons and not seeing extensive action in his first campaign at Alabama, Henry finished his career as the school's all-time rushing leader with 3,591 yards.
As a senior in 2015, Henry claimed the Heisman Trophy and led his team to the College Football Playoff National Championship. He also won the Doak Walker and Maxwell Award and was selected as the Walter Camp Player of the Year after rushing for an Alabama and Southeastern Conference record 2,219 yards.
2019 SEASON RECAP:
Regular Season: 15 Games Played | 15 Starts
Playoffs: 3 Games Played | 3 Starts
Named the NFL's FedEx Ground Player of the Year.
Named second-team All-Pro by the Associated Press.
Selected to his first career Pro Bowl.
Started 15 games at running back and led the NFL with a career-best 1,540 rushing yards.
Led the AFC, ranked third in NFL and led the squad with a career-high 18 total touchdowns.
Hauled in 18 receptions for 206 yards with two receiving touchdowns.
Ranked second in the AFC and fourth in the NFL with a career-best 1,746 yards from scrimmage.
Has posted 24 rushing touchdowns in his past 20 regular season games, which leads the NFL in that time period.
Finished with the fourth-best rushing yardage total in franchise history and second in franchise history with 16 rushing touchdowns.
Was inactive for one contest.
Started all three playoff contests and finished the postseason with 83 rushing attempts for a league-best 446 yards and two touchdowns. His rushing yardage total ranked second in franchise postseason history behind Eddie George's 449 rushing yards during the 1999 playoffs.
Hauled in five passes for 21 yards and threw a three-yard touchdown pass.
Led the team in rushing yards 17 times in 2019 (at CLE, vs. IND, at ATL, vs. BUF, at DEN, vs. LAC, vs. TB, at CAR, vs. KC, vs. JAX, at IND, at OAK, vs. HOU, at HOU, at NE, at BAL, at KC).
Tied for the team lead in receptions once in 2019 (at BAL).
Has 13 career 100-yard rushing performances (including the playoffs), including eight in 2019 (at ATL, vs. KC, vs. JAX, at IND, at OAK, at HOU, at NE, at BAL).
With two rushing touchdowns against Kansas City (11/10/19), passed Lorenzo White (29) for fifth place on the franchise's all-time rushing touchdowns list.
Became the sixth player in franchise history with at least 12 touchdowns in two or more consecutive seasons.
With his 74-yard touchdown run against Jacksonville (11/24/19), he joined Napoleon Kaufman (1997-1999) and Robert Smith (1997-2000) as the only players in NFL history to record a rushing touchdown of at least 70 yards in three consecutive seasons.
Passed Steve McNair (3,439 career rushing yards) for sixth place on the team's all-time rushing list and later passed Hoyle Granger (3,514) for fifth place on the team's all-time rushing list at Oakland (12/8/19).
Set a franchise playoff record with 182 rushing yards at New England (1/4/20) and then reset it with 195 rushing yards at Baltimore (1/11/20).
TITANS TIDBITS:
In high school, Henry broke the 51-year-old national high school rushing record with 12,124 yards after compiling 4,261 rushing yards as a senior.
Henry sealed an Iron Bowl victory with an epic, career-best 271 rushing yards against the Tigers in 2015. He put the Crimson Tide on his back by carrying the ball a school-record 46 times. His 271 rushing yards were 11 more yards than Auburn had in total offense (260). He ended the game with 14 consecutive rushes to run out the clock.
His late grandmother, Gladys Henry, helped raise him and played a key inspirational role in his development. In 2018, he fulfilled a promise to her and graduated from Alabama with his bachelor's degree. He has a portrait tattoo of her on his chest.
Gladys Henry nicknamed him "Shocka" as a baby because he "shocked the whole family" when he was born.
Henry has been growing out his hair since he was in elementary school.
CAREER TRANSACTIONS:
The Yulee, Fla., native was selected by the Titans in the second round (45th overall) the 2016 NFL Draft.