Former Titans and Oilers linebacker Terry Killens is still patrolling the football field with passion.
The third-round pick in the 1996 NFL Draft spent five seasons (1996-2000) with the organization, but Killens has traded in his helmet for a hat, his jersey for a striped shirt and his mouth guard for a whistle — and he has loved every moment.
"Officiating is something special. I tried the coaching route and it didn't work out. It's a very nomadic lifestyle, but once I put those stripes on, it just touched me," Killens said. "I love officiating. I love being a football official and hopefully I can ride this officiating thing for a very long time because I really enjoy doing it."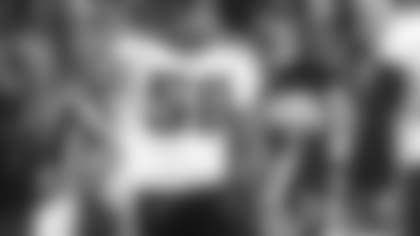 Terry Killens, seen celebrating a defensive stop by the Titans in a 47-36 win at Pittsburgh in the final game of the 1999 regular season, has enjoyed staying connected to the game as a football official.
Killens will officiate his seventh season this fall and is an umpire during Division II college games in the Southern Intercollegiate Athletic Conference. He recently shared his passion for officiating with other former players, including Titans safety Lance Schulters, at the 2014 Football Officiating Academy Fast Track Clinic.
"I had the privilege of sitting on the panel this year, where I gave my side of the story for how I came to become an official, kind of my journey to where I am right now," Killens said. "I still have a long, long way to go, but for some of the guys that are just starting out, (the organizers of the academy) want (prospective officials) to kind of hear that story."
Killens said he draws on his background as a player, but has enhanced his understanding of how to manage a game. He incorporates film study and rule review sessions in addition to the clinics and the work experience he gains during the season and when colleges conduct their spring football programs. In between, Killens officiates high school basketball during its season and AAU hoops during the summer.
"I love putting on stripes. I pretty much fell in love with it on day one," Killens said. "I thought I knew a lot about football, but once I got into the class to become certified and started learning the intricacies about the rules and game management — and all that goes with being a steward of the game — I just fell in love with it."
Killens began his football officiating career as a head linesman, and a mentor suggested the umpire position, telling him he's a "natural in the middle." Killens capitalized on the opportunity and has moved up from high school to Division III to Division II and wants to keep climbing.
The NFL relocated the umpire to the offensive backfield in 2010 to enhance safety, but the umpire still lines up near the linebackers in college and high school football. Killens said he studies film on both teams that are playing in the upcoming game to watch for tendencies so he can stay out of the way and out of harm's way.
"If you're an umpire, you've been down or you're going to go down. That's just how it is, not so much in the NFL anymore because they're behind the offensive line, but college … you're a strategy," Killens said. "Receivers, tight ends, they use you as picks. Running backs will use you as a pick when they come up through the line of scrimmage. They'll use you to cut off when they're trying to make a defender run into you. Linebackers will push wide receivers into you. Sometimes, I guess just to get after you, the defender chasing the running back might just jump on your back because you're standing close to the pile. Those things have happened and probably will again."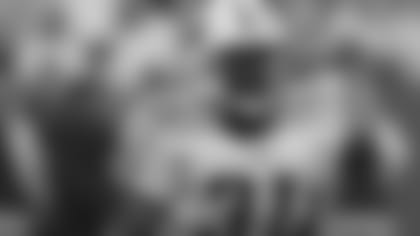 Former Titans safety Lance Schulters gained an appreciation for football officials by recently attending the 2014 Football Officiating Academy Fast Track Clinic.
Schulters said he was curious about opportunities to officiate games and came away with a deeper understanding of and appreciation for officials.
"The takeaway is that it's definitely something I could see myself doing," Schulters said. "When you're a player, you don't know all the stuff that those referees have to go through to be officials and get to that level, the top of their profession.
"We give them so much flak on Sundays. I ran into officials that told me, 'Lance, you were terrible, man.' They remembered the stuff I said," Schulters added. "They didn't hold it against me, but I was like, 'My bad.' They were good guys and they were doing their job just like I was doing my job and they were at the top of their profession. You can't get any higher than that, as far as officiating in the NFL. Those guys were definitely the best of the best."
Killens and Schulters were not teammates during their years with the Titans, but were both with the 49ers in 2001. Killens remembered Schulters liked to chat with officials.
"Lance is a talker, so he's going to try to get every advantage he possibly can get, so if that's trying to talk to an official in whatever way he deems fit, Lance is going to do that," Killens said.
Killens said Schulters demonstrated how a former player's knowledge can come in handy when he correctly predicted a bubble screen based on the offensive formation.
"That type of thing gives you an edge over someone who's never played," Killens said. "Film study was another big thing, how to prepare. That stuff is what officials are doing now at just about every level: film study, learning your opponent. Instead of studying for one opponent, you have to study for two (teams).
But there's also a contrast between playing in a game and officiating one.
"Being an official is a little different from being a player because, this is what I kind of told the guys at the academy: 'Football is a game of emotions, and when you're an official, you have to be somewhat emotionless. There are ebbs and flows in the game, whereas an official, you need to be steady,' " Killens said.