**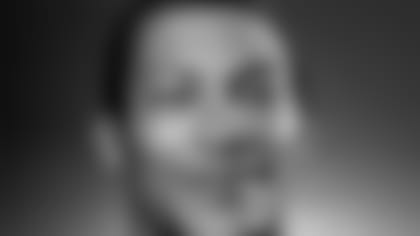 Former Houton Oilers LB Daryl Hunt
HOUSTON, Texas -** Former Oilers linebacker Daryl Hunt died of an apparent heart attack in Houston on July 9 at age 53.  Hunt was a member of the Oilers from 1979-84. 
Hunt was a two-time All-America choice in at Oklahoma in 1977-78 where he remains the school's all-time career leader in tackles with 530.  A three-time all-Big Eight selection, Hunt was a sixth round draft choice by the Oilers in 1979. 
Hunt proceeded to play in every Oilers game during the 1979-83 seasons, a stretch that covered 73 regular season games.  Hunt also saw action in four playoff games following the 1979-80 seasons. 
His consecutive games played stretch ended at the start of the 1984 season but he played in the team's final five games that year, giving him a total of 82 games played with the Oilers.
"Daryl had great determination, persistence, and hard work for the game of football," said Titans General Manager Mike Reinfeldt, who was Hunt's teammate from 1979-83.  " He was a pleasure to have as a teammate and he always brought his best and gave all that he had to the game of football and we'll miss him."
Hunt's best season with the Oilers came in 1982 when he started all nine games of the strike-shortened season and led the team in tackles with 85 (61 solos – 24 assists).  He posted his career single game high for most tackles in a game that season with 17 against the Bengals on Sept. 12.
In an interesting twist, Hunt attended the Oilers training camp in nearby San Angelo, TX in 1978 as a reporter for his hometown television station prior to his senior year at Oklahoma.  Hunt had no idea that he would be on that same practice field the following year as a rookie member of the Oilers.  Hunt continued his interest in sports journalism as a columnist for the team's Oiler Report newspaper in 1980-81.
A native of Odessa, Texas, Hunt starred at Odessa Permian High School as a linebacker/tight end and was a member of the school's 1972 state championship team. 
Hunt was the head of security at Grocers Supply Company in Houston at the time of his death.
Daryl leaves to mourn a loving daughter, Danielle Hunt of Houston, Texas ; his mother, Elayne Hunt of Odessa, Texas; a brother, Kevin Hunt of New York, NY; an aunt, Carolyn Spivey Lewis (Frederick) of Dallas, Texas; two nephews; numerous cousins; a very special friend, Karen Grimes of Houston, Texas and many, many, other friends.
The celebration of life for Daryl Lynn Hunt will be held Thursday, July 15, 2010 at 1:00 PM at The First Baptist Church, Odessa Texas, Curtis Brewer, Minister of Music, will officiate. Visitation with the family will be from 6-8 PM Wednesday, July 14, 2010 at Sunset Memorial Funeral Home. A private burial will be held at Sunset Memorial Gardens.