**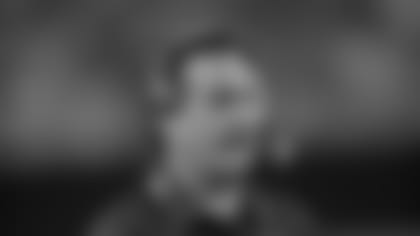 Jeff Fisher believes the window of opportunity is wide open for the Tennessee Titans.
NASHVILLE, Tenn. --** Jeff Fisher has not spent the past few months dissecting how his Tennessee Titans blew home-field advantage in the playoffs.
Yes, the coach can tick off the turnovers, the injuries and the missed delay-of-game penalty in the 13-10 divisional loss to Baltimore. Scratch any one of those, who knows what might have happened to the team that posted the league's best regular-season record at 13-3 after a franchise-best 10-0 start?
Disappointing? Absolutely. Fisher even calls it a deep wound.
"But I don't feel like our window's closing," Fisher said.
Good coaches are measured by wins. Great coaches? Reaching that status means lots of victories, with a championship rounding out the resume. For Fisher, the NFL's longest-tenured coach with his current team, a Super Bowl is the only thing lacking as he heads into his 15th full season with the Titans.
Not that Fisher is ready to ponder what it would mean if he never wins the oh, so elusive title.
"It only happens to one team once a year, so it's not easy. But I don't see this as a once in a lifetime opportunity. We're building this team for the future and expect to be competitive. We're dealing with hypotheticals. You'll have to ask me when I'm fishing someplace," he said.
Fisher won't be contemplating his career at a fishing hole anytime soon. He may have his most experienced and talented team yet in a bid to earn a second shot at that Super Bowl trophy.
He already ranks 22nd in coaching wins and is second only to Bill Belichick (153) among active coaches with his 133 victories. Only nine other coaches have spent more time with one team than Fisher with 240 games, and that list includes such great coaches as George Halas, Tom Landry, Don Shula, Chuck Noll, Curly Lambeau and Joe Gibbs.
Bud Adams took the interim off Fisher's job title after finishing up the final six games of 1994, and Fisher has outlasted 106 other head coaches since 1995. Andy Reid, in his 11th season in Philadelphia, is the only other NFL coach to last at least a decade with his current team. Belichick is starting his 10th season in New England
Watch Fisher run upfield during a two-minute drill at practice, it's obvious the man who played defensive back at Southern California and set punt return records playing for the Chicago Bears hasn't lost any of his enthusiasm.
"It only increases every year, especially over the last couple years as we got through the difficult times and we got back in the playoffs," Fisher said. "Now everyone's expectations are higher for us. They are for me included, as well as the staff. The energy's there throughout the building, the organization."
Focusing on football is easier after what Fisher calls a unique offseason.
The Titans started by fixing offensive flaws, signing receiver Nate Washington and drafting receiver Kenny Britt and tight end Jared Cook. Fisher took part in an NFL trip to Iraq with Cowher and New York Giants coach Tom Coughlin in late June. His cell phone had just gotten service in a stop in Kuwait on July 4 when he learned Steve McNair, his former quarterback and close friend, had been murdered.
Fisher spoke at McNair's memorial and funeral services. After what the coach described as a very different offseason, Fisher turned his focus to football.
"Camp's kind of like home to us," Fisher said.
Part of Fisher's success and perseverance can be credited to coaching the past 12 seasons in Tennessee, a state filled with small markets where media attention is light. Fisher couldn't be more fan friendly, with weekly radio and TV shows during the season, and he's a frequent guest on sports talk radio.
But Fisher also was a top attraction for several of the free agents signed as Tennessee built its way back to the playoffs after the salary cap-induced crash in 2005. The Titans signed safety Chris Hope away from Pittsburgh after he helped Bill Cowher win his own Super Bowl.
"Coming here was not a big adjustment for me," Hope said. "Coach Fisher is a player's coach. He loves to take care of his players. As long as you're doing the little things at practice and off the field, staying out of trouble, he's the best coach to play for."
Both of those qualities have been on display in his most recent training camp.
Fisher scheduled only two two-a-day sessions, preferring to push his players through more meetings while stressing the need to do everything correctly. He lets veterans sleep at home as long as they aren't late for work each day.
After Chris Davis was charged with driving under the influence while the rest of the team was on the road for an exhibition, Fisher released the receiver a few days later, though the coach cited an injured hamstring as the reason.
Attention to detail may be the only difference tight end Bo Scaife has noticed in Fisher since the playoff loss to Baltimore.
"That's what lost us the game here last year," Scaife said.
The defeat ruined a season in which the 10-0 start was just the 11th since the 1970 AFL-NFL merger, and the Titans had become only the fourth NFL team to lead a division wire to wire in winning the AFC South. That gave Fisher his sixth playoff berth in the past 10 seasons. Only Indianapolis (nine) and Philadelphia (seven) have reached the postseason more in that span.
It also made Fisher 5-6 in the postseason overall. The lone Super Bowl berth as a coach was back in 2000, when the Titans came up 1 yard short of forcing overtime against the Rams. Then the Titans lost the AFC championship game in 2003.
Hope has heard all the talk about how a Super Bowl title pushes a coach into a different bracket. He also knows coaches can only prepare players so much. Playing, and winning? That's up to the players.
"Hopefully, we can continue to put ourselves in position, in the playoffs ... and one day we'll knock the door down," Hope said.
Fisher agrees it's a collective effort, but sees his players extremely motivated to win.
"We'll just have to kind of shut up," Fisher said, "and just do it now."