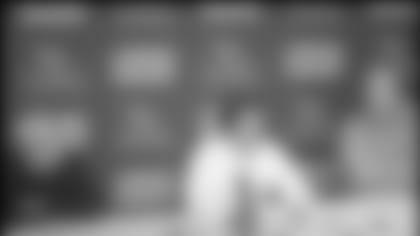 We were busy there for awhile. We had on our board a very, very good player Jared Cook and he was still there. We also had identified several corners on the board that we thought we had a chance to select with our original third round pick. We just took advantage of an opportunity. We contacted New England and they were willing to give up their pick for next year's two and we felt that was great value for Jared. We went ahead and selected Jared there and then we sat tight and had two corners that we thought had third round value and we got the one we wanted in Ryan Mouton. Let me talk about Ryan for just a moment. He pulled a hamstring at the Combine and then re-injured the hamstring I believe at his workout. We sent Marcus Robertson down to see him on Friday and he worked him out. We were very, very impressed with Ryan the person and I'll let Phil [Neri] speak about that in just a minute. We are fortunate to get a corner that we think can add kickoff return skills in addition to being very, very aggressive and has good ball skills. He is a good football player. It is definitely a need for us. The tight end is also a very, very good football player. They used him more in the receiving area offensively then they did as an in-line blocker. He has tremendous speed, athletic ability and hands. We feel like we will be able to develop him.
(on what kind of grade they had on Jared Cook)
We had a high grade on Cook. He was one that we considered in the second.
(on if it was difficult giving up a second rounder next year for Jared Cook)
No it wasn't. Mike [Reinfeldt] and I discussed it and we were both of the opinion that it was the right thing to do. We should get a compensatory three for Albert [Haynesworth] next year. We will be fine. These kind of guys don't come along very often with the skills that Jared has.
(on whether Mouton playing in the pass happy WAC is an advantage)
It is an equal test. If you have coverability it doesn't make any difference what conference you are in. His coverability and quickness, his feet and ability to mirror at great points and those are the things that are attractive with Ryan. He showed the same abilities at the East/West game. The pulling of the hamstring was not really a concern because he ran fast prior to pulling it. He is a fast kid and that shows up on film. He is one of the athletes that we saw that speed shows.
(on whether Ryan Mouton reminds him of any other players)
I hate to make comparisons like that.
COLLEGE SCOUT COLE PROCTOR
(on whether blocking will be Jared Cook's biggest challenge)
Yes. He is a former wide receiver. I don't know why they didn't leave him there. He is probably faster than any wide receiver we have just about except [Nate] Washington maybe who we just signed. He is going to create tremendous mismatches out there in the slot and you can move him around. He is not the typical wide receiver coming in. He is not afraid to block, he hasn't done it enough. He has to learn to get a better power base, but he will come along and be effective there. I'll tell you the mismatches that he is going to create out in the slot and moving him around is unbelievable. He has unbelievable hands and good long speed.
(on whether he reminds them of Ben Troupe athletically)
I think as a receiver he is a little more experienced then Ben was. Ben had hands and had run after catch. I think he is much more versatile then Ben was.
COLLEGE SCOUT COLE PROCTOR
He has great adjustability. He can adjust and make the 180 catch. He can go over his head and catch it out of frame. He has excellent hands.
(on whether Jared Cook can help immediately)
(on whether teams are willing to reach for guys they really like in the third round)
I think the trade at the top for the running back showed that people are going to go out and get who they like. This was a need round I think. People were just going out and they were targeting people and they were going to go get them with whatever it takes.
(on whether they traded up because they were worried another team was going to get Jared Cook)
We weren't as concerned about someone trading up and taking him. We waited until New England got on the clock and then we made the trade.
(on whether New England is the team the league targets to get additional picks)
You will have to ask the league. This is a Titans transaction as far as we are concerned.