**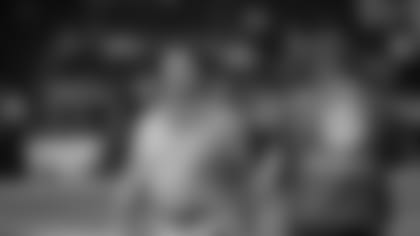 Jeff Fisher's future with the Titans still remains in the hands of team owner K.S. "Bud" Adams, Jr.
NASHVILLE, Tenn. - **Titans owner Bud Adams still has his coach in Jeff Fisher, and a quarterback in Vince Young. Fisher says talks are ongoing in what he calls a complicated process.
Fisher did his weekly radio show Tuesday night as scheduled from a restaurant at a Nashville suburb. His job status has been in question since the Titans lost eight of their final nine games for a 6-10 record, but the NFL's uncertain labor situation could keep him around.
If Fisher stays, Young isn't expected to remain after a blowup with the coach in front of the team after a game Nov. 21.
"We didn't anticipate coming to any decisions or conclusions or solutions, if you will, today,'' Fisher said at the start of his show. "Talks have been ongoing. As I said yesterday, it's a process. It's a complicated process, and there's a lot of moving parts. We're all trusting that collectively we'll arrive at the best decision.''
Fisher is under contract for 2011 at an estimated $6.5 million. Young is due a $4.25 million roster bonus on the 10th day of the new league year, whenever that starts. His salary for 2011 is $8.5 million.
The coach declined to comment on Young's status when asked repeatedly Monday, though he did say the franchise needed to address the quarterback position this offseason. Fisher said he will share his opinions on whether he wants Young back as a quarterback once a decision is made.
General manager Mike Reinfeldt and senior executive vice president Steve Underwood flew to Houston and met with Adams on Monday. The owner released a statement that he is considering a variety of details, including the NFL's labor situation and Fisher's history with him, before making a decision.
Fisher is the NFL's longest-tenured coach, having just finished his 16th full season and 273rd game with this franchise. But Adams wanted Young drafted No. 3 overall back in 2006 and once said, "VY is my guy.''
The coach said Adams does not like losing and is very competitive.
"He understands the nature of this decision. As we're moving forward and how complicated it is and how uncertain things are with the labor situation,'' Fisher said.
While talks continue with the top executives, Fisher met with his assistants and started player evaluations Tuesday. He said some players still are being evaluated for possible surgeries.
Fisher also addressed the hit on long snapper Ken Amato by Colts linebacker Gary Brackett at the end of the first half of the Titans' 23-20 loss to Indianapolis on Sunday. Fisher wouldn't share what he told NFL officials, but said the NFL has a great example to make a point with punishment of a hit he called "100 percent unnecessary.''
"It was probably one of the most vicious hits that I've ever seen, and then to come in (Monday) morning and have the equipment guys bring his helmet to me and the helmet was cracked. You can imagine the impact,'' Fisher said.
Brackett was called for an illegal blindside block on Amato as Brackett ran toward the Colts' goal line and hit the long snapper from the side in springing Antoine Bethea for a return off a missed field goal. Brackett has been fined twice this season for illegal hits, and a third could include a suspension.
Indianapolis coach Jim Caldwell said Monday the Colts would appeal if Brackett were suspended, with the Jets visiting Saturday night for a wild-card game.