*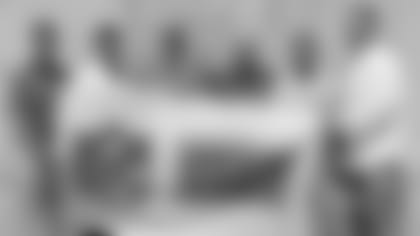 The NFL is continuing this July its legacy of going overseas to visit U.S. military troops. Forty-three years after the first trip, with 159 active and former players having traveled to at least 21 countries on USO tours, the NFL-USO partnership is still breaking new ground. This current summer tour to Iraq represents the first time the NFL has brought a group of coaches overseas to visit the troops.
*The lineup of coaches – three active and two former – is as marquee and accomplished as one could ask for. In addition they are all strong supporters of the military and have direct ties to the Armed Forces (see below for their ties to the military and the origins of the NFL-USO partnership). *
Krichavsky's USO Tour Blog – Day 1
It is clear we have the right team. And we know we have the right mission – meet as many troops as possible and thank them for their service.
The trip to Iraq is never easy, and this tour is no exception. Our group met up from various initial points of departure in Washington, D.C. where we boarded a 13-hour flight to Kuwait City. After clearing customs in Kuwait, we got a ride from the commercial airport to a U.S. military base to catch a military flight to Baghdad.
While waiting for our flight in a small hangar, our group had its first real interaction with service members. Fans wasted no time seeking out their favorite coaches. One Giants fan from the Bronx and another from New Jersey ran to meet Coughlin; a lifelong Steelers fan (now a colonel in the Army) snapped a photo with Cowher; a handful of servicemen based at Fort Campbell, Tennessee went to chat with Fisher. I also saw Harbaugh (the former Eagles defensive backs coach) talking high schools sports in the Philadelphia area with a couple of Eagles fans. The one interaction that didn't happen, however, was between CW4 John Case (originally from Texas) and Coughlin. A big Cowboys fan, CW4 Case politely declined to meet his team's rival coach.
After meeting and greeting the service members in the terminal, the coaches boarded two small C-12 military airplanes to make the final leg of our journey. We landed in Baghdad around midnight local time and made our way to our quarters, not arriving and getting settled until close to 2 AM. We had been traveling for more 30 hours, and it was time for a few precious hours of sleep.
We are looking forward to a number of full, exciting, and meaningful days ahead.
Krichavsky's USO Tour Blog – Day 2
Our first full day in Iraq began with an 06:00 wake up call. After breakfast, our first stop was the office of General Ray Odierno. Odierno is a four-star general who commands the entire coalition war effort in Iraq. That is the first thing you should know about him. The second thing you should know about General Odierno – a former tight end on the Army football team – is that he is a huge Giants fan. A resident of Rockaway, N.J., General Odierno wrote a letter to Coughlin prior to the 2007 season wishing the Giants good luck in the upcoming campaign. This letter led to a strong friendship between the coach and the general, with General Odierno now having visited and addressed the Giants several times.
In his office on the morning of Day 2, General Odierno gave the coaches a briefing of the current situation in Iraq. Now is a time of great transition here, as June 30, 2009 marked the date U.S. troops withdrew from Iraqi cities. Nevertheless, 130,000 U.S. service members remain in Iraq outside the cities in U.S. bases. General Odierno's message to the coaches was the same as he has been giving major news outlets in recent days – that tremendous progress has been made in Iraq, but there are still good days and bad days and a need to proceed with caution.
From the general's office, our group, which included the coaches and* *General Odierno, boarded Black Hawk helicopters for a quick two-minute flight to the nearby airfield. From there, we boarded C-35 and C-12 airplanes headed north to Mosul.
Mosul is located in northern Iraq, in the Kurdish dominated area of the country. The five coaches were welcomed by hundreds of cheering troops when they walked into the meet-and-greet room. For two hours, they tirelessly signed autographs. Their efforts seemed to have the desired effect. "This is huge. It makes a big difference for us," said specialist Steven Whitmore. "These coaches didn't have to come here. It really shows that they care."
From Mosul, we flew southeast to Kirkuk where we visited Forward Operating Base (FOB) Warrior. Upon entering the Dining Facility (DFAC), the coaches were presented with "Infantry One" football jerseys. They then hosted a two-hour meet-and-greet that included a rousing visit from the base football team.
Following the meet-and-greet, the coaches ate with 33 hand-picked troops who had served with great distinction. It was then back to the planes and back to Baghdad.
After cleaning up, the coaches finished their day with a reception at Al Faw palace. Only this wasn't your typical reception. Three or four hundred troops showed up to mingle with the coaches, listen to the Army's house band, and enjoy the view from the patio of one of Saddam Hussein's former palaces. The evening began with a Q & A from the crowd with the panel of coaches. This led to a number of terrific exchanges, such as the one in which Cowher declared Iraq "Steeler Nation" because of all the terrible towels he had seen and signed so far on tour. Another great exchange occurred when a young sergeant asked Coughlin if he would soon consider retiring like both Cowher and Gruden had done. This led Gruden to quickly interject: "I didn't retire, I was fired! If you know any good high school jobs or if you need a coach out here, I'm your guy."
It was a long day and a tiring day. It was very hot – temperatures topped 120. But it was a day that typified what an NFL-USO trip is all about – get out and spend time with as many troops as possible to express our thanks and gratitude for their service.
The NFL's partnership with the United Service Organizations (USO) is among the most successful, longest lasting, and farthest reaching of its kind. NFL players have traveled to all corners of the globe with the USO, thanking our service members in countries and regions including Vietnam, Guam, Japan, Korea, Kosovo, Russia, Germany, the Balkans, Kuwait, the United Arab Emirates, Iraq, and Afghanistan.
The idea for the partnership between the NFL and the USO was conceived all the way back in 1965, when commissioner Pete Rozelle thought to send NFL players on "goodwill tours" to Vietnam to support the troops. One year later, four future Pro Football Hall of Fame players – Johnny Unitas, Frank Gifford, Willie Davis, and Sam Huff – traveled to Vietnam as part of the first NFL-USO tour.
The rundown of the coaches and their military ties:
Tom Coughlinis known for leading the New York Giants to victory in Super Bowl XLII and four consecutive postseason berths. He previously was the head coach of the Jacksonville Jaguars. But fewer know of his friendship with General Ray Odierno, the commanding general in charge of all U.S. and multi-national forces in Iraq; or the way that the Giants were inspired by Colonel Greg Gadson and other service members under Coughlin's direction.
Bill Cowherhas viewed professional football through the lens of a player, a coach, and now a broadcaster. He is also the son of a pilot – his father served in the Air Force from 1940-45. Like Coughlin, Cowher reached the pinnacle of the coaching profession by winning a Super Bowl championship when his Steelers defeated the Seattle Seahawks in Super Bowl XL.
Jeff Fisheris* *the longest-tenured active head coach in the NFL and is seen as a symbol of excellence and consistency across the league. In Tennessee, he and the Titans are also known for their unwavering support of the 101st Airborne Division located outside Nashville at Fort Campbell. The members of the 101st are frequent visitors at Titans' practices and training camp, and Fisher even made a parachute jump with them last year to open a regular-season practice.
Jon Grudencoached the Raiders to two division titles and the Buccaneers to three NFC South crowns plus a win in Super Bowl XXXVII before recently signing on to be an analyst on the Monday Night Football broadcast team. He lives in Tampa, Florida, home to U.S. central command at MacDill Air Force Base. Many of Gruden's friends are service members based at MacDill, although none has yet convinced him to go up and fly with the Blue Angels.
John Harbaughis widely considered one of the best young coaches in the game, coming off a record-setting season for a rookie head coach in which he took the Baltimore Ravens to the AFC Championship Game. His military ties run deep as well. One of his closest friends in high school, Jim Minick, is a colonel in the Marines who has done three tours in Iraq.
Krichavsky's USO Tour Blog - Day 3
One question that is frequently asked is what the accommodations are like on USO tours.  We always stay in "DV" quarters on tour, which are accommodations on base for "Distinguished Visitors."  These quarters can range from having an extra pillow on a standard-issue Army cot in a barrack-style room to comfortable single rooms for each individual member of the tour. 
At Victory Base Camp (VBC) in Baghdad, where the 2009 NFL-USO Coaches Tour was based, the highest level DV quarters were located at the Joint Visitors Bureau (JVB) Hotel.  This is the same place that President Obama stayed in April on his surprise visit to Iraq.  The JVB Hotel is a former palace of Saddam Hussein's, and it has the large ballrooms, sparkling chandeliers, and gilded fixtures of a palace.
When we checked in, we were told that the coaches would be staying in one room with bunk beds.  "I haven't bunked up since I was a graduate assistant," Harbaugh remarked.  Gruden quickly agreed.  Coughlin got the one single bed in the room due to his seniority.  With three bunk beds in the room, one coach would have to sleep on a top bunk.  Gruden drew the short straw because he was the youngest among the group.  Of course, he would remind the other coaches of his suffering over the course of the entire tour by referring to himself as "Little Johnny from the top bunk."
The question you may be asking, which is a good one, is why the five coaches were all put in one room.  If we were staying in a former palace, shouldn't there be room for the coaches to at least stay two per room?  On a normal occasion this would have been the case, but this was not one of those instances.  Vice President Joe Biden would be staying down the hall from the coaches.  The rooms between them, then, were needed for Secret Service and key VP staffers.
In fact, shortly after Biden "checked in" to the JVB (trust me, the Secret Service checked in long before he arrived on site), the VP walked down the hallway to say hello to the coaches.  This led to nearly an hour exchange between the two parties.  Harbaugh was sure to thank Biden and the state of Delaware for producing such a great person and terrific QB in Joe Flacco.  The Vice President spoke with great pride about the progress we've made in Iraq and the preparation, commitment, and execution of our Armed Forces.  It didn't go unnoticed to anyone that these are also the qualities necessary to play winning football.  Biden's son, Capt. Beau Biden, a member of the Delaware National Guard who is currently serving in Iraq, joined his father in talking football, politics, and war with the coaches.
On Day 3, the group was supposed to go to Al Asad Air Base in Western Iraq to meet with the troops there.  That was not to be, however, as sandstorms grounded all aircraft.  We would instead spend the day meeting with troops at VBC, our largest installation in Iraq.  Given that there are 56,000 U.S. soldiers stationed at VBC, there were definitely plenty of service members for us to visit with there. 
Our first stop was a meet-and-greet at Camp Slayer.  Here, a trend that had emerged on the previous two days finally reached the tipping point.  There were plenty of Giants fans who wanted to see Coughlin, Titans fans eager to see Fisher, Raiders and Buccaneers fans chanting "Chucky" in honor of Gruden, and also Ravens fans out to meet Harbaugh.  But far and away the most popular coach, the one who always seemed to have the longest autograph lines, was Cowher.
On more than one occasion, when we entered a DFAC or recreation center for a meet-and-greet, there would be a mass of Steelers fans huddled together waving terrible towels and chanting "Here we go Steelers, Here we go!"  This was never more the case than when we had a meet-and-greet with a unit comprised of the Pennsylvania National Guard.  Yes, folks, Steeler Nation extends to Iraq.
After spending time with the troops at Camp Slayer, our escorts showed us a few of the main sights at Camp Victory.  These included the "Flinstone Village," a large playground that Saddam built for his grandkids out of guilt after he executed their mother.  Another stop was the "Victory over America" palace which Saddam built after the first Gulf War as his way of claiming Iraq had won that war.  At the very beginning of the second Gulf War, we bombed the palace (though it was not a strategic target) to remind Saddam who was really in charge.
After lunch, we did three consecutive meet-and-greets in which we went through approximately 1,200 autograph cards.  Each coach signed between 1,500 and 1,800 total autographs that afternoon since many service members also brought footballs, hats, photos, towels, and other paraphernalia for signatures.  As we walked out of our last meet-and-greet, Gruden's arm and hand were hanging limp as he dryly noted that we should recommend that coaches bring arm braces next year to protect them from injury. 
While the coaches' hands were probably a bit fatigued, they had a very good grasp of the impact and importance of what they were doing.  In addressing the troops before a meet-and-greet at the Dagger's Inn DFAC that day, Fisher said "Every soldier we've met since we've been here has thanked us for coming over here.  But this is backwards.  We are here to thank you.  You are the ones who are sacrificing.  You are the ones who are serving.  You are the ones who deserve thanks."
After the afternoon meet-and-greets, the coaches headed back to their quarters to clean up.  It isn't common on a USO Tour to have any dinner plans beyond going to the chow hall to eat with the troops.  But on this night, the coaches had been invited to General Odierno's home to have dinner with him and about 10 of his top generals.  It was a special evening for the coaches, an opportunity for some of the best leaders in the NFL and the some of the best leaders in the U.S. military to learn from and enjoy the company of one another.
Krichavsky's USO Tour Blog - Day 4
When the planning for this trip was in its very early stages, one of the things that was most important to us was having the opportunity to spend the July 4th holiday with our troops serving overseas in harm's way.  I think all five coaches on the tour would agree that July 4, 2009 was a day that they will long remember.
The day began with an early wake-up call and a trip over to Al Faw palace, home of the Multi-National Force headquarters.  General Odierno had invited the coaches to join his weekly "Battle Assessment Update" with his top commanders.  As you would expect, the coaches had to sign a confidentiality agreement before attending the meeting, which covers all the major elements of the Iraqi war and reconstruction efforts.  During this meeting, various generals and staffers briefed General Odierno on topics such as insurgent activity, the Iraqi legislative process, and economic development.  The general would often ask follow-up questions to his staffers when he needed more information, keeping all of the members of his team on their toes.  The coaches later said that this is not dissimilar to how they or some of their mentors or colleagues run staff meetings with their coordinators and position coaches.  Of course, the information shared at the "Battle Assessment Update" had much more serious implications than any game-planning session.
After the meeting, the coaches had an office call with Lt. General Charles Jacoby.  The Lt. General "coined" the coaches as per the military tradition.  As they had with other top generals that they had met in Iraq, the coaches were able to reciprocate by giving special NFL coins in return.  For Coughlin, Cowher, and Gruden, this meant giving the official Super Bowl medallions made by Highland Mint in honor of their teams' championship victories.  For Fisher and Harbaugh, coaches of two relatively young franchises (Titans and Ravens, respectively), they gave coins in recognition of their teams' inaugural seasons.  The generals found these coins to be unique and welcome additions to their collections.
Following our office call with Lt. General Jacoby, the coaches hustled over to what would be a definite highlight of the trip - a July 4 naturalization ceremony in which more than 200 U.S. service members would become citizens.  The ceremony was held in the grand foyer of the Al Faw palace with the new citizens sitting tall and proud at the center of the room as other troops packed every inch of space in the foyer and the balconies which rose several stories high.
At the front of the grand foyer was a military band playing patriotic tunes, and behind them was a 50 foot long U.S. flag hanging from the ceiling of the palace.
If the people were not moved by the scene itself, they had to have been moved after hearing General Odierno's words.  He described the stories of some of those becoming citizens.  All had lived in America or one of its territories, and all had decided that they believed so firmly in American values that they wanted to fight to defend them.  That included a gentleman of Iraqi decent whose parents safely fled Iraq after Operation Desert Storm.  He had tasted freedom in America and loved it so much that he wanted to help to bring it to his country of birth.  General Odierno also spoke of the Mendoza brothers, Mexican immigrants who were gaining American citizenship together on the same day, just two years after their older brother became a citizen after serving his country with distinction as well.
So here in Baghdad, on the United States' Independence Day, 237 individuals from 59 different countries became American citizens.  These individuals all chose to serve their adopted country before they were actually citizens, and they became citizens while serving our great nation on foreign soil.  And in a delicious twist of irony, their citizenship came in the middle of Saddam Hussein's favorite palace!
(As reported in the New York Times, Vice President Joe Biden showed his blunt side at a gathering with a small group of soldiers after his keynote address at the citizenship ceremony.  He said of the ceremony "We did it in Saddam's palace, and I can think of nothing better.  That S.O.B. is rolling over in his grave right now.")
After speeches from General Odierno and Vice President Biden at the ceremony, the Oath of Citizenship was administered, and then each of the new citizens was called forward to receive a certificate and an American flag.  The pride with which these individuals walked from one end of the receiving line (starting with Biden) to the other (which ended with CSM Lawrence Wilson) was readily apparent.  A short clip of this should be required viewing at next year's Fourth of July barbeques, just to remind us what America is all about.
Following the naturalization ceremony, we had a July 4th BBQ - ribs, chicken, hamburgers, corn on the cob, and all the fixings.  It felt just like home, except that we were right in the middle of an Iraqi sandstorm.  We were planning to get on choppers to visit troops at Forward Operating Bases (FOBs) that afternoon, but the storms were still grounding all aircraft. 
Like the day before, we adjusted by hosting meet-and-greets at Victory Base Camp.  During one meet-and-greet at Camp Dagger, Specialist Laura Johnson came up to Coach Fisher and introduced herself as Kenny Britt's older sister.  If the name Kenny Britt sounds familiar that is because he is the wide receiver from Rutgers that Fisher's Titans took in the first round of this year's draft.  What were the odds on Draft Day that Fisher would pick someone in the first round who had a sibling that he would meet halfway around the world less than three months later?
Nonetheless, Fisher had strict instructions for Specialist Johnson: To make sure Kenny keeps his hamstring healthy, works on not dropping passes and studies his playbook.  Specialist Johnson responded with a "Yes Sir!," further adding that she was going home on leave in a week and would deliver the message to Kenny personally.
The last stop for all of the coaches on July 4 was a special one - the ribbon cutting ceremony of a new USO Center at Camp Slayer.  This USO Center, which is expected to serve 1,500 troops per day, is located by the airport to give our service men and women a place to rest, relax, call or email home, or watch a movie while waiting for a flight.  This USO center is only the third in Iraq and will be a great addition for the troops.  Coughlin and the other coaches presented an encased, autographed football with a small plaque to mark the opening of the center.
The USO Center opening was the last official event on the 2009 NFL-USO Coaches Tour.  From there, we were scheduled to catch a military flight from Baghdad to Kuwait City and then a commercial flight home to the States.  Unfortunately, the weather continued to wreak havoc on our itinerary, not allowing us to get out of Baghdad in time to make our flight out of Kuwait City.  By the time we eventually made it to Kuwait, we had to check into a hotel and return to the airport the next morning to get flights home.  It was when we landed in Kuwait late in the evening of July 4 that Fisher learned the tragic news of the passing of former Titans QB Steve McNair. 
Krichavsky's USO Tour Blog - Final Thoughts
Every USO Tour is unique - the participants, the location, the moment in time - such that it feels different from every other tour that came before it or will come after it.  This tour, our first in the 43-year history of NFL-USO tours to feature coaches, was perhaps more distinct than most others.  But all the hallmarks of an NFL-USO tour were there: a commitment to reach as many troops as possible; strong mutual feelings of appreciation (to the troops for their sacrifice and to the tour participants for making the trip overseas); admiration for the troops after seeing what their day-to-day experiences are actually like and how they handle the physical and emotional rigors of their job; and a jam-packed schedule that included little sleep, constant activity, and more autographs, photos, and handshakes than anyone could imagine. 
In the end, it is always worth it.  As Harbaugh told the Baltimore Sun of going on the USO tour; "It's not just life changing.  It's life affirming."
Every trip has its highlights - memories that will be ingrained in the participant's minds forever.  There is no doubt that the scene and events at Al Faw palace for the Fourth of July naturalization ceremony is one of those memories from this tour.  Some of the "inside access" that the coaches were afforded also will not be forgotten.  Attending General Odierno's "Battle Assessment Update" or having a private dinner at his residence with top military leaders in Iraq fit into this category.  Spending an hour with the Vice President wasn't bad, either. 
But the highlights of a USO Tour always come down to those precious interactions with the troops.  Those simple moments when the coaches connect with a service member, whether for 30 seconds when signing an autograph and taking a photo, or for 45 minutes over a shared meal at a DFAC.  These moments remind the service members that we care, that they aren't forgotten, and that they have our support.  When these moments happen, even just once, it is a beautiful thing.  When these moments happen thousands upon thousands of times, it is an NFL-USO tour.