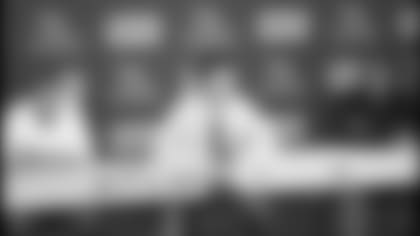 What I thought we would do is share a few thoughts regarding our first-round pick Kenny Britt. Kenny is one of the players we had in for a visit. He is one that we did an awful lot of research on. Mike [Heimerdinger] can share some of the things that we did over the last few weeks, but we are very, very excited about Kenny. We got nervous there at the end, didn't think things were going to go the way we had hoped, but nevertheless very, very excited about Kenny. He is a big, strong, physical receiver that can get in and out of cuts and make the catches and has been very well coached at that level there. We think Kenny comes in and helps us. As far as where he fits in, we are going to try to get him on the field as quick as can and catch passes for us and make big plays for us. We feel like he is what we have been missing in our passing game.
OFFENSIVE COORDINATOR MIKE HEIMERDINGER
(on whether he spoke with Rod Smith regarding Kenny after Kenny and Rod worked out together)
Never would have thought to call him [laughter]. No, Rod and I talked. He told me about his work ethic and the way that Kenny had worked for him and the things that he had tried to help Kenny with. He said Kenny did all the things that he was trying to help with with and improve on. We had talked and did the background on him. I really wanted to find out from Rod what his work ethic was like, plus his brain. Rod said he handled everything good. Everything he gave him and every challenge he gave him, he worked hard at.
(on whether he reminds him of another receiver)
I don't know Paul; I'd have to think about it. I don't know.
COLLEGE SCOUT RICHARD SHELTON
No one off the top of my head. He is a special individual, a guy like coach said that can catch the ball in traffic and get up the field after the catch. He is a physical guy after the catch and it can be hard to bring him down.
HEAD COACH JEFF FISHER
(on how far away he is from contributing)
I don't think he is far away at all. I think he is going to come in here and we feel that he is not going to have any difficulty learning the offense. He is one of few guys at the top of the group that really handles bump and run and can release and has been taught to release. That is one of the more difficult things to teach at this level or if not the most difficult thing to be able to do early. That is what you have to be able to play early.
(on whether he was worried they may not get their guy)
Hakeem [Nicks] went just before him. We thought there was going to be a run there three or four picks before our turn.
(on how many players they had in the pool with three picks to go before their pick)
You hear it every year, the board was great. It fell, there were four or five there and there are still a couple there so we need to get upstairs.
(on whether drafting a receiver ends the pursuit of Anquan Boldin)
Let me clarify things, there was a lot of speculation and a lot of reports yesterday evening and we never at any time made an offer to the Arizona Cardinals. We left several messages with them last night, but they never returned our calls last night. We didn't get in touch with them until before the draft today and they said they weren't interested in moving him.
(on other strengths of Britt and whether he is known for yards after catch)
He is strong and explosive and he is an out of frame catcher. He can adjust and for a tall guy he can adjust to the low balls. He can catch the balls that aren't perfectly thrown. He is one of those guys that you can put the ball up to and he'll make the play. He is a jump-ball guy in the back of the end zone.
(on whether they was any thought to move up and draft Jeremy Maclin)
There was a lot of discussions and calls in both directions prior to our pick.
OFFENSIVE COORDINATOR MIKE HEIMERDINGER
(on coaching a rookie receiver and how Kenny Britt fits in)
The thing that I liked about him and I think one of the hardest things for wide receivers is to get off the bump and run. I thought Kenny was one of the top couple, looking at all those wide receivers, at getting off bump and run. Whoever coaches receivers at Rutgers did a great job. His technique is real good. He'll go across the middle, I know they keep showing the highlights on ESPN and he is getting drilled across the middle catching that deep over. There is a toughness to him. Again I think it all depends on how fast he can catch on to the system and go. I think technique-wise he is very good and I think the biggest thing for how fast a wide receiver comes on all the time is when they learn their technique is important and that you just can't out speed or out athlete people on this level because all the corners are good. I think Kenny has been very well taught, so it is just a matter of how fast we can get him up to speed on the offense and how much he can handle.
(on getting offensive skilled players two years in a row in the first round)
It is different than the first time around [laughter].
HEAD COACH JEFF FISHER
We'll end on that [laughter].