**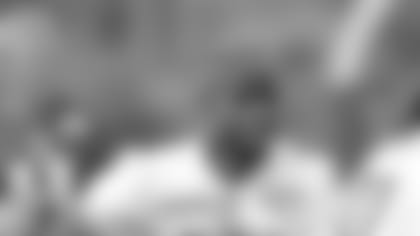 Former Southern California RB and current Titans player Stafon Johnson is suing his alma-mater and an assistant conditioning coach for negligence in the weight-room accident that crushed his throat in 2009.
LOS ANGELES --** Former Southern California running back Stafon Johnson sued the university and an assistant conditioning coach on Monday for negligence in the weight-room accident that crushed his throat in 2009.
The lawsuit filed in Los Angeles County Superior Court seeks unspecified damages.
Johnson was bench-pressing 275 pounds in the USC weight room when the bar dropped or fell onto his neck in September 2009. His throat and larynx were crushed and he required reconstructive surgery.
Assistant strength and conditioning coach Jamie Yanchar, who was responsible for spotting Johnson during his lifting, was also named in the complaint.
The lawsuit claims Yanchar was "distracted and not paying attention to Mr. Johnson at the time that the bar was being lifted from the weight rack," as the plaintiff was lifting 275 pounds for the first time.
As Yanchar placed the weight bar into the player's hands, he was inattentive and negligent and hit the bar with his body before Johnson had a good grip on it, the lawsuit said.
"The bar was knocked off balance and slipped," the lawsuit claims, landing on Johnson's neck.
The suit claims Johnson suffered permanent injuries and loss of future earnings.
USC said in a statement that the university firmly believes it was not at fault, and was disappointed that Johnson decided to file a lawsuit.
"We are sorry that Stafon was injured," it said. "USC and the entire Trojan Family have been exceptionally supportive of Stafon from the minute the accident occurred."
Yanchar now works for the Seattle Seahawks with former USC coach Pete Carroll. Attempts to reach him there were not successful Monday afternoon.