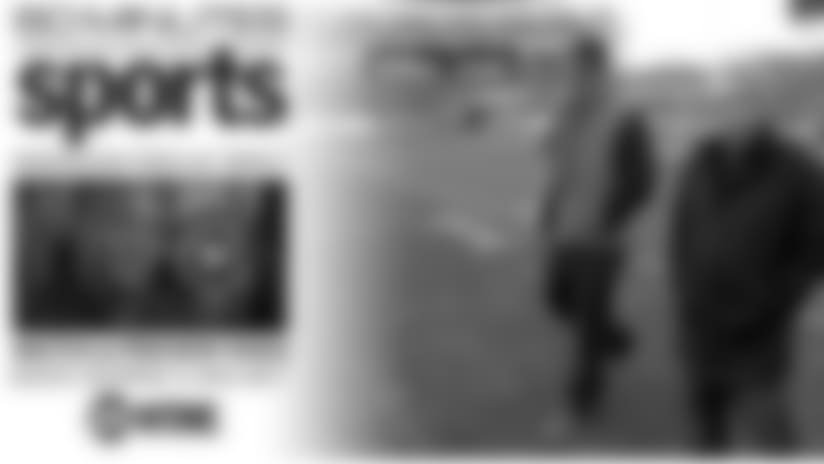 ](http://s.sho.com/1bBPzGi)NEW YORK -- Eddie George reached heights few have ever achieved on the football fields of the Big Ten and the NFL before he hit the low many NFL players find themselves in post-career.  He then remade himself in the business world and on television.  But in keeping with the former running back's never-give-up attitude, he's now looking to make a big gain in another career that is as far from the gridiron as one could imagine – to play Shakespeare, something even an Oscar-winning actor will tell you is the craft's acid test.  Correspondent Armen Keteyian reports on George's remarkable reinvention into a Renaissance man on the next edition of 60 MINUTES SPORTS premiering Wed. Feb. 5 at 10 p.m. ET/PT only on SHOWTIME. 
Why Shakespeare? asks Keteyian.  "Because it's the hardest thing to do," says the former Heisman Trophy winner, who also rushed for 10,000 yards in a NFL career he spent mostly with the Tennessee Titans.  Those achievements were hard enough.  Even harder was the end of his playing career and coping with the post NFL blues – just like the disillusioned Othello, Shakespeare's warrior with no more wars to fight, whom George plays onstage. 
George was in many ways like Othello, who was influenced by others at a vulnerable time to ruin his life by killing his own wife.  George, too, was vulnerable after the NFL. "I said, 'Damn, what am I going to do…with my life?'  I had coping mechanisms, going out to clubs to drink and courting women…I was like, 'What can I do that's going to help ease this pain and fill this void?'"  He was deeply depressed, he says, and used therapy to cope with it.
But the experience helps him inhabit the classic character he plays in the Nashville Shakespeare Festival's adaptation of "Othello."  Post NFL for him or post war for Othello,   "Without that purpose, you're just floundering in the wind."
So he rebuilt his life from scratch, getting an MBA from Northwestern University, opening businesses, teaching, and covering NFL and collegiate games for FOX Sports.  He realized he could do anything he put his mind to. Why not acting, too?         
George began his acting quest eight years ago, hiring acting coaches and getting big roles in action films, some of which he now says were not stellar performances.  A trip to Broadway inspired him to greater heights. "I watched Jude Law do Hamlet on Broadway.  I was so engaged I said 'That's what I want to do.' …It's smart and it stretches you as an actor." And he wanted to do it with the resolve of a star running back on first and goal.  "I want to be one of the best Shakespearean actors I can possibly be," he tells Keteyian.
Pouring himself into the training needed to do Shakespeare, he won the lead last year in "Julius Caesar".  Taj, his wife, tells Keteyian he is obsessed. "If he's getting dressed… If he's putting on his shoes…If he's jogging he is reciting lines."
60 MINUTES SPORTS cameras are there for the opening night of "Othello." Keteyian meets George backstage and in the old tradition, he wishes something on this Renaissance man that he deftly avoided for nearly a decade in the grueling NFL.  "Break a leg, man."