NASHVILLE, Tenn. —Titans linebacker Derrick Morgan initially admired Will Smith from afar. He remembers watching him create havoc on the football field with the New Orleans Saints.
"During his playing days, he was one of the best year in and year out,'' Morgan said of Smith, a defensive end who racked up 67 ½ sacks in nine NFL seasons (2004-12). "I was watching him since I was in high school, in college, and watching the career he had. I was always a fan of his game."
More recently, things got a lot more personal for Morgan, and Smith. The two were classmates at the University of Miami's Executive MBA for Artists and Athletes program, an 18-month course of study. Morgan and Smith got to know each other last year, and became friendly.
"Just the everyday casual conversations we had,'' Morgan said. "We kind of sat next to each other in class for over a year, getting to know him a little bit better. He was a really good dude, man, always challenging the professors with questions. He was a really smart guy. And he was a really good guy, a family man."
Like so many of those who knew Smith, Morgan today is still trying to cope with the news of his buddy's tragic death.
Smith was shot and killed in New Orleans late Saturday, the authorities said. The Orleans Parish coroner said Smith died of "multiple gunshot wounds" after an exchange of words with another driver. He was 34. Smith was on track to graduate from Miami this summer with a master's degree.
The New Orleans Police Department said the suspect in the shooting, Cardell Hayes, 28, had been arrested and charged with second-degree murder.
"I woke up (Sunday morning) and I had like six or seven of my classmates in a group message and they were all saying, 'Will got shot. Will got shot','' Morgan said on Tuesday. "And I looked on Twitter and saw the news from a couple of different news outlets.
"It still doesn't seem real. I was literally just talking to him a few days ago. Just the anguish that his family is feeling right now, I can't imagine. … You can't even fathom what they are going through as a family, losing their father and their husband. It is just sad, man."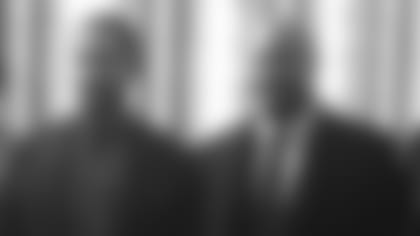 Derrick Morgan and Will Smith pictured at the United Nations in New York last Wednesday.
Morgan attended a summit in New York with the group, including Smith, last week. Morgan had his picture taken with Smith at the United Nations last Wednesday.

"You always want to know: Why did it happen? What are the circumstances?,'' Morgan said. "It's natural, it's someone you know and care about. You want to know why something like this happened to him. They obviously have the person responsible, so that is the first step in it. I am sure more details will come out. But it still doesn't take away from the pain that his family is feeling right now."

Morgan plans to attend a memorial service for Smith at the University of Miami in June, when the program is next scheduled to meet.

He remembered Smith being an excellent student.

"We were always talking about school -- that was the main focus,'' Morgan said. "We always had some kind of project due, a presentation. I think I was messing with him one time because he was late to class one day and I was kind of kidding him, and he said, 'When you have a 4.0 or better, then you can talk to me.' He had a 4.0 and was doing really well."

While on his way to pick up his young son on Tuesday, Morgan acknowledged the tragedy will have an impact on.

"I know that Will had three kids and was married. He was a really likeable guy, that's why you see the outpouring of positive comments about him. He was such a smooth dude, just a laid-back, likeable guy,'' Morgan said.

"When something like this happens, it just makes you cherish what you have a little bit more. You look at your family and you know it can be gone in an instant. So you take time, and have more patience with your kids and try and be more loving and try to appreciate every moment, because it can be taken from you just like that."
RECOMMENDED: