NASHVILLE – Derrick Henry has made a name for himself on the football field.
The Titans running back has been a giant off the field as well.
On Tuesday, Henry was announced as the team's nominee for the Walter Payton NFL Man of the Year Award presented by Nationwide.
Considered one of the league's most prestigious honors, the Walter Payton NFL Man of the Year Award recognizes an NFL player for outstanding community service activities off the field, as well as excellence on the field. Each of the league's 32 nominees were announced on Tuesday morning.
"The Walter Payton Man of the Year is a special honor and I'm truly humbled to be the Titans' nominee," Henry said. "Helping others in need is something I hold close to my heart, and I'm fortunate to be able to help level the playing field for today's youth through my foundation, the Two All Foundation. It is a blessing to be a blessing."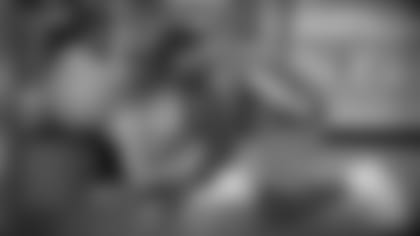 Henry, who is currently on Injured Reserve, has had a busy year giving back:
-In March 2021, Henry made a $10,000 donation from his Two All Foundation to Jeremy Taylor, a Nashville firefighter who lost his family home and all their belongings in a fire. Taylor, a Titans season ticket holder, was surprised at his fire station with a $15,000 donation -- $10,000 from Henry's 'Two All' Foundation, along with a $5,000 contribution from Campbell's Chunky Soup.
The good deed was prompted by Henry, who saw the news story and asked a member of the Titans organization how he could help. Taylor, his wife Lauren and their daughters, ages 13, 12, 11, and 8, lost everything in the fire.
"Losing a home is such a tragic occurrence," Henry said at the time. "Not only did I see the (story), but I saw that he was a Titans fan and also a first responder. Nashville has been through so much as a community – the tornado, the pandemic going on, and then the Christmas bombing. I just wanted to be able to help someone in need and someone who has been helping everyone else throughout this pandemic."
-In July 2021, for the fourth consecutive year, Henry hosted a back-to-school event in his hometown of Yulee, Florida. Through his Two All Foundation, Henry donated school supplies, backpacks, and bicycles to 200 kids.
-In September, Henry worked with the Boys & Girls Club of Middle Tennessee to host a back-to-school event through his Two All Foundation. Through Foundation sponsors and personal donations from Henry, they were able to meet B&GC's goal of providing 5,000 backpacks full of school supplies to children in need, including $50 gift cards to Burlington for 25 children the club identified as the most in-need. Henry also hosted these 25 kids for an in-person, back-to-school shopping day with additional $100 gift cards, reflecting on how he grew up in a boys & girls club and went on to achieve great things. Henry hosted similar events in 2018 and 2019, even one shopping event for Metro Nashville Public School teachers in 2019.
-Earlier this year, Henry donated $20,000 to CORE Response to support their relief efforts in Haiti following the devastating earthquake in August.
Titans head coach Mike Vrabel praised Henry for his work off the field.
"I am proud of the work our players do in the community and appreciate the opportunity to highlight that work," Vrabel said. "Derrick has a passion for making a difference for those who are in need and the young people in our community. His leadership on and off the field is a great example of what it means to be a professional football player."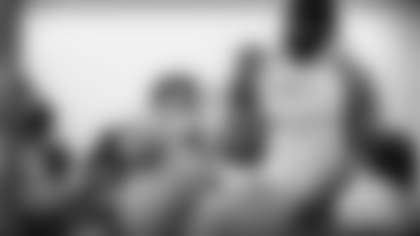 For the fourth year in a row, all 32 team winners will be highlighted as nominees and recognized for their important work during the weekend leading up to Super Bowl LVI. The 2021 Walter Payton NFL Man of the Year will be announced during NFL Honors, a primetime awards special to air the Thursday before Super Bowl LVI, on ABC.
All 32 nominees will receive up to a $40,000 donation in their name to their charity of choice. The winner of the Walter Payton NFL Man of the Year award will receive a $250,000 donation to the charity of his choice. All donations are courtesy of the NFL Foundation and Nationwide.
Henry, a second-round draft pick of the Titans in the 2016 NFL Draft, has been one of the league's most impactful players on the field.
In 2020, Henry was named the Associated Press NFL Offensive Player of the Year after rushing 378 times for 2,027 yards and 17 touchdowns. Henry became just the eighth player in NFL history to hit the 2,000-yard mark in 2020, and he was honored with his second consecutive Pro Bowl, named first-team Associated Press All-Pro, and won the FedEx Ground Player of the Year Award for the second consecutive year.
In 2019, Henry led the NFL with 1,540 yards and 16 rushing touchdowns en route to being named a Pro Bowler and second-team All-Pro.
Over the years, Henry has shown dedication and commitment to community efforts.
Other examples of Henry's generosity:
-In the spring of 2020, Henry learned of the Holland family, who were greatly impacted by the tornadoes in Nashville. The matriarch, Ms. Renita, was working several jobs to support her family, the type of dedication that reminded Henry of his grandmother, the inspiration behind his Foundation. Together with Nike, Derrick paid the family's rent for an entire year, and teamed up with Ashley Furniture, who donated $12,000 to the family to furnish their home. This allowed Ms. Renita to quit one of her three jobs and spend more time with her family. Henry also surprised the family with suite tickets to a game, game-worn and signed cleats, and outfitted the entire family in Nike.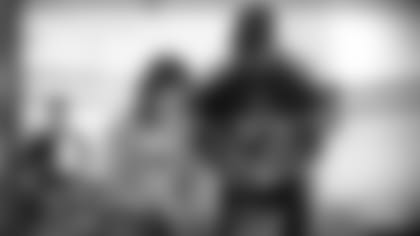 -Around the same time, when schools began closing due to Covid, Henry made multiple donations to combat food insecurity and the overall devastating effects of the pandemic:
$25,000 to No Kid Hungry to support children across America
$25,000 to Second Harvest Food Bank of Middle Tennessee, who worked with Metro Nashville Public Schools to set up food distribution sites and an emergency food box program
-$25,000 to United Way of Greater Nashville's Covid-19 Response Fund, which provides resources and grants to groups working in communities disproportionately impacted by the pandemic
$6,200 to the Community Resource Center in Nashville, along with critical need supplies he purchased on his own, such as toilet paper and baby formula
-In August 2020, Henry donated $10,000 to Hurricane Laura relief in Haiti via the Red Cross.
-In November 2020, Henry and Kroger Health announced their partnership to combine education and advocacy in the public health space. As a Kroger Health ambassador, Henry shared his experience getting a flu shot and helped educate Americans about how they can access COVID-19 testing services.
-In December 2020, Henry organized a zoom with 50 kids from the Boys & Girls Clubs of Middle Tennessee, surprising them with $5,000 in Target gift cards and Nike shoes for the holidays. Henry also donated $100 gift cards to 120 kids from his hometown of Yulee, Florida since COVID-19 prohibited him from hosting his annual holiday hometown event where he and his family pass out toys to 500 kids every year since 2016.
-That same December, Henry joined three other NFL players to chat with students about a film titled "Black Boys" that focuses on the social and emotional effects of racism against Black men and boys. Through the partnership with Old Spice, Henry joined students from two Nashville schools in virtual class discussions about identity, opportunity, and equity in America.
-In December 2019, Henry teamed up with a group known as "Pay Away the Layaway" to pay off more than $10,000 in layaways over Christmas for 20 families in the Nashville area.
-In 2018, Henry spoke to the local Tennessee chapter of 100 Black Men of America at the 2018 Nissan Resume Challenge and Summit, which focuses on mentorship and the preparation of young men to realize their highest potential – perfectly embodying the mission of the Foundation (Two All) Derrick would later create himself.
Henry founded the "Two All" Foundation to level the playing field for today's youth so that their future success is not limited by the circumstances of their upbringing, background, disability, or influence. The Foundation is dedicated to being a resource that impacts communities and equips young people to reach their full potential by instilling strong core values in their lives and providing support TWO ALL adolescents in need.
In the spring of 2021, the Tennessee Sports Hall of Fame named Henry the 'Tennessean of the Year' – reflecting not just his on-field accomplishments but his contributions to society, strong character and high-profile leadership.
In September 2021, Henry wanted to foster stronger relationships with Titans fans and, in his words, "be a blessing." He posted a tweet asking Titans fans, artists of any level, to reply with pictures of their creations of him. He selected multiple pieces of art ranging from school-aged children to grown adults and purchased them directly from the fans.
Also in September, Henry's single-game high school rushing record was broken by Kayleb Wagner, a high school football player from his native Florida. Wagner tallied 535 rushing yards to break Henry's own record of 502. Incredibly, Kayleb was born with amniotic band syndrome and plays without a left hand and part of his forearm. Henry purchased tickets for Wagner and his family to attend the team's Week 5 game in Jacksonville, and he met them on the field before the game to present Wagner with his own game-worn cleats and gloves.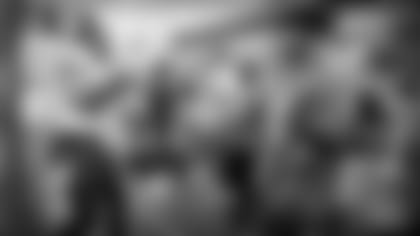 In December 2019, Henry learned of a fan battling cancer attending the Titans game in Houston with his daughter. The fan was nearing the end of his fight but said the Titans brought him joy during a dark time. Henry secured a pair of sideline passes for the father and daughter so he could meet them before the game. He then went on to rush for 211 yards, three touchdowns, and secure the NFL's rushing title.
Fans are encouraged to participate in Nationwide's 7th annual Charity Challenge, a social media campaign designed to support and promote team nominees. Fans can vote on Twitter by using #WPMOYChallenge followed by their favorite nominee's last name or Twitter handle. The player whose unique hashtag is used the most between Dec. 7 and Jan. 17 will receive a $25,000 contribution to his charity of choice, while the second and third place finishers will receive $10,000 and $5,000 donations, all courtesy of Nationwide. Hashtag information and official rules can be found at nfl.com/manoftheyear.