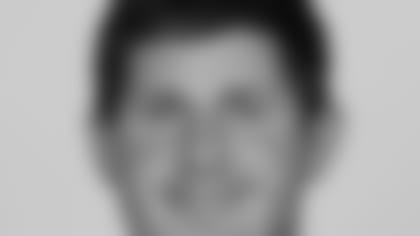 (on what they did effectively against the Patriots a few weeks ago to stay competitive in the game)
To be honest, we just did a good job on first and second down of getting ourselves in favorable situations on third down. On first down we usually got a completion to get ourselves in a good second and medium and on second down we either ran it and got a couple yards or threw it again and got ourselves a first down. We must have had, out of our 15 third downs I think, 10 of them were about three or four yards or less. We were able to put ourselves in a good situation and obviously when you are in that situation and your yardage is down on third down for what you need to get, your percentages of converting go way up. We did a good job of that against the Patriots and kind of did the opposite this past weekend against Baltimore.
(on if he feels like they are closer to getting a win now than they did earlier in the season)
I feel like we go into every weekend feeling that if we play the way we should play and do the things that we should do as a team we will give ourselves a chance to win, which is your ultimate goal on Sunday. To say we are closer or farther, I feel like we are closer. If we just continue to work, but that hasn't been the issue for us. It hasn't been preparation or work it's just been doing things on Sunday. We know that we have a big test this coming weekend and it's another opportunity for us to go out and play and prepare and play well. It will be a big test. Tennessee is playing well so I feel like we are close.
(on playing the spoiler and the satisfaction of knocking a team out of the playoffs)
I can't speak for everybody but I think for our team we are not thinking of us playing the spoiler role. That's not how things are done around here. We want to win every game and we go into every week just preparing to get better, go in on Sundays and have a chance to compete and win. That mindset for us and the spoiler term is not something that we think about.
(on if playing against a winless team put pressure on the opponent)
I don't think so, I think that most teams in this league want to go out and win every Sunday no matter their opponent and they know how difficult it is to win games in this league every single Sunday. I think that most teams are focused on themselves and doing everything that they can to win that weekend. I think that's how most coaches try to get the message across to their teams and how most teams prepare for the week.
(on the importance of getting an early lead)
It would be huge, it would certainly be helpful. Our defense is kind of built to play with the lead obviously with the two edge guys. Any time you can go out and start strong, especially at home, bodes well for your team. We would love to certainly start faster than we have for the most part of the season. I think it just comes down us going out and playing well and executing and trying to keep our offense on the field and getting off the field when we are on defense.
(on how much the offense was altered for him versus what Peyton Manning would be running)
I can't really give you much on Curtis (Painter) but obviously the offense that Peyton (Manning) runs is as intricate as it gets and probably every single thing that you have ever installed is up. I think that they have done a good job of trying to figure out what will work well for the guys that we have on the field right now and what we feel comfortable with. Hopefully, we can continue to execute it during the week and feel more comfortable with it. I think that there are some parts of it that are certainly the parts that Peyton runs and it's some parts that we are kind of piecing together as we go.
(on his ball security and improving it)
Just trying to keep two hands on the ball at all times. Sometimes when you have a guy like we had this past weekend who is so skilled at really reaching for the ball and he is behind you, there is not a ton that you can "work on." It's really just at all times just trying to keep two hands on the ball in the pocket and securing it and realizing how precious it is. It's a responsibility of mine and it's something that I will focus on this week.
(on all three of his fumbles being recovered by the offense)
Yeah, very fortunate, both of them that came early were the first play of the drive so we got on the ball and I think one of them we ended up converting that drive into points. The second one I don't think we did. Anytime you put the ball on the ground you are extremely fortunate to get it back. Turnovers are costly in this league. We were fortunate to get them back, unfortunate to put them on the ground but fortunate enough to get them back.
(on if the Lions team in 2008 that went 0-16 or the 2011 colts has more talent)
I couldn't tell you to be honest with you. I would think the team that I'm on but I couldn't tell you.
(on his reaction upon hearing the wide receivers coach and quarterbacks coach would be switching before the season and how that coaching move has worked out this season)
Ever ince I have been here it has kind of been that way so I didn't know there was an actual switch really made. This organization has been successful for a long time; they know what they are doing. Frank (Reich) is obviously a guy that has played in this league successfully for a long time. I think he does a good job with the receivers. I think Ron (Turner) does a good job with the quarterbacks. He has obviously been a coordinator in this league for multiple years. It's kind of the only way I have known it since I have been here.
(on how it is affecting him to be the quarterback that hasn't won)
Sure it eats at me, I'm a competitor. I feel like I have been a winner all the way through my whole life as a sports player and that hasn't happened for me in the NFL. Yeah, I would like to win. I would like just to win rather than win so people can stop thinking of me in a way. I'm not really the type of person who is going to pay much attention to what people think of me. I would just like to go win because I don't work as hard as do to go out and lose on Sundays. I like winning.
(on the other sports he played growing up)
I played football, baseball and basketball my whole life.
(on the pressure of going winless and if they talk about it in the locker room)
Guys don't talk about it at all in the locker room as far as the conversations I have been around. The pressure of it, I feel like pressure is often something you feel when you are unprepared. I haven't felt unprepared when I have had the opportunity to play and I don't think the guys on this team have. Does it suck? Yes. It's everything that you could think of. It's difficult, it's no fun, it's frustrating and to go through it a second time with three games left, yes, there is nothing fun about it. Is it frustrating? Yes. Do you have questions of why? Sure. All I can do it continue to go every single week and prepare and go out on Sunday's and compete and be ready to play and try to get a win.
(on what stands out about the Titans' defense on tape)
I would say a couple of things. I would say they are playing extremely well defensively. I think they have, depending on how many guys they are rotating in up front, whatever 11 guys are on the field, all 11 are playing together and playing well fast. They are not going to do a lot of things to try to confuse you, but they are playing really well. Their back end is playing well. (Michael) Griffin is playing as good as any safety that is in his role of playing the middle of the field or down in the box as well as anybody else. Up front those guys are playing really well and getting some pressure interiorly. I think the mike backer is playing really well. Obviously, (Cortland) Finnegan is kind of their bell-cow-key on their back end. They are playing real well defensively, not giving up a ton of yards, not giving up points really at all. It's going to be another good challenge for us.
(on some of the great Indianapolis veteran's careers ending with a season like this)
I don't think we are thinking like that. I think those guys' bodies of work speak for themselves. Probably three guys that at least one or two of them are locks to be in the Hall of Fame and all three of them have a pretty legit shot. I don't know what their future holds. I think for me I am just trying to get it to Sunday and go from there. Those guys have all been great players here for a long time.