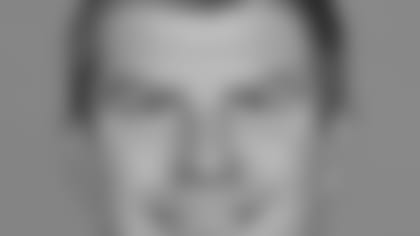 (on what stands out about the Titans defense on tape)
They have played really well this year. They have tried to disguise their coverage pretty well and they try to bluff and show you one thing and do something else. They are playing really hard and not giving up very many big plays so they are trying to make the offense make the mistake.
(on what has been the biggest challenge of being a rookie NFL quarterback)
I guess early on it was not knowing what to expect. Obviously, the speed of the game has been an adjustment but I feel like I have done a good job handling it and I feel like I have seen things well. It's just doing my best to get this team in the right play and in the right situation.
(on if he would have rather wanted to sit and wait behind a veteran or play right away from the first day)
I wanted to play right away. I have always been playing, even since my time at TCU. I started as a freshman for four years, so I haven't really sat around for a while. I think it's been great for me to come in and learn from the experience and the more and more I play, I feel like the better I am getting.
(on if the Titans showed interest in him before the draft)
I did meet with the Titans, I came on a visit there and sat with the coaches and stuff, and there was some interest there.
(on if the Bengals told him that he would be the starter from week one immediately after being picked)
I had hoped so and I knew the quarterback situation was going to be open and I knew I was going to have to compete for the job, but I have been fortunate to come into training camp and win it.
(on what has allowed for a smooth transition from college to the NFL)
I think just my time at TCU and being able to play for four years and the style of offense and the way we are calling things is very similar to the way I did at TCU and I think that has just made the transition a whole lot easier for me.
(on his relationship with Jake Locker)
I do know him, I have gotten to know him through this whole process and he is a great guy. He has a lot of talent and I think that's why Tennessee picked him at number eight.
(on what advice he would give Jake Locker as he waits his turn to play)
I would just say to keep doing what you are doing and listen to what (Matt) Hasselbeck is saying and try to mimic him because he has been playing really well and has been playing well for a long time.
(on if he followed Matt Hasselbeck growing up)
I followed him a little bit just watching him some. He has been a great player and he has been in the league for a while and he has done a really good job.
(on his receivers other than A.J. Green)
We feel like we have a lot of talent here. Everyone knows about A.J. (Green) but we have Jerome Simpson who has done a great job and he is really fast and can do a lot with the ball. Andre Caldwell is just a solid receiver, he is always in the right spot and making plays for us. Our tight end Jermaine Gresham who has just done a really good job of just making plays for us when we need to when it has counted in the fourth quarter. So we just have a lot of reliable guys that are playing well.
(on the importance of the four-minute offense)
The four-minute offense is huge, you have to be able to run the ball, stay in bounds and get completions. You definitely don't want to have any incompletions there it's definitely a key part of the game especially at the end of the game when you are trying to run the clock out.
(on the Bengals effectiveness in the four-minute offense)
I think we have handled it well. I think there are times where the offense needs to stay on the field to give the defense a rest and to change the field position just in case we do get stopped for the defense to go back out there and have a lot more field to play with.
(on gaining confidence after winning four in a row)
We feel like we have some momentum and we just have to keep getting better and better. We still haven't played a perfect game, we made our mistakes last week but I feel like we are going to take what we saw from the tape and get better from it.
(on what he expects to see from the Titans' defense trying to confuse a rookie quarterback)
I think every team is trying to disguise something. They will have their tweaks that they will do this week and I'm just going to be ready for whatever they throw at me.
(on if he has noticed on tape that teams are doing different things against him because he is a rookie)
I think there are things that a defense does and you can kind of see it each week as you are watching teams. They did one thing versus one team and then they didn't do that any against another team but they did something else. I think they try to find where they can get an advantage.
They have played really well and they are always in the right spot. Their secondary is making plays on the ball and we feel like we have had a good pass rush. We try not to make the quarterback comfortable back there.
(on A.J. Green and what he does for the offense)
He has down a great job and we have asked a lot of him coming in and we expected a lot out of him. He just has a lot of talent and there is not much he can't do. My job is to put it in his area and let him make a play.
(on how quickly he and A.J. Green got into a rhythm and built chemistry with each other)
We felt it early on and you could see the talent that he had early on in training camp with some of the catches that he was making. We definitely have a good relationship and we are getting better.
(on if there are any former NFL quarterbacks that reached out to him to help)
No, not really but being here with Bruce (Gradkowski), Bruce has been in the league for a while and it's great having him here because he kind of talks about his experience when he was playing as a rookie and stuff like that so I definitely feel blessed to have him here.
(on what Jay Gruden is like as an offensive coordinator)
He has done a good job. He is definitely putting us in the right situations and giving us a chance to make a play. I think he has done a good job with this offense and making checks and all that kind of stuff to make sure that we can be in a good play for what they are doing.
(on the toughest defense he has played so far)
San Francisco, they were really tough up front. They did a good job in the back end as well. They are really tough against the run and all that so I would say they are one of the toughest defenses that we have played so far.