By Isis Freeman, For Titans Online
NASHVILLE, Tenn. — Discipline, teamwork and professionalism are three qualities that Titans fullback Collin Mooney has taken from his time at the U.S. Military Academy and applied to his pursuit of a career in the National Football League.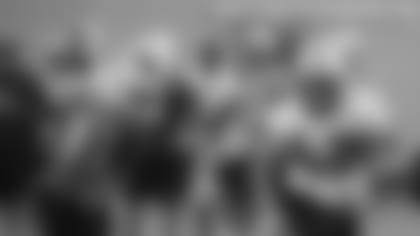 A Texas native, Mooney took a fairly unique path to reach his dream of playing professional football. The non-traditional route, however, better equipped him to compete for a spot on the Titans' practice squad last season.
Mooney's service to the country stemmed from his intense and immense education from West Point and ultimately prepared him for the challenge of making an NFL team. Upon graduating from West Point, Mooney spent three years assigned to the field artillery branch of the U.S. Army to fulfill his military commitment. Upon completing his charge, Mooney had the opportunity to go from the battlefield to the football field while remaining in the Army Reserves.
Success within the NFL, however, was not a given. Upon completing the 2012 training camp, Mooney was waived by the Titans. But this was a minor setback for the 1st Lieutenant. The energetic fullback managed to impress the coaching staff enough to receive an offer to join the Titans practice squad, which he gladly accepted. From that position, Mooney applied his West Point training, mentality and overall dedication until he was granted him the opportunity to sign to the active roster at the end of last year.
When asked about the aspects of his collegiate training that are most applicable to his time with the Titans, Mooney credited his success to West Point's attention to discipline and teamwork, stating: "One thing that Coach (Mike) Munchak is big about is being a pro, knowing what to do, and doing it. I think that's one thing…that discipline is part of being a pro and knowing what to do. Also, in the Army teamwork is huge. Just being able to work as a team, as a unit … that carries over."
The initial impression Mooney made on Titans coach Mike Munchak has been a lasting one.
"You can't have enough guys like that," Munchak said. "I think I said that the first meeting I walked in and he was in the front with a nice pair of slacks, a button-down shirt, hair combed nice, full attention, and waiting to hear what I had to say."
Few people are aware of the struggle that comes along with gaining entrance into the NFL. Whether one is seeking employment on the sidelines, off the field, or behind the scenes, the industry seems nearly impenetrable. The same is true for those looking to join the action on the field. In about a month, teams are expected to go from a roster of 90 people to one of 53 and some players just barely make or miss the cut, and Mooney is again vying for a position.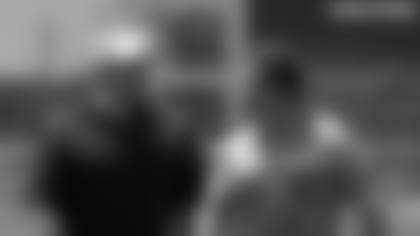 Mooney went on to note that mental preparation for the military and for football favor tremendously, but said the physical components differed. He mentioned the U.S. Army's new physical training regimen and discussed how military workouts require more aerobic training than those of football.
The 5-foot-10, 238-pound fullback went on to joke about the different running expectations as well, laughing as he said, "It's a little different. I always struggled with long distance running in the Army. It was kind of my nemesis. So now I don't have to worry about that as much. The longest I'll run on anything is 100 yards!"
Although he jests, Mooney remains dedicated to his civic duty, taking every opportunity he can to work with the recruiting battalion in Nashville. While he has limited military obligations during the season, he takes his free time during the off-season to travel around the local area. This past spring, he even completed a two-week tour, visiting some high schools in the Nashville, Clarksville and Bowling Green, Ky., areas. He utilizes his position as both a soldier and a player to place a unique spin on his message.
"My message, when I go to schools and do recruiting, is that you can be in the Reserves, you can serve your country and be in the Army, but at the same time you can have another job," Mooney said. "You can pursue your goals and your dreams…but at the same time you can still serve your country, you can still be in the military."
And he is the embodiment of his message, the living, breathing, walking testimony to the fact that one can not only create the "land of the free," but also enjoy it and take advantage of its many opportunities and keep a balance between his professional and personal life.
"I like focusing when I'm doing something. I like focusing 100 percent on training camp, but I have other interests and I like to keep a balance in my life," Mooney said. "I think if you get too focused on one thing and you try to do too much in one area, you may get burnt out or you may not have the same passion that you did for that specific area."
Mooney is far from burnt out. The physical fullback has exhibited great strength and passion in training camp practices, illustrating his vigor and love for the game. In splitting his time between the military and the Titans, it seems that Mooney has struck the perfect balance to not only maintain his passion for football, but also nurture it.
Mooney has taken a rather roundabout route to the NFL, but has never lost his vigor and love for the game. Without missing a beat, Mooney said, he'd take the same path all over again.
"I wouldn't change anything. To me, faith is a big part of my life and God's got a certain plan and you don't know what that plan's going to be. You really can't map that out," Mooney said. "I would never take back those experiences that I've gained and that journey that I went on to get here and the people I met and the relationships I've built along the way. I could never give that up. I met my wife there, I met great friends, and so I wouldn't change anything for the world."