NASHVILLE, Tenn. —** Titans coach Mike Munchak, defensive coordinator Jerry Gray and newly hired senior assistant/defense Gregg Williams have complete confidence in their ability to work together.
They wouldn't have added Williams otherwise, Munchak said Thursday in a press conference that lasted more than 70 minutes. Munchak, Gray and Williams said they have no worries about interior power struggles and have full confidence they will be able to build a more powerful defense.
Here's a brief recap of how the hiring of Gregg Williams came about, which will be followed by why Munchak, Gray, Williams think they will work well together.
Munchak and Gray said they had multiple meetings after the season ended to discuss how they should improve a defense that fell from eighth in the NFL in points allowed (19.8 per game) in 2011 to last in the league (29.4) in 2012. Tennessee, however, tied for ninth with 39 sacks and ranked seventh with 19 interceptions in 2012.
Munchak was meticulous in researching the options. In addition to talking with Gray, Munchak phoned NFL Commissioner Roger Goodell and discussed through an extensive conversation the league's perspective on what happened in "Bountygate" during Williams' time as defensive coordinator of the New Orleans Saints (2009-11).
The league suspended Williams indefinitely in 2012 and issued a year-long suspension for Saints coach Sean Payton, an eight-game suspension for  Saints general manager Mickey Loomis, a six-game suspension for assistant head coach Joe Vitt and suspensions of four current or former Saints players for a system that used cash to reward big hits. Williams was the last person involved to have his suspension lifted on Thursday a week after the league said it would consider lifting the suspension if a team were interested in hiring Williams.
"I think (Goodell) felt because of the way Gregg handled himself during the last year and how honest he was with them over the past 12 months and how he accepted responsibility for the mistakes he made during that time in New Orleans, he felt that he was going to reinstate him," Munchak said. "I asked him about a timetable, and I was thinking, 'When and does this fit?' He asked me if we were interested, and I said, 'Well, we could be.' "
Munchak also had multiple conversations with Williams after receiving permission from Goodell to speak with him.
"We covered a lot of things, from obviously football to everything that went on in New Orleans when he was there as a defensive coordinator," Munchak said. "I think what came out of it was, I thought he was being very honest at what happened and I think he was being very humble by what he went through. I think he took responsibility for what he did wrong and the mistakes he made. I knew that he wanted to move forward."
Munchak brought Titans general manager Ruston Webster into the discussions and then explained the line of thinking to Titans Owner K.S. "Bud" Adams, Jr., who gave Williams his first coaching job in the NFL in 1990 as a quality control coach for the Houston Oilers. Munchak was a player on those squads through 1993, and joined the Oilers' staff as an offensive assistant in 1994. Munchak said the long history with Williams increased his willingness to add him to the staff.
"I watched him work his butt off as far as both sides of the ball and doing quality control work and running the scout teams during those couple of years," Munchak said. "I saw him move up to special teams coach and run that as good as anyone I have seen run it. I saw him get promoted to linebackers. Then I started coaching and I joined that side of the ball, so I was working with him.
"I watched him being promoted to coordinator when we moved here to Nashville," Munchak continued. "I saw how the players played for him. I saw how they bought into the way he did things and the enthusiasm to make players better than they probably should be, and we had a lot of success. When you know a guy that well, you are going to give some second thoughts of looking into it. So my thinking was, 'How would Gregg fit into this?' "
Williams admitted his mistakes and apologized for them. He said he spent his year out of the NFL focusing on self-improvement. Those efforts included a trip to Thailand, visiting impoverished villages, and visiting multiple levels of football teams to talk about the importance of player safety. He said he is grateful for the renewal and wants to start his resume from this point.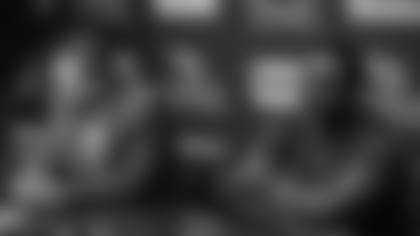 Gray and Williams have also known each other for more than 20 years. The relationship started when Gray played the 1992 season with the Oilers and has had multiple variations to the relationship over the years.
Williams was defensive coordinator of the Tennessee Oilers 1997-98 when Gray was a defensive quality control coach and Tennessee Titans 1999-2000 when Gray was defensive backs coach. Williams was head coach of the Buffalo Bills (2001-03) and hired Jerry Gray as his defensive coordinator. Williams was Washington's defensive coordinator from 2004-07, again overlapping two seasons (2006-07) with Gray, who coached the Redskins' secondary from 2006-09.
"In those times that Jerry and I have worked together in all these past years, he's had a valued opinion that I've listened to at every level," Williams said. "He had a valued opinion when I was his position coach when he played. I listened to him, and you know what, I learned and he taught me a lot about being a better position coach when he was at the end of his career. I learned a lot coaching him, and then, when we coached side-by-side together, we've grown a lot together. The fact that I valued his opinion when he played, and I valued his opinion when we coached together, I don't think there's any doubt that he and I will be able to share opinions and we'll both value them."
Gray said he and Williams are like brothers who have grown together. Both men said they are excited about the next chapter in their relationship, which will be their 10th NFL season together. Gray will be expected to make most of the calls on Sundays, but the process of getting to that point in games will be highly inclusive of the entire defensive staff, Gray said.
"I know sometimes people are always looking for, 'Who's the power struggle?' That's more so for the outside, but in here, I don't think we've ever had a problem, even when Gregg was the head coach in Buffalo, 'Hey, Jerry, what do you think you want to do?' We'd make those decisions and we'd go."
This will be the first time that Gray and Williams have worked together since 2007 when the Redskins ranked seventh in yards allowed (305.3 per game) and tied for 11th with 19.4 points allowed per game. Gray said he thinks the reunion will be seamless.
"When Mike asked me, that was an easy decision. I said, 'Bring him on,' because he knows how I think, and I know how he thinks," Gray explained. "It's probably more like brothers than anything because you get a chance to go out and really, I know what he's going to do. Even before we go out there, (we were) in meetings (Thursday), I know how he's going to talk because he talks just like I talk. He's going to challenge guys, and I think that's what's going to make us a better staff because now, there's not going to be one voice. (New linebackers coach Chet Parlavecchio is) the same way. He's a little different. He's going to talk. He's going to speak his mind."
Munchak said he'll encourage productive, challenging dialogue between assistant coaches to lead to decisions that put the Titans in the most favorable positions on Sundays.
"The urgency is that we can't take a step back, we can't afford to have it in any phase – offense, defense and special teams," Munchak said. "The thinking is we have to come out guns blazing and ready to play some football in September. No one wants to hear I hired a new coaching staff; they are not going to want to hear that."