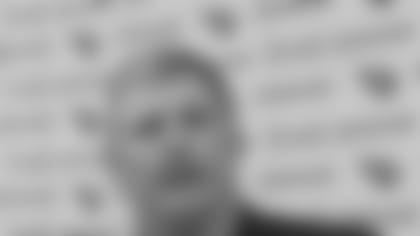 (on how the uncertainty of Chris Johnson's health complicates things this week)
We will have to wait and see with it being a short week. I think he is doing OK today, he is sore today. We thought we would hold off on doing anything with him. Tomorrow hopefully we will get a better feel for where he is at and then we can see if we have a problem or not.
(on if he thinks there is going to be a problem with Chris Johnson's ankle)
No, we are assuming that he is going to be OK. The trainers feel pretty good about him, CJ (Chris Johnson) feels pretty good and until he starts running tomorrow we will have a better feel and then we will have a couple days if there is an issue to figure out what the best thing to do is.
(on if he is concerned that Chris Johnson wouldn't be effective if playing hurt)
Well that's something that we have to be concerned, he can hold up doing that, how effective he would be and all of those kinds of things. I think it will be more of seeing what that looks like in practice and his change of direction and things like that to see if we have concerns or not with what we see. I think it's a wait and see deal, and then we will have to decide from there. If we are not happy then we will have to do something about it.
(on how the addition of fullback Quinn Johnson fits in the equation)
I think it's more of this time of year, having a space and having an opportunity to pick up someone that was here. We went 3-1 when he was here. He fits in nice with what we do. I think it was more of just picking up a guy that we thought was a good football player and then just kind of see where it goes from there.
(on how the team gets back to work after such a devastating loss and if he is happy with the response so far)
Yeah I am. I think coming inside and having a short week was probably a good thing. The fact that we got right back to work today and we were able to do lots of things toady, a lot of good meetings and we were able to talk through some things. We came out and had a good practice and the fact that there is something to play for. It would be a little harder if that were the end of the season last week in terms of playoffs because of how we played. Knowing there is always hope is a good thing and I think we are encouraged by that. We are 7-7 and we are shooting for the 9-7 and see what happens.
(on if he is encouraged by Matt Hasselbeck's health progress)
Yeah, I think it's good the fact that he played in the game and played 50-60 snaps and is able to come out here on Tuesday and do the whole practice. We weren't real concerned about that after the game because during the game he held up pretty good. But it's good to know that so far so good this week.
(on if there is much different about the Jaguars with Mel Tucker as the interim head coach)
No, I think they are very similar. We know on offense they are not going to change what they do. They have a younger quarterback playing since the last time we played them, their draft pick is playing. They are running the ball and we know that's what they are going to do, a heavy dose of running the football. There is no secret about that. On the defensive side, they are in the top five. They are ranked the fifth best defense even though they have had a lot of injuries on the back end. The front seven are still playing very good. They haven't changed much at all. He is the D-coordinator so his defense is playing exactly how they used to like they did the first game when we played them. It's going to be a lot like it was last week. It's going to be a tough, physical football game.
(on the battle between Chris Johnson and Maurice Jones-Drew)
Well for us I think it comes down to the usual. If (Maurice) Jones-Drew has a big day that's not good for us just because that's not good for us because of the fact that they want to shorten the game. They would like the game to be two and a half hours long and get home early for Christmas. That's how they play the game and what that means is that on offense we don't have the ball a whole lot. We will have very little opportunities if we allow them to…like what happened last game where I think they had about eight of nine third-and-ones and they converted most of those so it ended up being a long day of the offense standing on the sideline. Hopefully he won't have a very good game which will force the rookie quarterback to do a lot and then on our side if CJ (Chris Johnson) is having a big day which we want him to have it's a good thing for us. It's nice to have the rivalry, hopefully it will be another incentive to run hard and have a big day running the football.
(on the distraction of playing on Christmas Eve)
It's probably better this year. This is probably the best day it falls on because with the league moving the games to Saturday everyone gets Christmas off. In the past years you were playing games on Christmas, you were traveling on Christmas and I think it was a lot harder, especially for guys who had children knowing that they are not going to be at home. This is probably the best it could be for an NFL player especially for us with a home game. We play at noon, we can be done by 3:30 with a big win, and then the players are off until Monday. That's a great situation for us this year. We need a present though, the win would make Christmas a good one.
(on the lack of first-down production)
Yeah, it hasn't been good. We have struggled there all year long. First down efficiency and coming out with a play that does four yards or better has put us in tough spots throughout the year. A lot of that is the run game throughout the year of not being as effective as you would want on first down. Even passing on first down just hasn't been what we would have liked. That has been down that has led to second down being a little harder to convert and third down. That is something that we have been working on all year but not quite where we want it.
(on if there is a learning curve for young players to know how to bring down Maurice Jones-Drew)
I think when you turn the film on you go, 'I better tackle this guy low.' He is low so you have to go lower than he is because you see the consequences of not doing that and the fact that he just keeps on rolling. We have played them before, which is a good thing, so all of our young guys, (Colin) McCarthy didn't play much in that game so I don't think that he is as familiar with him but Colin has done a good job with a lot of good running backs. He has a knack for going low and having good results. The rest of us did, the young guys anyway and the D-linemen also, this is one of those guys that will carry you with him if you go too high and they see that. He is leading the league in rushing and having a big year. We know how important it's going to be to stop him.
(on if seeing Blaine Gabbert struggle makes him feel good about Jake Locker on the bench behind Matt Hasselbeck)
I think it has been great for Jake (Locker) because Jake has learned so much from Matt (Hasselbeck). We talk about Matt being so valuable to the team and to the receivers, I think he has been huge to Jake and their relationship. I think he has taught him how to be a pro and how to watch tape and how to prepare for games and I think you see that in just how Jake came in and played and felt so comfortable. That has definitely helped him but I think also if Jake started from the first game of the year I think he would be playing pretty well. We felt when we drafted him that he was game ready and that if he had an opportunity to play then he would do well. I think either way was a good situation for Jake and the way it turned out will be the best of both worlds because he stayed healthy and got a lot of experience. He got some games, he was around a good veteran quarterback in Matt and he should be ready to roll.