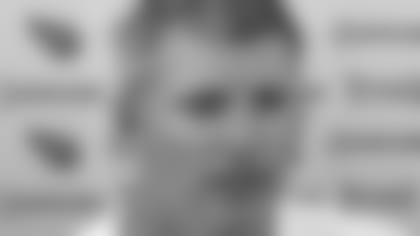 (on his initial impression of Kevin Curtis)
I will have to watch the tape. He is a good kid and he has a good feel for what we are doing already in a short period of time as far as lining up and getting off the ball. So, we will see how it goes these next couple days and see how it goes in the game.
(on if Kevin Curtis is in a good situation because there are some injuries at receiver)
I think for him it is. I think he realizes that any opportunity is a good one for a guy in the NFL that is trying to get back in. It's a small window for him but I'm sure it's one he is happy he has and it's a good situation for him to come in to where he will get quite a few reps on Thursday night.
(on what went into the decision to let go of Jovan Haye)
A few things, but probably mainly because of the young guys that came in and have been doing so well and maintaining their level out here in the last six weeks. We have to start to figure out what will be best for the team and we moved the guys around for the beginning. Like I said, Jovan (Haye) was running first team, second team, the young guys...(Karl) Klug was starting the first game then he wasn't starting the second game and I kept saying that didn't mean a whole lot and we were trying different combinations to see what the best way to rotate defensive tackles were and we came to the decision the guys we have now are the best way to go and there was no reason to hold off in telling Jovan. I think it was good for him to know as soon as we knew so he can move on, and I think he appreciated that. Since he has come in he has done anything we have asked for. He came in initially and lost weight to fit into that scheme, and then he came back this year and gained weight because he wanted to be part of this scheme so he is a true pro and unfortunately he has been through this before and I'm sure he will be playing again this year.
(on if Nick Schommer just had too many injury issues to make a move in camp)
Yeah it was, he has been hurt unfortunately since he has been here. He missed a lot of time again this year. I know it's upsetting for him and for us because we wanted to see what he was able to do and again, maybe he is a guy who will have better luck staying healthy with another opportunity. Right now the best we could do is what we did and release him today.
(on if Nick Schommer's release speaks to the completion and depth at safety)
We do, and it reaches a point where some of these guys, especially the younger guys that get cut, is that you only have so much time to work with so this camp probably more so than most, the veterans played a lot more, and practiced a lot more because of the lack of reps during the offseason. We had to get guys used to each other and the communication and things that we will continue to work on going forward into the seasons. So that kind of limited some of the guys getting a chance to develop or maybe show us how they maybe could fit in. If you did get a nick or get hurt, it really hurt your case more than most years.
(on Kenny Britt practicing)
Yeah, he looks good. He made some nice catches doing what we thought and practiced so far today from what I could tell. Same thing tomorrow, we will compete against the defense again tomorrow all day and if things go well then we will give him some playing time on Thursday night.
(on if Kenny Britt is excited to play on Thursday night)
Yes he is and I think that's why people say, 'well should a guy play in the fourth game,' well heck, we used to play the whole fourth game almost in the past really up to the last five years. I think he just needs it for confidence to feel like he has put that behind him and he has been on the field and been tackled by somebody and ready to move onto Jacksonville, ready to play rather than worrying about all these questions that come up like, 'he hasn't played in a while and he hasn't done this or that.' Now everything is behind him and he gets a chance to play this weekend and we can just move into the beginning of the season.
(on who will return kicks if Marc Mariani does not play on Thursday)
Probably Damian (Williams), it will be a good opportunity to get some touches on that so I imagine that he would be the guy that would fill in for Marc (Mariani) if is he is not ready to go.
(on if moving Chris Johnson to the "did not report" list just allows him to keep someone here a few extra days)
Yeah, that just gives us help. You want in the fourth game to now be short at positions. If you take the starters out after so many plays, you don't want to have to put someone back in in the fourth quarter because of an injury, So we were trying to maintain every spot we could in case there are injuries to some of the second-team guys, we have other guys to put in at those positions so that allows us to maintain another player.
(on if anything in the Chris Johnson negotiations has improved)
Not at all that I know of.
(on his mindset about the Chris Johnson situation as each day passes)
Just as it has been, I think we wait until the end of this week, we play this preseason game which we have coming up in a couple days and see where we are as a team at that point. That's when you have to make a lot of decisions, not only that one, but we will have a lot of other big decisions at different spots of how many players to keep at each position. There is a lot of competition going on still up until this New Orleans game, and that will be another one as far as who is healthy and who is not in certain positions, where we may have to add looking at the waiver wire of people who get released from other teams, so there is a lot of work to be done here at the end of the week.
(on if Javon Ringer is still on track to play in the opener)
Yeah, he looks good. He practiced a little bit today, he will continue to practice, but we won't play him on Thursday night though. We will hold him off, but we are fine that he will be able to play in Jacksonville.