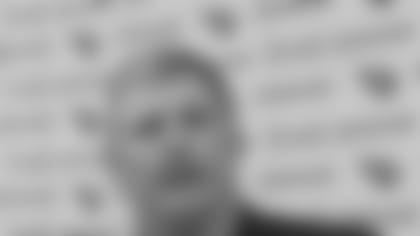 (on the injury status of players)
(Craig) Stevens practiced today which was good that he did something. He will be listed as questionable.
He has done all of the special teams stuff, we just limited him on the other things, but he will be fine.
(Colin) McCarthy will be out, (Chris) Hope will be out. William Hayes had a little back spasm today so he didn't finish practice so we will probably list him as questionable. We don't think it's a big deal.
(on if the cut-blocks that the Houston offensive line uses angers him as a coach)
I don't think that, I think it's just part of the game. Most of the teams in the league, we do the same thing, we are cutting on the back side of the zone plays. They just run more zone plays than a lot of teams so it happens more often but it's just part of the game.  It's something that has been going on for years. No one likes to get cut blocked no matter what position you are playing. If it's legal than it's not a problem, you just have to learn how to play it with your hands and keep those guys off your legs.
(on if the referees know that the Texans use cut blocks or will he tell them)
I think they are aware, you make people aware of things. Again, it has to be something that's illegal, it's got to be something that's definitely in the back, it's got to be something where two guys are engaged or a man removed. They are aware of them, but that's something we shouldn't be worried about going into a game. We need to play aggressively, physical and not worry about those things.
(on if he would like to have someone look at Terrell Owens at his workout next Tuesday)
Again like I have said, I don't even bother with that, we are worried about Sunday and we will go from there.
(on if he is satisfied with the week of practice)
Yeah we are, I think it went really well. Sometimes when you haven't played it drags on, but I think the energy has been good all week. I think because of who we are playing, we are playing a division team made that easy. Coming off of a loss makes you hungry and you want to get your confidence up so it's been good. It was a great finish to a good week and we just have to go out and play now.
(on playing in front of the home crowd at LP Field and its effect on the game)
Well we think it's going to be a big part of it. We know we have to play the game and the plays on the field, but there is no doubt having the crowd there and playing at home makes a huge difference. It has in the past, it has for the two games we played this year, and we are going to need all of that energy and that noise to disrupt their offense some and make them uncomfortable with trying to get plays and adjustments called on the offensive side of the ball. There is no doubt that it adds to the energy for us. You feed off of that and so we are looking forward to being home for a while.
(on if he sees any similarities between Chris Johnson's and Arian Foster's struggles to run the ball due to the time they missed)
(Arian) Foster has been more injury related than (Chris Johnson's) but they have still been running the ball well. They have still had four or five games where they have run the ball very well. I think they are different issues. They haven't run the ball very well the last two weeks, and we know this game is going to be all about who does that better, it seems like our games have gone that way. Last year, the first game they ran well and we didn't and we lost. The second game we ran well and they didn't and we won, so there is a bit correlation to what happens on Sunday.
(on the stadium going pink on Sunday for breast cancer awareness)
Well I think it's the whole month. I think the players you can tell, the NFL has done a great job with breast cancer awareness and it means a lot to them. A lot of them have been touched by that and their families and they know what a struggle that is. The NFL wants to show it's important and they enjoy the fact that they can help in some way. It's a small way but it's a way we can bring attention to it.