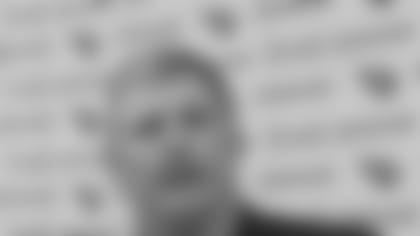 (on if Craig Stevens will be limited)
He will be questionable, it's just the soreness so it will be seeing how he can tolerate it on Sunday.
(on why Ahmard Hall was not at practice and if that will affect him being activated for this Sunday)
He was excused today for personal reasons, he will be back tonight…No that won't affect him, and he will be fine.
(on if Ahmard Hall is expected to start)
We will figure out the roster like we talked about during the week because of the different injuries we have with (Craig) Stevens and with that position being with the fullback, so we will kind of work that out today or tomorrow.
(on if Michael Griffin is to the the point where he can not practice and still play on Sunday)
He has been here all week. Even though Wednesday he was in-and-out, he was here for meetings and practiced and everything. Yesterday was really the only day he missed but like you said, the fact that he has been here playing, he got things caught up when he got here early this morning. We are fine with him, it's one of those things you get your energy back and he had a good work day today and he will be fine.
(on if it may be difficult to prepare for Steelers RB Isaac Redman)
Yeah I think it is, but like they usually do in their offense, it's not going to matter. It's like how it's been in the past when we play Pittsburgh over the years, it's not going to change what they run. They are just going to plug in a back like they have and they have had success doing that over the years. They want to run the football. They are that smash-mouth style so it's not going to affect what they do as far as we are concerned, so it shouldn't affect us at all.
(on mentally preparing for this game knowing the bye week is next)
It's kind of hard to figure out sometimes, it's almost like when you talk about if  the guys have a good week of work, then they have a good warm up, then you think, 'we are going to play good,' then you don't. I think just because of the opponent this week it doesn't matter. I think the fact that it is Pittsburgh in Pittsburgh and we know obviously what a great team they have been, that there is no looking ahead or past. We know how important this game would be for us to win. In this case I don't think that bye week is a factor at all other than we will enjoy it on the back end when this game is over. I'm sure that's when it will all sink in. Hopefully we win, we play well and we can enjoy it longer.
(on if it is surprising that Max Starks may start at tackle for Pittsburgh)
No, he is a veteran guy that knows what he is doing and their two tackles are like that. Pittsburgh hasn't changed what they have done, he will come right in and it's just a matter of what kind of shape he is in and that kind of thing. The linemen usually don't have to do a whole lot as far as running, you play in your box, your little area so they are playing in the sandbox. I assume he will be fine, it's just a matter of conditioning wise and how many plays that they have if that will affect him. Mentally, obviously he knows what he is doing.
(on if he has heard how Kenny Britt's surgery went)
No not yet, I have not heard anything yet but we will probably hear something this afternoon.
(on if Craig Stevens is to the point in his career where he can play without practicing)
Well he can play, but I still think it's hard, it doesn't matter who they are. When I did it, didn't practice all week and played on Sunday, you can do it mentally. I don't think he will have problems mentally that way, it's still different in the fact that you didn't get the reps. There is no way that does not affect a player, some players more than others and you think he would be a guy that it wouldn't affect more than others because he has been here and he knows what we are doing. Like I said, his blocking assignments are not very complicated, but it's still hard for a player, professional or not, to sit out the whole week and come in and think he is going to have his best day. It's almost if you have to have a great warm up. It's almost like you have to go harder in pregame warm up just to start feeling good about your game again. So that's probably what he would have to do is work a little harder pregame and work himself into the game.
(on if he would sit a player that is questionable for extra rest due to the bye week upcoming)
I think you always err on the side of safety, so if there is ever an injury that we think is going to cost him something more then definitely yes. Especially early in the season you are not going to take a risk with someone that if there is an injury that could put him out and miss the Texans game for example, so we wouldn't do that. I don't think we really have anybody in that category. I think the guys that we are talking about, if they feel good or have a good workout on Sunday then they could go play.
(on if he is comfortable going into a game with just two tight ends if necessary)
Again, I don't think we will have to do that, but we have (Mike) Otto who has been playing some reps and did it last year. There are some packages where he can help out at times too, and we may go with more three receivers. It forces your hand a little bit because you conditioning and reps and things like that but I think we will be OK. We are counting on being OK and being able to get through it. He won't play as much as he normally does, but he should definitely be able to play and help us, we are hoping.