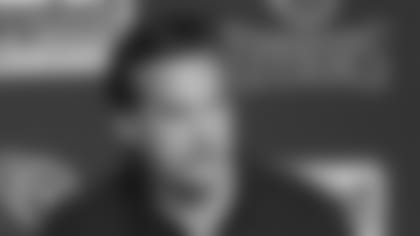 (on if the team needs to study more tape or practice more to fix problems)
I don't think you go out to the practice field and do more on the practice field. I think you do better on the practice field. The ironic part about last week was we had a good week of throwing the football on the practice field and it didn't carry over. When you get in situations like this you look at every single thing you're doing, how they're parking. You just try and emphasize the football and try to minimize the distractions as best you can. You emphasize the football and doing the right things. We had a game where we had, I think as I mentioned, we all took turns just making one mistake that ended up leading to a big play or a change in field position and we let the game slip away. We'll just keep working on it. It's a disappointed team, yes, it's a frustrated team, but it's a team that's together and it's going to work and they'll find a way out of this and that's all we can do. I know I've said this before, but you come back and you work and you try to find a way to win the next game and keep your focus on improving.
(on how he sees that the team is together)
Based on my experience as a head coach in the National Football League, I've been around a lot of teams. I think I can judge a team and this is a quality team with a good locker room. I think it's a good team talent wise. There's not anybody pointing fingers. Yes, there's going to be the post-game frustrations that you have, especially when you have a team with such high expectations. But when you come back to work Monday the team understands where we are and together they understand.
He's much better today. The X-ray's were negative, the test results were good. He's sore so he'll be day-to-day.
(on if there is a difference between post-game frustration and apathy)
You focus all your attention during the week and to the next task at hand and it doesn't work out the way you would hope, you go in expecting to win and it doesn't happen the way you would hope. You have to put it in perspective. Putting winning and losing in perspective is a hard thing to do, but you have to keep it in perspective. Because if you dwell too much on the losses it's hard to get out of the hole. They understand that and unfortunately we've got young guys that have not won yet. We've got some second-year guys that have enjoyed that experience and as of late have not been able to experience it. I know it's hard for you to hear over and over again, but we just keep working at it. That's all we know. We game plan, we turn over every stone, we motivate each player and get them ready to play as best we can.
(on if it is more difficult to encourage players as the weeks go by)
No, it's the same approach. This is not about the playoffs, this is about getting better as a football team and trying to win a game.
(on if it is worth changing routines)
There's always a possibility of that.
(on if anything was done different today)
Yeah, the reason that we're here at five is because we did a lot of things different today. You'll notice some subtle changes in the practice schedule. We'll start about a half an hour later.
(on if there are any coaching or personnel changes coming)
(on if there is any thought to switching quarterbacks or any other starting positions)
No, I don't. As a collective staff we do, with the front office we do. Of course you look at everything and see if there is something you can do differently. But by and large, the players that are playing right now with the exception of the guys that need to heal up Cortland (Finnegan) etc., are the players that we're going to go with. I don't see any drastic or dramatic changes.
(on the decision to go for two)
We were so far behind and I was trying to take advantage of every opportunity to score points. That's pretty simple.
(on why he chose to receive the ball on the game's opening possession)
Just competitive reasons for that. It's my feeling on the road and a difficult place to play, if you win the toss generally speaking, and there are some exceptions, if you win the toss you're better off going on the field on defense than you are offensively because it's difficult to hear. A three-and-out will really get a hostile crowd going. With that being said, that's what we did at Pittsburgh, that's what we did at New York. I didn't anticipate as much difficulty hearing on offense in Jacksonville as you do other places.
(on if going three-and-out on the opening possession hurt the team's momentum)
No, not necessarily. We had an opportunity to keep that drive alive and didn't.
(on the opponents' first drive successes)
As I mentioned yesterday, we had a momentum stop on third down. We got a huge field position swing with the penalty. That put us in plus territory and we had a breakdown, a minor breakdown in coverage which created a big play down the field. We did get the stop and held them to three. Which I thought was a win for the defense considering the field position. Teams are going to put together their first 15, first 12 plays. We knew, even going back to New York, we knew the Jets up to that point had done a nice job in that first series, we would just have to weather the storm and make our adjustments.
(on if there's a need to get back to the run)
We stayed with the run. We stayed with the run last week as well. We stayed with the run trailing the Jets and that gave us a chance to get back in it. We stayed with the run as long as we could. C.J.'s (Chris Johnson) leading the AFC in yards from scrimmage and he's the leading rusher right now in the AFC, maybe even the NFL depending on what happens tonight. So, we're getting some yards on the ground. It's one of those areas where we have to do better at. We've got to get better at running the football.
(on if there is a learning curve with a new defensive coordinator)
I would say yes if the hire was outside, but when you're promoting from within, someone who's been in the system as long as he has and the familiarity, there's not. We've carried on with this defensive scheme. Week-to-week there's some minor modifications. Chuck (Cecil) will continue to make final modifications over the years. There's not a period there. If you've got a wholesale change-out there's going to be a learning curve or learning period.
(on how he would assess Chuck Cecil this year)
The same way I assess everybody including myself. We've not got the job done. That's not directed to Chuck, I'm answering your question in a general term. Chuck's putting the players in position to make play. They're prepared, we're just not doing it. Again, our losses are not defensive losses they're team losses.
(on why the defense looks so different than last season)
Yesterday we were without Jason (Jones), without Vinny (Fuller) and without Cortland (Finnegan). If you would consider the nickel position a starter, which I do, we're without two starters in the secondary and playing young players. There's going to be a learning curve there when you're playing young players. Both of the young players are going to be good. They made some plays and they gave up some plays.
(on if Mr. Adams has weighed in on the quarterback position)
No, I don't expect that to happen. I've been communicating with him throughout the season.
(on what Mr. Adams' thoughts are on how the season has started)
He feels no differently than we do. We all had high expectations and we're disappointed. He also understands we're dealing with some injuries and understands the game.
(on what he wants to see out of the team from changes made)
Let me just say this, I'll make changes when we're winning as well. I'm just not making changes because we're 0-4, I could go back and reference changes that were made last year when we were 4-0. You change things up constantly. I think it's important to do that. You want to stay in the same routine, but you want to alter ever so slightly and that's what we're doing.
(on if there will be drastic changes)
I don't think you'll see much on the practice field. Most of those changes will take place inside the building.
(on if the players attitudes need to be changed)
It's a schedule change that I think might be more conducive to some things.
(on the quarterback position and why Kerry Collins will continue to start)
One in particular is that we won 13 games with him last year. We hadn't won a game with Vince (Young) at that point.
I think Kerry's not the problem. Kerry's been making plays and putting the ball where it needs to be put. I'm not pleased with the interceptions but other than that going over the last few weeks Kerry's made some great throws and made some plays. We just need to play better around him.
(on if Kenny Britt needs more of a workload in the offense)
I believe Kenny Britt is leading the NFL as far as rookie receivers are concerned. I would say based on that he's been involved in the offense.
(on if the rookies' progress can be sped up)
There's going to be a learning period. It's like any other position, they just haven't seen everything. The more and more you see it the more comfortable you become and you can anticipate. Cortland (Finnegan) over the years has gotten very familiar, not only his responsibilities, but the ability to anticipate things and put himself in position to make plays as Nick (Harper) has. They just benefit from the experience. The only way you get the experience is you just play.
(on if he is concerned about the special teams coverage issues)
The reasons for that are obvious. We're going to work the younger players in and try to get them more and more experience. Stanford Keglar did not play, he was out. Colin Allred left the game and I would venture to say they are two of our core special teams players. Now you've got all kinds of changes you're making with your core groups and when you replace them with younger players there's going to be some breakdowns.
(on if he's optimistic Nick Harper will play)
I've not ruled him out. At this point the only person that will be out this week is Vinny Fuller.
(on how he would assess Ryan Mouton and Jason McCourty)
As I said, they did some good things and they also did some things that were just a reflection of their lack of experience.
(on Colin Allred's injury)
I'll have an injury report for you on Wednesday.
(on Sen'Derrick Marks' performance)
He didn't get a lot of snaps but he was effective. He had the one hands-to-the-face penalty which you don't want to see but he was effective. He got some push. He wasn't in there in run situations where he's able to do what he's best at right now.
(on how to start digging out of the 0-4 hole)
Cannot change what has happened so you move on. It's simple, it's repetitive from my standpoint and I apologize, but that's the way we are.
(on if he's looked at the replay of Mike Sims-Walker's touchdown catch)
I have not had a chance to look at it yet. As I said yesterday, it looked similar to the one I saw two weeks ago.
(on Vince Young's patience)
He's preparing professionally each week. He had a little setback last week with the flu, but he's preparing himself to play.
(on if there will be two quarterbacks on the roster or three)
We've got some roster decisions that are related to one another and I haven't come to a decision right now.