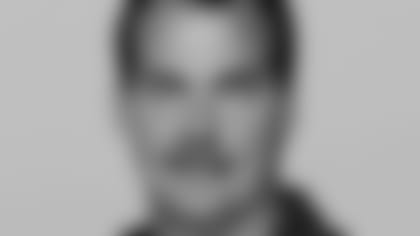 (Jason) Babin—full practice, probable; (Fernando) Velasco—limited practice, questionable; (Rob) Bironas—limited practice, probable; (Michael) Griffin—limited practice, probable; (William) Hayes—full practice, probable; (Brett) Kern—limited practice, probable.
(on if he's heard that a few members of the national media have voiced their opinions about strongly believing the Titans don't have much of a chance to win on Sunday)
**It is certainly something that is mentioned, we don't make a big deal over it, but we're going to put 11 on the field.  We have as good of a chance as anybody right now, so it's not a concern of ours.
(on if he heard that Dan Dierdorf said the Titans have a 10,000-1 chance of winning on Sunday)
**I was aware of that, yeah.
(on if he told the teamthat Dan Dierdorf said the Titans have a 10,000-1 chance of winning on Sunday)
Possibly—I know some guys that would like to take that bet.
(on if he knows what players will be inactive on Sunday)
Our inactives will be game time decisions based on the overall health of our team.
(on if he has been paying attention to the media reports that the Houston Texans will retain Gary Kubiak as their head coach)
No, I don't pay attention to any of that.  All that does is serve as a distraction.  You stay focused on what we're doing, and you stay focused on game planning and preparation and getting your team ready to play.
(on what kind of week of practice the Titans had going into Sunday's season finale against the Colts)
It was a good week.  Obviously, it's a familiar opponent and we have great respect (for them).  We know we have to play well and we have to score points and we have to create opportunities for ourselves to make plays.
(on if he talked to the team about New Year's Eve)
They understand what is important and what's not.
(on Will Witherspoon being chosen as the Ed Block Courage Award winner for the 2010 season)
Will has tremendous respect from his teammates.  He's come in here and done everything right.  He learned the system; he learned the football part right off the bat and has come in and been a very popular teammate.  Obviously, he's overcome a lot.  It was a very, very difficult situation that he dealt with early in the season.
(on some positives he takes away from the play of the defense this year)
We've gotten production and good play out of the corner spots.  We got production and good play early in the season on the defensive line when we had the good numbers.  We saw great flashes out of Derrick (Morgan), he was coming on so we have a lot of things to look forward to.
Go look at the Carolina game when he sat out all of training camp and in his first ten plays when he got in the game he was outstanding.
(on if getting Derrick Morgan back from his injury next year will be a boost to the defense)
You don't want to see anybody get hurt especially with a player like Derrick who was coming on so fast, so strong.  It remains to be seen what kind of season he would have had, but you can't change that, you just have to look forward to his future.  His rehab is going real well right now.
(on if getting Derrick Morgan back next year will be like having two first round picks next year)
You're going to get some people back that got hurt, that is usually the case.