NASHVILLE, Tenn. —The microphone captured Chris Johnson's confidence.
"I feel like a 200 day," Johnson said while being recorded for a segment on Titans All-Access before Tennessee's game at Buffalo this season.
Johnson was much tougher for Bills defenders to catch. He delivered 195 rushing yards — the third highest total of his career — and two touchdowns in the win. Johnson said the success of that day happened because he kept his confidence and work ethic up even though the opportunities to run and the results lagged at the start of this season.
"You want to go out and boost yourself up and want to do good," Johnson said, "but it's a situation, I think like that before all games, but I was miked-up that week so more people saw it, but I have confidence before every game. You don't go into a game expecting that you're not going to do good when you get the ball."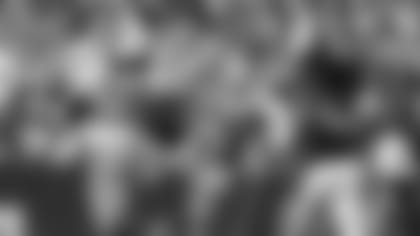 The fifth-year pro became the only player in NFL history with at least four rushing scores of 80 yards in the Buffalo game. He added another 80-yarder against Chicago, and wants to keep padding that number — as long as the long runs are accompanied by Titans wins.
Johnson's desire to do something special with the football will be further increased in tonight's game when Tennessee (4-9) hosts the New York Jets (6-7) on Monday Night Football because of the national television audience.
"It's always good being on a big stage when everybody's watching," Johnson said. "It seems like everybody raises their game up a level when it's a situation when you're playing another team on that night. I don't know the exact ratings but it seems like every man, woman and child is watching Monday Night Football."
Johnson had 91 yards in the Titans' first prime-time game this season, a dramatic overtime victory against Pittsburgh. That performance preceded the surge in Buffalo by one week and started a span of six straight games in which Johnson rushed for at least 80 yards in a game.
"It's coming together," Johnson said before the Titans hosted the Texans earlier this month. "The o-line has been getting up on their guys and making nice blocks and reestablishing the line of scrimmage, a situation where they gave me a couple of creases and I was able to take advantage of it."
Unfortunately the Titans suffered season-ending injuries to starting right tackle David Stewart and left guard Steve Hutchinson in their second game against Houston. The most recent injuries to the offensive line left Michael Roos as the only starter since training camp who is still on the active roster.
Despite the litany of injuries on the line, Johnson went past the 1,000-yard mark for his fifth straight season last week at Indianapolis. He became the eighth player in NFL history to rush for at least 1,000 yards in each of their first five seasons, joining former Oilers/Titans great Eddie George, Barry Sanders, Curtis Martin, Eric Dickerson, Tony Dorsett, Corey Dillon and LaDainian Tomlinson.
Fullback Quinn Johnson said the benefit of a full offseason helped everyone who blocks on run plays develop their technique to fit Chris Johnson's style and "learn the types of things that he likes, the way he likes to run and what he's looking for."
Running backs coach Jim Skipper said he's been pleased with Johnson's approach and said the rushing stats that are exceeding last year's totals are a "direct tribute to his hard work."
"The guy has kept his chin up, busted his tail, realizes he's been criticized here and there, but listen, once you do big things, big things are always expected from you," Skipper said. "So, expectations are very high for him, and he understands that too, and instead of him using it as a negative, he uses it as a positive reinforcement."
CJ and Skipper said they've become more comfortable working together in their second season together.
"It's a situation where the coach has to understand what type of players he's coaching, and he might have done it this way," Johnson said. "I might do it differently, so we've got to come to an agreement on certain things, like, for example, I might run the inside zone a certain type of way. That's how I've been running it and it's how it's been working for me. I've been able to have success with it, and they have to come to an agreement and let me do things a certain way, and if it's not working then I've got to be coachable and try to switch it up."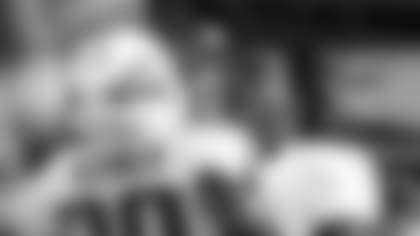 Skipper has been able to learn a lot about Johnson in action, on the sidelines, on the practice fields and in group meetings and said the relationship has grown with time.
"I think he's a very compassionate guy," Skipper said. "He's a serious guy and he's really a good guy because he's a little on the quiet side but if you get in the inner group, he'll let loose.
He's just not a guy who's got an open personality, so people take that differently.
"At first you're reluctant and it takes a little time to bond and get that trust," Skipper added. "Right now, he can come to me on anything, and I know how to talk to him, and he knows how to talk to me."
Johnson said he doesn't think "shy or quiet" are the best words to describe his personality but said he is somewhat reluctant to start conversations with people he doesn't know.
"It's always been like that," Johnson said. "It's always been the type of thing where if I know you or you know me, you know I'm not a quiet person or whatever like that. It's just a situation where you might think that because you've got a lot of guys who just come into an environment and they're the center of attention and all that. I'm not the type of guy like that. If I go into an environment where I don't know anybody or whatever, I'd probably stay to myself or just chill with it."
Johnson, however, does communicate quite often through social media, where he has nearly three-quarters of a million people following him on Twitter.
"It's a good thing and a bad thing," Johnson said. "You can talk to your fans, and at the same time, they can say whatever they want to you."
That line of communication can be quite encouraging after a big game and quite the opposite after a tough one, but Johnson's belief in himself and his teammates will remain strong.
"We've just got to continue to work every week in practice," Johnson said. "I think once you get into your groove and go to make a play, it's kind of hard to get out of it. So we've got to keep working hard and keep playing hard and continue to do the same thing that you've been doing the way you've had success."