NASHVILLE, Tenn. — Chet Parlavecchio's emotions seemed to sink through the floor of his mother's New Jersey basement.
Significant knee injuries in consecutive seasons had ended the former Penn State linebacker's professional career after 12 games and sent him through an incredibly tough time.
"I was lost. I thought I was one of those guys that was going to play forever," Parlavecchio said. "The good news is I had a degree, I prepared myself for life after football but never dreamed that football was going to end that soon. I went through a state of depression. My mom was concerned about me."
The normally jovial Parlavecchio became almost reclusive, retreating to his mother's basement, where somehow, for some reason, he immersed himself in a world of small airplanes and boats.
"I could never understand how people used to do airplane models and boat models," Parlavecchio said. "I did 30 of them in three weeks. I didn't talk to anybody. I didn't want to be bothered."
A friend with a Wall Street connection called to offer some help. Parlavecchio gave it a try and worked for a "very nice man" but saw a lot of unhappiness among people who were making six-figure salaries at their desk jobs. It wasn't for him.
He returned to New Jersey and substitute taught. The next call from a friend offered a much different opportunity and "changed my life," Parlavecchio said.
The offer was to help coach 25 young men, including three deaf players, at Governor Livingston High School, where Parlavecchio's son is now a history teacher.
"I went there one day and I fell in love with those 25 kids," Parlavecchio said. "In a week we changed their whole philosophy of defense. We ran the under, which is now a big defense in this level. We ran the under in high school when it wasn't vogue. More important, was the kids I was coaching. We took 25 kids, hard-nosed, tough kids, and on opening day we beat a team that had two players of note: Mike Chalenski, who played for the Jets, and Tony Siragusa, and we spanked them with 25 guys. That team wound up winning 11 in a row, but we won that day."
Players replaced the planes and boats as the team gathered each week to eat pizza and watch the game film. It was transformational. Parlavecchio kept just one of the boats, a copy of the PT-109 that was laid down in New Jersey and last commanded by John F. Kennedy during World War II, but learned that he'd rather build people.
"I found my passion, and to see those kids come to work every day got me motivated," Parlavecchio said. "It dawned on me after that season that maybe this is what God had in store for me. Maybe He meant for me to coach other people instead of play. Maybe He meant for me to affect young men's lives in hopefully a positive manner. The stories from then on are endless of young men that we were able to get involved in their lives. I like to think they're better people and professional people because of it. Many of my former players are teachers, many are coaches, a couple went on to the professional ranks."
The success of former Tampa Bay and Dallas linebacker Alshermond Singleton, who played 10 years in the NFL, is one of Parlavecchio's favorite stories. Parlavecchio coached him at Irvington High School and then had the opportunity to do so again at Temple University, but only after Singleton worked hard in tutoring sessions to get the necessary SAT score before he could accept a scholarship.
"Most people would say, 'How's he going to survive in college?' Here's the nice side to coaching high school and affecting men's lives: not only did he get the test score, Al went on to Temple University and graduated with a degree in business in three years, not four," Parlavecchio said.
Singleton was on the Buccaneers team that won Super Bowl XXXVII, earned an advanced degree from Wharton Business School and owns a pair of successful dry-cleaning businesses — one of which is managed by Parlavecchio's daughter — in New Jersey. Parlavecchio said football helped Singleton and other players move past the rough neighborhoods, but lamented that other players were unable to do so.
"I realize you can't win them all, but it was a great feeling knowing that I found my passion and I found my mechanism to reach young men, that football is a teaching station," Parlavecchio said. "Football is as valuable a classroom as any biology or math class. The lessons learned on a football field save lives and they inspire lives. I believe in that to this day. I believe, even though we're professionals at this level, and even though players get paid a lot of money, I believe if you still don't let the game inspire you, if it's still not the kid in you, you'll never amount to much."
Parlavecchio led Elizabeth High School (N.J.) to a state title in 2006 and consistently fielded quality teams. He built every defense around the middle linebacker position, and in 23 seasons, had 21 players at middle linebacker named to all-county or all-state teams.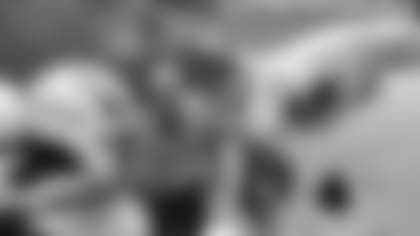 He thought his window for coaching in the NFL may have closed, but received a call from Mike Munchak in 2011 after Munchak became Titans head coach. Parlavecchio, who was a co-captain and second team All-America at Penn State when he and Munchak were seniors, spent the previous two seasons as assistant special teams coach and recently became linebackers coach during a series of changes to Tennessee's coaching staff.
Munchak said Parlavecchio's teaching style will have a great impact on Tennessee's young linebackers. Projected starters Akeem Ayers and Colin McCarthy are preparing for their third season, and Zach Brown is gearing up for his second year after a dynamic rookie campaign.
"(Parlavecchio) brings more passion to the game than anyone I have been around," Munchak said. "He has made a great impact on our special teams players, and they respond to him in a big way.  I have seen guys respond to him over the years from high school, college and pro levels in a way that I haven't seen other guys have an effect on players. He knows more about linebackers, coaching and playing the position, than anyone I have heard talk about the position and he loves it. You will be able to tell that by talking to him. I think he will take this young group and make them the best, baddest linebackers in the league."
Members of the media asked Parlavecchio if there should be some skepticism since most of his coaching has been in high school. Parlavecchio said he will "embrace" that skepticism and the opportunity to prove it wrong.
Parlavecchio said the concepts of playing linebacker are the same at every level, "and if anything at this level, there's a tendency to depend so much on athleticism and sacrifice fundamentals." He said strong fundamentals at linebacker spots were connected to the Ravens and 49ers making the Super Bowl.
"Whether they're 16 or 17 year old kids at Elizabeth High School or they're 21, 22, 23 year old kids at the Tennessee Titans, they are still young men out there who are looking for answers," Parlavecchio said. "They are still young men who crave discipline, they are still young men who need direction, and they are men from all types of backgrounds, all types of socioeconomic fortunes or misfortunes, and my experience in high school and the places I've been prepared me well for the young men in this league. The people who are skeptical about my background, I think my background has been an essential part of me being able to adapt to this level."