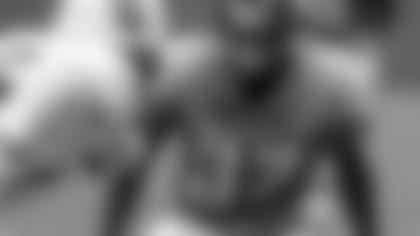 Rookie Tommie Campbell is looking to become the team's third seventh-round draft pick over the last six years to make the roster.
NASHVILLE, Tenn. -- Tommie Campbell, the Titans' 2011 seventh round pick, has jaw-dropping speed for a man of his size (6-3, 210); check that - for a man of any size.
The rookie defensive back out of California University of Pennsylvania is a rare physical specimen that scouts typically salivate over. To get a better grasp of the type of athlete he is, compare Campbell's measurables to other top prospects at the 2011 NFL combine. Excluding Demarcus Van Dyke (University of Miami), Campbell's 40-yard dash time (4.31seconds) at the Cactus Bowl (Division II All Star Game) eclipsed the times of the 300-plus prospects at the combine.
Despite his freakish athletic ability, Campbell's well documented past that includes stints at three different collegiate programs was enough for some teams to take him off their draft board.
When the Titans looked at Tommie Campbell, they saw a young prospect with the football skills, and more importantly, a newfound maturity to succeed both on and off the field.
Campbell's long-winded journey to the NFL began at the University of Pittsburgh, where the true freshmen from Aliquippa, Penn. appeared in all 11 games as a backup safety. While Campbell expected to compete for a starting role in the defensive backfield as a sophomore, the Pittsburgh coaches had other plans. To address the team's lack of speed in their front-seven, head coach Dave Wannstedt's staff shifted Campbell to linebacker.
During his sophomore campaign, Campbell lined up next to H.B. Blades and Clinton Session – a pair of players that have since established themselves as starting caliber NFL linebackers. Campbell played, but wasn't happy about the coach's decision to move him out of the secondary.
Campbell's damaged relationship with the Pittsburgh coaches, combined with his mounting struggles in the classroom, culminated with his transfer to Edinboro University, where he continually missed classes and was eventually kicked off the team.
It looked like Campbell was done; another case of wasted talent. But after six months of working as a janitor in the Pittsburgh International Airport, California (PA) head coach John Luckhardt gave Campbell a third chance to play at the college level.
It was do or die time for the once "can't miss" safety, and Campbell seized his opportunity. Under the guidance of Luckhardt, Campbell played well on the field, and pieced together his life off the field. That gave the Titans enough confidence to select him with their final pick in the 2011 NFL draft.  It appears the gamble is paying off, as the rookie continues to turn heads in training camp.
"He's got long arms and can really run," said defensive coordinator Jerry Gray. "Even though he's a long strider, he's a guy who can get in and out of cuts very quickly." 
Campbell attributes much of his early success to the veteran defensive backs who have not only helped him from a technical standpoint, but also taught him how to be a 'pro' -- head coach Mike Munchak's mantra for his 2011 squad.
"The guys have been great, especially Chris Hope. Chris is from Pittsburgh and I played at Pitt, so I always knew about Chris when he was with the Steelers," said Campbell.
A former three-sport star at Aliquippa Senior High School, Campbell feels that playing competitive basketball and running track have also accelerated his development as a cornerback.
"Track, obviously for speed and basketball for feet and conditioning. It has helped me out tremendously," said Campbell.
During the lockout, Campbell returned to Aliquippa and reunited with his high school coach, Mike Zmijanac, who helped groom star NFL cornerbacks Ty Law and Darrelle Revis when they attended the high school. Campbell is excited about his transition from safety to cornerback because he thinks that his size and speed will allow him to excel on the perimeter.
"At corner I can be more athletic and show my speed. When I was playing safety it was more about thinking; I have size, the ability for press coverage, and speed," said Campbell.
With the success of the team's recent seventh round draft picks, most notably wide receiver Marc Mariani and cornerback Cortland Finnegan, there is certainly a buzz surrounding the rookie corner.
If Campbell can fine tune his technique at cornerback and master defensive coordinator Jerry Gray's playbook, he could be on the verge of securing a more permanent home.