NASHVILLE – The Titans took the field for practice No.12 of training camp on Sunday at Ascension Saint Thomas Sports Park.
Here's a look at what stood out:
-It was jog-through speed practice on Sunday, so not a lot of highlight-reel videos or plays coming out of this one. But still, there was plenty of work done on a day that also featured some funny and light-hearted moments. Titans Coach Mike Vrabel was involved in two of them.
-Vrabel got "got" on his birthday, when center Ben Jones snuck up behind him and dumped baby powder on his head as the head coach stood on the fence line signing autographs for fans.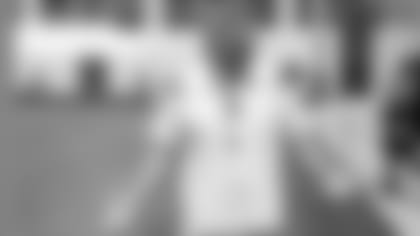 -During practice, Vrabel was also in the middle of a pretty comical moment as defensive backs went through individual drills. This scene also involved defensive back Shakur Brown, who collided with Vrabel after making a catch. Brown, as he turned upfield, fell to the ground after the collision and he immediately said it felt like he'd run "into a brick wall." Several veterans watching from just inside came outside laughing. I caught up with Brown after practice and that interview is below.
-Yet another funny moment: Big defensive lineman Jeffery Simmons jumped into the individual drills with the DBs, and did a rep. He was overheard saying "You see them hips?" when he finished the rep.
-Once again, most of this practice was at a jog-through pace, so highlights were limited. I kept track of quarterback Ryan Tannehill's throws in the team periods, but I'm not going to include them in the total training camp tally because most of these attempts were barely contested. Here it goes for today nonetheless: Tannehill completed 29-of-30 passes on the day, including 28 straight, until a sideline throw to Dez Fitzpatrick sailed wide and went out of bounds.
-Running back Derrick Henry got a lot of work in the session, albeit at a slower pace.
-Receiver Treylon Burks was the recipient of a whole lot of passes in the jog-through.
-Cornerback Roger McCreary, cornerback Kristian Fulton, safety Amani Hooker, linebacker Dylan Cole and outside linebacker Harold Landry were all back on the practice field.
-Mason Kinsey, Kyle Philips, Trenton Cannon, Terry Godwin and Reggie Roberson Jr. all lined up to return kicks.
-Treylon Burks, Racey McMath, A.J. Moore Jr., Greg Mabin, Nick Westbrook-Ikhine, McCreary, Cannon, Fitzpatrick and Roberson all fielded punts in a separate drill.
-Defensive back Elijah Molden was back on the practice field again, and after practice he talked about his return after missing time.
-Defensive back Chris Jackson, defensive back Theo Jackson and defensive lineman Denico Autry were not spotted at practice.
-Offensive lineman Nicholas Petit-Frere, decked out in a yellow non-contact jersey on Saturday, was out of the yellow jersey on Sunday.
-Kicker Caleb Shudak and linebacker Monty Rice did not practice, as they're on the team's Physically Unable to Perform list at the start of camp.
-Former Oilers teammates Cris Dishman and Blaine Bishop both attended Sunday's session.
-Roughly 300 fans attended Sunday's session as part of the organization's "Family Day", along with friends and family members of coaches and players.
Next practice: Monday, 9:30 a.m.