NASHVILLE, Tenn. — The ease of the game hasn't returned to Kenny Britt but his appreciation for it has never been stronger.
Britt's love of football grew during his absence from it. He tore his ACL and MCL in Week 3 of the 2011 season and missed nearly a full year of game action because of the rehab process.
"It really opened my eyes to find out how this game is really quick and it can be taken away from you in one play," Britt said. "The first three months were the worst months, and then it started going faster."
Along the way, however, he encountered other significant roadblocks. Britt needed a second procedure on his right knee this spring, and then needed arthroscopic surgery for a left knee injury that remains a mystery to him.
Britt worked with Titans trainers who pushed him through the difficulty of not being able to do the things he once made look so easy. He spent time in the hydrotherapy pool and training room until he was able to get back on the field and run. During one of the Titans' open training camp practices, Britt was two fields away from teammates as he ran the length of the field. Despite cheers and encouragement from throngs of fans, Britt was tempted to surrender. The desire to be back on the field with teammates was strong enough, however, to overcome the heat and frustration.
"I didn't get into the mindset of knowing it was going to be this hard," Britt said. "After a third surgery, you think about caving in and giving up, and that first two weeks, I really wanted to give up because of the things that I had been going through with my ACL injury, but just coming in each and every day and seeing the fellas, and them letting me know they want me back and need me back helped me get through the tough times of that period, and then camp started and I was starting to feel better."
There's a difference, however, between feeling good enough to take the field and being able to dominate it as he did at the start of 2011. Britt's combination of size, speed and overall athleticism makes it difficult for defensive backs to match up with him one-on-one, and he opened 2011 with back-to-back games with more than 130 receiving yards and three combined touchdowns.
Britt's progress this season was further delayed when he suffered an ankle injury against Detroit that cost him the end of that game and the Titans' next game at Houston.
Receivers coach Dave Ragone worked to restore Britt's confidence and trust in his ability to make quick moves. After that restoration, the next step was bringing Britt's eyes and hands back to the speed that is required to catch NFL passes.
"It's one of those things, where each time he goes out there, it's a confidence thing for him in terms of, 'I've done that, check that off the list, next thing,' " Ragone said. "He wants to be back where he was and so does everybody else, but there was a time lapse of about a year. He went through a major surgery, he had another surgery on the other knee, he had an ankle, so as much as we want to speed the process up, again, it's one of those where it is a process. I think it's about making sure we do everything the right way so there's no issues down the road."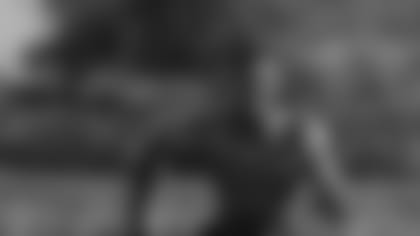 Ragone said he tries not to make a big deal about the return process and instead focuses on solid repetition. Britt gets his targets in practice and then must catch a certain number of throws from various arm angles and of different speeds before he can call it a day.
"They tell a receiver to catch the ball twice," Britt said. "The first time you catch it with your eyes, when the quarterback is letting it out of his hand and you catch it a second time with your hands. The ball comes up to me so much faster than it did the past couple of years."
Britt said that was something he had to work through in the recent Thursday night game against Pittsburgh. In addition to spotting the ball and following it into his hands, he has to refine the way he secures it.
Britt caught a deep pass and fumbled the ball after a big hit but alertly recovered it in the first quarter against the Steelers to set up a field goal. He also was targeted twice by QB Matt Hasselbeck late in the game. The first time resulted in an incompletion as he hit his hip with the ball and lost control. It was a jarring moment, Britt said, but Hasselbeck retained confidence in him.
"It was kind of discouraging because we could have tied the game up right there or won the game for us, so I was kind of nervous about that," Britt said. "When I went back into the huddle, Matt told me he was coming right back to me and that gave my confidence back to me: my quarterback has confidence in me; I've definitely got to have confidence in myself."
Ragone said when Britt fully returns he will be "one of the best receivers in the National Football League" and will demand extra attention from opponents. He added that Britt has already brought back an energetic bounce to other Titans receivers, the rest of the offense and the coaching staff.
"That's who he is," Ragone said. "That's the one thing we missed last year, especially in the meeting room or out here is that energy. He's always got a smile on his face. He enjoys the game, he takes it that way, and it's contagious for the other guys, not just the receivers."
Like any receiver, Britt wants as many opportunities to catch the ball as possible but said "there's a bigger picture than me."
"This year is just to come back and try to get my feet wet and get back to normal, so I'm taking this year as a 100 percent goal of buying into the team and doing whatever the team needs me to do," Britt said. "We've got other players that can make things happen out there and I'm excited about that. I'm a good run blocker, so if they need me to go out there and block for Chris Johnson or Jamie Harper I'm excited to do that and I love to do that because I'm back on the field and I love football.
"If they need me to take the corner and safety out of some places, that's something that I'm excited to do because I can get excited by what other people do," Britt continued. "If I see Nate Washington make the catch, I'm excited like I made the catch or the touchdown. If I see Damian Williams or Kendall Wright make a catch and make a move, I'm excited about that because I'm back out there with the team. If I see CJ make a long run, even though I can't run with him, I just jog over there, and I'm excited about it."