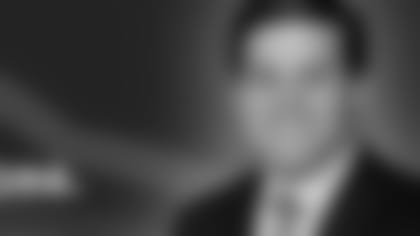 ](http://www.titansonline.com/news/ask-mike.html)

Kyle in Gallatin: "How is it that we are playing the Steelers for the 7th straight year? Is this like the SEC where you have one set, non-division opponent every single year?
Kyle, it just feels that way with the Steelers, but there are no set, non-division opponents. The scheduling formula works with this way:
• Six of your games are divisional, three home and three away. 
• You play two full divisions, one from the AFC and one from the NFC. Those take up a total of eight games, obviously with four home and four away. 
• There are two games determined by your previous year's finish. You play two teams from your own conference — one home and one away — which finished in the same position in their division that you did in yours. These two teams come from the two divisions from which you do NOT play all four members in that season. 
Here's how that formula broke down for the Titans this season:
• Six games — three home and three away — against the AFC South teams. 
• Four games against the NFC East — Dallas and the New York Giants at LP Field, Philadelphia and Washington on the road. 
• Four games against the AFC North — Cleveland and Pittsburgh at LP Field, Baltimore and Cincinnati on the road. 
The Titans finished second in the AFC South in 2013, so this season they had to go to the team that finished second in the AFC West in 2013 (Kansas City) and they host the team that finished second in the AFC East in 2013 (New York Jets). 
So to your question about how Tennessee has played Pittsburgh for seven straight years…
The Titans played the entire AFC North in 2008, 2011 and 2014. 
The Titans and Steelers met in 2009, 2010, 2012 and 2013 after finishing in the same position in their respective division the preceding year. 
By the way, both Tennessee and Pittsburgh are currently third in their divisions right now, so if the 2014 season ended today, the Titans would play the Steelers at Heinz Field in 2015.      
Here is the rundown for 2015 (leaving out the six AFC South games):
• Four games against the AFC East: Buffalo and Miami at LP Field, New England and the New York Jets away
• Four games against the NFC South: Atlanta and Carolina at LP Field, New Orleans and Tampa Bay away
• Home game against the AFC West team that finishes in the same position that Tennessee finishes in the AFC South
• Away game against the AFC North team that finishes in the same position that Tennessee finishes in the AFC South
---
Gene in Clarksville: "Tough question - but with the evaluation of talent and players seemingly not working very well, got to think that (Titans General Manager) Ruston Webster's job might be on the line. Any comments?"
Gene, Titans president/CEO Tommy Smith said last week that his job is not in jeopardy, which makes sense. Webster's three drafts as general manager have been very productive, giving the team a solid young base. The Titans' salary cap is in excellent shape going forward. And maybe most importantly for the Titans right now, Webster helped to hire and gets along well with head coach Ken Whisenhunt. Time will tell on everything, sure, but the Webster/Whisenhunt administration needs and will get more time to put their system in place.   
---
Paul in Fayetteville: "I am amazed by the apparent lack of concern over Terrence Brooks' hit on Delanie Walker. A serious injury resulted from this. With all of the focus on player safety and an official review of the play, I thought a penalty should have been thrown. Brooks clearly initiated contact with the crown of his helmet. My question is this: When the play was reviewed and ruled an incomplete pass, Walker became a receiver in the process of making a catch rather than a runner after the catch. Why was this not a targeting penalty?"
Paul, excellent evaluation. As to your specific question, the officials are not able to throw a flag in this situation based on a replay challenge reversal changing a completed pass to an incomplete pass.  
I do believe that Brooks attempted to make the hit properly, shoulder to shoulder. I do not believe that it was a dirty play where he was attempting to injure Walker.
That said, I do not believe that he executed the hit properly, shoulder to shoulder. I believe that Brooks did lead with the top of his helmet and did contact Walker too high. Some will have to agree to disagree on the hit's legality, I suppose. No one's mind will be changed. 
But taking out the legality of the hit one way or the other, I'm very still surprised that there was no flag. It's hard to name many hits of that impact on a receiver in the middle of the field where a flag is not thrown. Usually, 99 out of 100 times, that flag is automatic. Guess that was the one.
---
Andrew in Springtown, TX:* *"I'm like every other Titans fan out there, disappointed in this season and wondering what is coming next. But I see the logic in bringing (Zach) Mettenberger in now and playing him. As much as I liked (Jake) Locker and hoped this season would be different, it is what it is and we have to move on. I hear so many negatives about bringing in the "3rd" string QB. I don't get it; he is an untested rookie who they hope to develop, what's wrong with that? I see a lot of potential there and don't get all the negatives about "down to the third string." What's your take?"
Andrew, while technically "3rd string" to begin the season, Mettenberger was never seen as a guy that was being drafted to "fill out the quarterback corps" or to simply be "a training camp arm." He was seen as a player who, if developed, might have a chance to become a starter in the NFL. Now, few expected this to happen this quickly, that's true. But Mettenberger made it apparent to those who watched OTAs (Organized Team Activities) and training camp that he was not someone who was going to have to fight to make the roster. Mettenberger had much to prove, yes, but he basically made the team after showing off his arm in his first practice. 
The Titans (and many others) thought that Tennessee stole Zach Mettenberger in the sixth round. The Titans saw him as a potential quarterback of the future. Three weeks ago, Tennessee decided to find out — more quickly than they originally thought — if they were right about him.